6 Essential Dynamics 365 Implementation Best Practices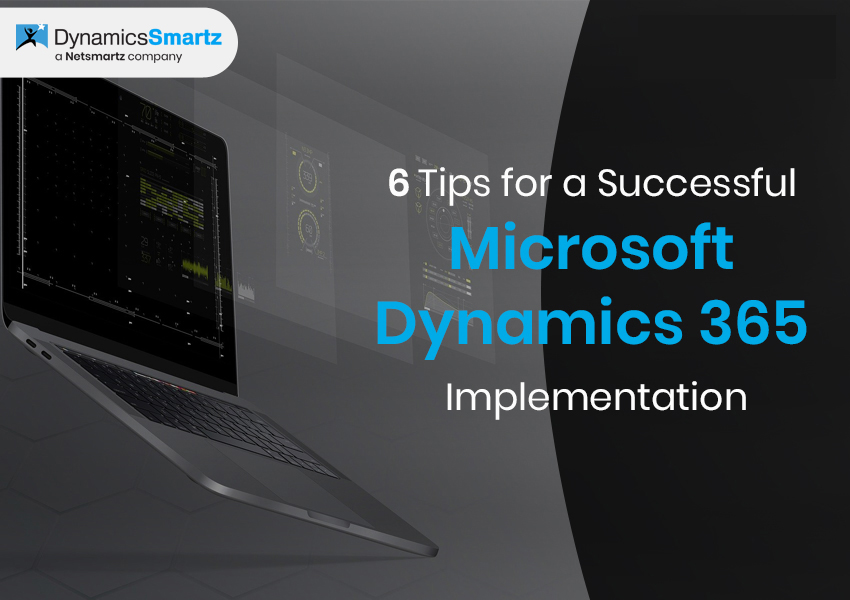 Organizations today need the right ERP system to help their team drive critical business processes, make smarter and faster decisions and ensure optimum utilization of resources. A successful Microsoft Dynamics 365 implementation takes your business to a whole new level and helps you stay at the top of your game.
Have you ever implemented a CRM system? If so, you are well aware that an effective Dynamics 365 implementation depends primarily on the time and effort put into the planning.
Implementing Microsoft Dynamics 365 can be complex. A successful Dynamics 365 implementation entails planning for user adoption, business analysis, and design and following Dynamics 365 implementation best practices.
ERP and CRM deployments impact organizations profoundly. To realize the true potential of Dynamics 365, it is important to implement it correctly for your organization. Failure to do so can contribute to money going down the drain and result in delayed projects. For a seamless implementation, you need structured project management, open communication and transparency, and buy-in from users at every level of the organization.
Dynamics 365 Implementation Best Practices
Here are the top six Dynamics 365 implementation best practices: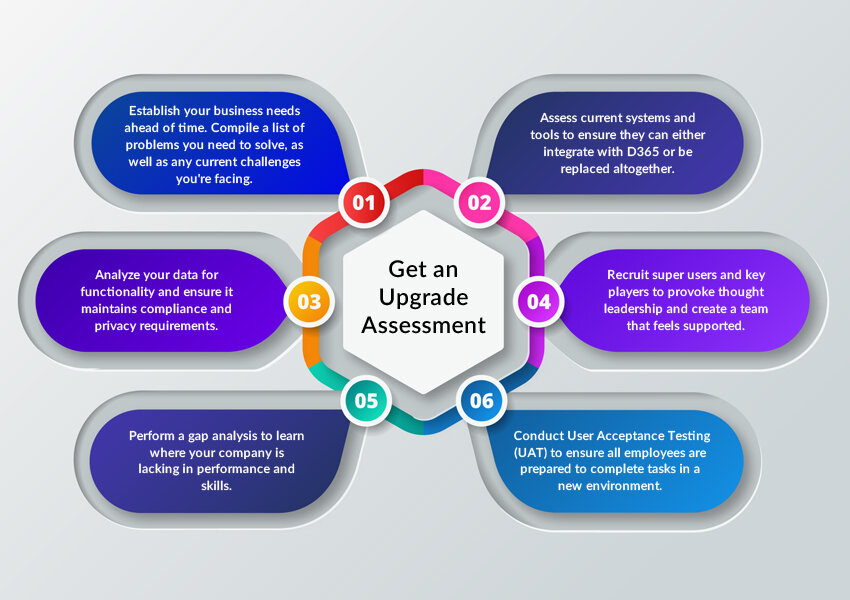 1. Plan Strategically
It takes extensive planning to implement an ERP and CRM for a business. Make sure you involve all your subject matter experts (SMEs) during the planning phase. When implementing Dynamics 365, it is crucial to begin by planning the infrastructure. Since Dynamics 365 is cloud-based, updates take place in real-time automatically and on a regular basis. Strategize the preparation and ensure that all instances you need are considered and all of them are requested at the same time to avoid any delays with the implementation.
2. Carefully Assess Current Systems and Tools
More often than not, Dynamics 365 implementations fail because of obsolete systems, partially integrated application suites, and in-house programs based on outdated programming languages. Therefore, the first step to success is to take inventory of all the existing systems, databases, and applications, including those that are integrated. Implementing an ERP presents a good opportunity to standardize and centralize IT solutions but this often entails data migrations and device upgrades.
If you want to reduce delays, waste, and avoid the possibility of a failed implementation, always take a detailed evaluation of your current infrastructure and get the required insights into operational functionality to gain project momentum and benchmark important achievements.
3. Understand Every Functionality
It is a good idea to first revisit all the functionalities before you decide to add more modules or features to your Dynamics 365 solution. As Microsoft constantly updates Dynamics 365 with new features and add-ons, it is highly likely that there are few features that perfectly meet the needs of your business, industry, and customers. While you may need to make some minor tweaks to the "as-is" solution, understand what is currently available in Dynamics 365, and then choose to create custom components.
4. Build Cross-functional Teams
Microsoft Dynamics 365 deployment should never be the responsibility of the implementation crew alone, but of cross-functional teams that excel in finding and recognizing inefficiencies, bottlenecks, time gaps, and problems with quality control. Have a team of professionals who can work on specific process adjustments and solutions for unexpected problems and ensure that each job is accomplished on schedule and within the budget.
5. Make sure the IT Team is involved in Decision-making
Some organizations leave the implementation process solely to the consultant deploying the solution. Direct your IT team to partner with the implementation consultant to come up with the right tools and methods. Critical decisions on deployment and how the systems will be integrated should be made by IT professionals. This will ensure that the IT team can independently handle Dynamics 365 CRM once the consulting partner finishes the implementation process.
6. Documentation and Training
Documenting all the features and use cases of a Microsoft Dynamics CRM implementation is critical. Over time, many such applications fail because the customer does not know the CRM or ERP and does not end up using it to its full potential. The client can train team members to get the most out of the CRM with proper documentation of each use case and function. Training sessions, explanatory videos, and guides must be included.
A whopping 80% of companies are disappointed with their present ERP! Most ERP implementation projects fail not because the solution is incompetent, but because of inadequate planning and negligible management support that is required at every level of the project. Delays in IT, unpredictable roadblocks, and uncontrollable variables are inevitable, but following these Dynamics 365 implementation best practices will help ensure your system is successfully implemented.
Accelerate your Deployment with DynamicsSmartz's BYT Model
Microsoft Dynamics 365 Implementations can be complex. At DynamicsSmartz, we have a seasoned team of certified consultants. As your Microsoft Dynamics partner, we will support your organization at every phase of the implementation process.
Implementations are high stakes! With our 'Build Your Team' Model, you can Go Live faster and drive digital transformation sooner. We are certain that our Microsoft Certified Gold experts will simplify a potentially painful process and streamline your solutions. Shortlist, interview, hire and have total control of your team. Witness substantial savings and hit the ground running from day one. Drop us a line for a quick consultation.