Dynamics 365 Business Central vs Acumatica: Which is Better?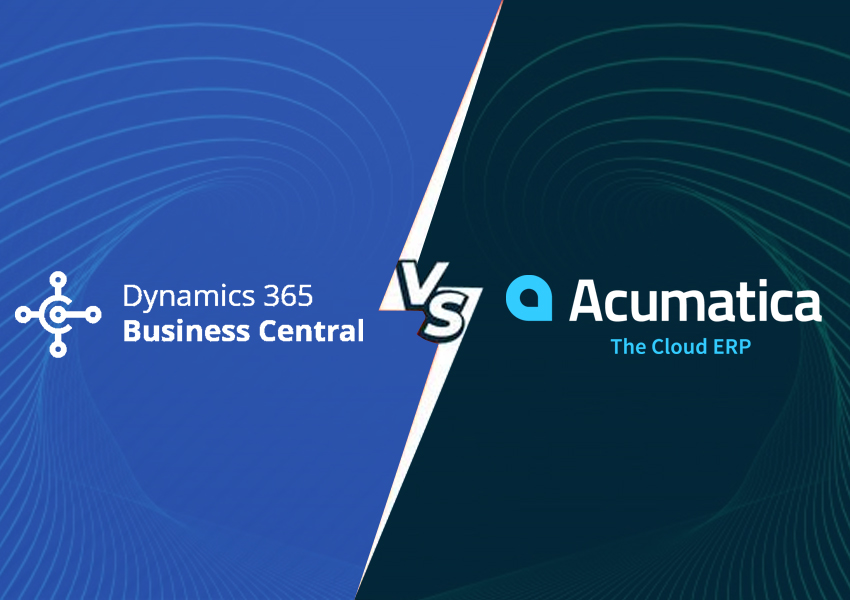 Choosing the right ERP solution is a major undertaking that involves a lot of thought and careful consideration. Dynamics 365 Business Central and Acumatica are popular ERP systems with similar features and capabilities. While both solutions have some features in common, there are a few important distinctions that make one a better fit for your organization than the other.
In this blog, we will provide you with a detailed breakdown of the Dynamics 365 Business Central vs Acumatica comparison.
Dynamics 365 Business Central
Dynamics 365 Business Central, Microsoft's mid-market ERP system, is a powerful cloud-based business management solution. Business Central is a part of the Microsoft Dynamics 365 portfolio that integrates seamlessly with other Dynamics 365 apps like Microsoft 365 and Power BI.
Acumatica
The Acumatica ERP system includes Financials, Distribution, Project Accounting, and CRM, as well as a full suite of integrated company management tools. Acumatica comes in a variety of editions, including Manufacturing and Retail, so you can choose the features that best suit your needs.
Dynamics 365 Business Central vs Acumatica: Key Differences
Multiple Deployment Options vs True Cloud-Based Solution
Dynamics 365 Business Central is a cloud-based application that users can access via a web browser. It is purchased as a software as a service (SaaS), which means you pay a monthly price to access the product. Microsoft handles all software updates, server maintenance, security, backups, and disaster recovery via the cloud. Business Central can be also deployed on-premises, installed locally, or via a cloud hosting provider.
In the case of Acumatica, the lack of deployment options is a major concern. For all types of enterprises who seek flexibility in how they implement their ERP solution, Microsoft offers On-premise, cloud subscription, or hybrid options.
Acumatica can only be deployed on the cloud, so your company's growth, acquisitions, and other activities are all confined to one box. With Business Central, however, you have multiple deployment options to meet your unique business needs.
Specialized vs. Suite
Distribution, manufacturing, commerce, field service, and construction are among the domains where Acumatica offers specialist editions with focused capabilities. However, much of the specific functionality you'd expect to find in these editions are available as an add-on that must be paid separately.
Suite software, on the other hand, is a terrific starting point for meeting the needs of multiple departments, and your organization can develop an all-in-one solution with the strength of these extra modules.
Because suite software includes numerous divisions, its capability may be too broad for some firms. Dynamics 365 Business Central, on the other hand, comes with a lot of features out of the box and is designed for integration, so it can cover all of your business units. This allows you to create a software suite with specific capabilities in the areas that matter. Integration also enables you to scale your system, allowing you to simply add features as needed.
User vs. Resource Pricing
Depending on your business structure and budget, certain pricing alternatives may be more attractive than others. While Business Central charges by the number of users, Acumatica charges by the number of resources.
Businesses pay for Acumatica based on the number of transactions done through the system rather than the number of people that use it. Large and rapidly growing organizations may find this arrangement appealing, as it allows an unlimited number of users to access the system.
Acumatica's price is divided into tiers, each having a maximum amount of transactions. As a result, if you exceed your monthly transaction limit, you will be charged for the additional usage.
Mid-sized businesses may prefer software with a more predictable pricing structure. You pay a monthly subscription charge for each user license in Dynamics 365 Business Central. Your monthly fee will increase as the number of persons who use the product grows. You can use the software as much as you want without worrying about going over your transaction limit, and the cost is predictable.
For $8 per user per month, Microsoft now offers a read-only Team Member license. Giving full rights to people who need to work directly with the software and read-only licenses to people who merely need to check the software for information can help you save money on subscriptions.
Integrations
Business Central is a logical fit for your existing system if you already use Microsoft products. It integrates with other Dynamics 365 apps (like Sales and Customer Service), as well as tools such as Power BI for analytics and Power Automate for cross-application custom workflows. Business Central also connects with Microsoft 365 products such as Outlook, allowing you to complete ERP activities in connected apps without having to open Business Central.
Acumatica has a robust marketplace with a wide range of third-party apps that interact smoothly with the main suite software. If Acumatica doesn't have the capabilities your company requires, you can search the marketplace for modules ranging from warehouse and sales order management to supply chain planning, as well as a selection of productivity tools.
Reasons Why Dynamics 365 Business Central Takes the Lead
Interoperability across applications inside an ERP system is essential, and when different project management capabilities don't work together, as in Acumatica's ERP system, the end result can be costly.
When it comes to updating D365 BC data in Excel – such as master records and open transactions – and then publishing the adjustments back into the D365 BC database, Acumatica can't compete with Business Central. Exporting reports, analyses, and tables, as well as ensuring that all values are transferred in the correct format, are minor issues that Dynamics 365 Business Central eliminates.
This also poses data transfer concerns if you decide to move away from your ERP system in the future. You will only be able to export CSV files and will not have direct access to the database or system.
The same may be said for any cloud-based solution, such as Acumatica or NetSuite. With Business Central, Microsoft offers the free option of having a full backup of your whole database, which can then be distributed on a regular basis to a system that you own, operate, and have physical control over. This makes migration a seamless process.
Acumatica has less than 10,000 customers, falling just 150,000 short of Microsoft Dynamics 365 Business Central.
Finally, Acumatica is a very new company, having been founded in 2008. Microsoft Dynamics 365 Business Central (previously NAV) has been around since 1987. So, while Acumatica is attempting to expand its partner network, ISV portfolio, and so on, Microsoft Dynamics 365 Business Central has established itself as a dependable solution, tried, and tested over years. In the 1990s, it was the industry leader in SMB ERP solutions, and it will continue to remain so in 2021 and beyond. Businesses can invest in a Unified Business Solution with Microsoft because of its Stack support (SQL, SharePoint, Office 365, Teams, and so on), as well as the flexibility of the Azure cloud.
Conclusion
Dynamics 365 Business Central is a flexible and realistic ERP system that caters to the demands of small and mid-sized businesses looking for a cost-effective solution with all of the power and sophistication of Microsoft's ERP systems. It outperforms Acumatica in most categories.
To know more about Business Central, drop us a line. As a Microsoft Gold Partner, we can help you migrate to Business Central and scale your business to new heights.