Service
Migrate your existing Microsoft
software to D365 Business Central
Transform your business with hassle-free migration to Dynamics 365 from CRM, AX, GP, SL or NAV. Improve business security, reduce ongoing costs and unlock new capabilities.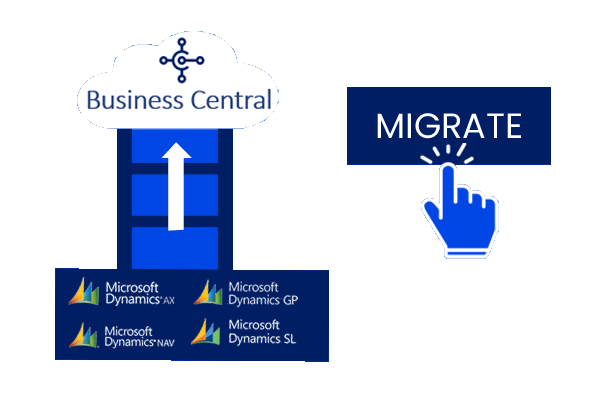 Smooth, Secure, and Seamless
Migration to D365 Business Central
If your existing CRM/ERP solution is no longer meeting your unique business needs it is time to migrate. Migrating your existing Microsoft solution will help you modernize the way you do business.
At DynamicsSmartz, we make Microsoft Dynamics 365 Data Migration stress-free and never miss out on new features. Let our seasoned experts help you optimize your migration journey.

Automated Updates
Never miss new features

Enhanced Flexibility
Optimize performance and get access from anywhere

Operational Intelligence
Make business decisions based on better data and insights

Stay Focused & Persistent
Technology that enables you to innovate and drive ROI
What Makes Us the Perfect Partner?
At DynamicsSmartz, we have years of experience working with Microsoft Business solutions. Our team of Microsoft Certified Gold experts will analyze and evaluate your business process to develop the best solutions to support your business needs.
Explore Our Migration Model
The Experts at DynamicsSmartz use a well-defined operating based model on open communication and transparency in order to deliver successful migration projects.


Experience the best of speed,
performance, and productivity with
our migration assistance
Give A Boost To Your Business with DynamicsSmartz
Partnering with Success
Through our Partner Program, we support Microsoft Dynamics Partners to grow and evolve in a cloud-first environment. Gain Gold level competency across the full array of ERP and CRM solutions, and Microsoft Cloud Services.

Partner with DynamicsSmartz for Reliable Microsoft Dynamics 365 Customization & Setup Services
Ready to Migrate to D365 Business Central?