Dynamics 365 vs QuickBooks: Which is Better?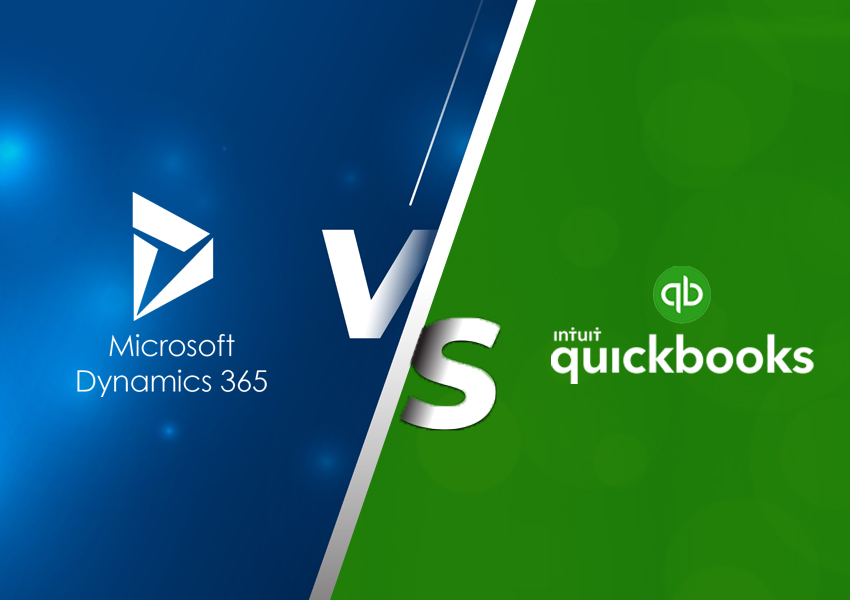 If you've built your business on QuickBooks, you know it's a great entry-level accounting solution. As your business flourishes, however, QuickBooks may not be able to keep up. There are telltale signs that you've hit your limits with your current systems and when those start to occur, your future growth will be stifled until you step up to a more comprehensive business management solution.
Microsoft Dynamics vs QuickBooks, which is better? If you're having a hard time picking the best accounting software product for your business, then you have come to the right place. Here in this blog, we will try to compare both software by breaking down some of the differences between the two products and determine which solution provides more benefits.
Both Microsoft Dynamics 365 Business Central and QuickBooks are software solutions that present accounting functionality for different businesses. Each of these can provide the core functionality that you need for handling necessary accounting in a small business. QuickBooks serves to be more suitable for simple micro-businesses or small businesses, whereas Dynamics 365 Business Central meets the more complicated requirements of developing small and mid-size businesses. However, beyond that, these two solutions are considerably different. Several businesses begin on QuickBooks and later transition/migrate to Business Central once their requirements grow.
The accounting software market has evolved remarkably since QuickBooks was initially introduced. One such convenient option is Microsoft Dynamics 365. This cloud-based system is simple to use, cost-effective, and feature-rich. Dynamics 365 Business Central is Microsoft's leading cloud-based ERP solution. It is designed to scale as you progress and is presently the logical place that businesses look to compare against QuickBooks. On the other hand, QuickBooks, which is the most universal accounting software available in the market, is intended to help small and medium-sized businesses to manage their payroll and bills, generate invoices paid, receive payments, etc. This software is extensively used as a beginner accounting system by businesses.
QuickBooks Features
However, this simplicity belies a lack of sophistication, evident in its limited reporting options; QuickBooks doesn't offer deep analytical capabilities or customer insights reporting.
The easy setup also means fewer accounting and auditing controls. This results in weak user permissions that allow any user to have access to sensitive data.
There is the issue of scalability with QuickBooks; startups with limited data to process can benefit from it. But when they start to process over 1,000 transactions per month or have multiple users accessing the system, the software starts to slow down.
Available in a number of different versions, including QuickBooks Online Plus, QuickBooks Enterprise Solutions Platinum, Gold, and Silver, clients have found upgrading QuickBooks to be a hassle, as not all versions are built on the same platform.
With a recent study reporting that over 90% of consumers would consider taking their business elsewhere, rather than work with a company that uses outdated technology, it's important that you carefully choose the right technology for scaling your business.

Microsoft Dynamics 365 Business Central Features
Full financial management, connecting data across accounting, sales, purchasing, inventory, to provide an end-to-end view of your business
Well-defined audit trails that track changes made to data by utilizing a historical log of activities
Consolidation of financial data from subsidiary companies, even if they are in other regions, and in multiple currencies
Tight integration with Dynamics 365 for Sales and Office 365
Mobile access to manage your business from anywhere using apps available for both iOS and Android devices
Extensibility with third-party apps from AppSource or custom apps and workflow on the Power Platform
When analyzing accounting software, knowing the strengths and deficiencies of the platform is very important. You will see how the software fits your business case. However, it would be hard to choose between software, particularly if your business is developing. The trick here is to evaluate the accounting software for everything it can do for you now when the organization is small and how it can support when your organization is double its size. Can it flex with your business if predicted growth surpasses expectations? Let us dig deeper to know the answers to all these questions.
QuickBook Vs Business Central: The Key Differences
1. Ease of Automation
The learning curve is a smaller one in the case of Microsoft Dynamics 365 Business Central because it is a Microsoft product. And anyone that is familiar with their different business management tools, such as Office or Dynamics CRM will be able to relate the Dynamics 365 user interface. This helps to improve user adoption, productivity, and return on investment.
QuickBooks, on the other hand, lacks the depth of capability, users notice that they need to move more further hands-on with the software, as they add different products plus their business processes become more complicated.
2. Real-time Data
Accounting software like QuickBooks simply provides users with a snapshot of sales performance for a given period. It gives an understanding of your business activities and trends, assisting you to manage sales leads based on revenue potential.
Business Central provides users insights into what's driving their profitability through user-defined dashboards and KPIs. Microsoft also employs AI and machine learning to additionally improve Business Central with predictive insights that will recommend the most suitable choices for you.
3. Customization and Extensibility
Dynamics 365 is cloud-based software; therefore, it is easily available anywhere where you have an Internet connection, and it also allows mobile apps for both tablets and phones. Dynamics 365 Business Central comes with embedded Power BI for better reporting and you can rely on an inclusive and expert partner network to offer implementation services, training, and support.
Next comes QuickBooks, which under-performs while addressing functions like reporting and gives impersonal and generic support.
4. Security Controls
QuickBooks' security protocol serves best for small businesses, but its basic security system is not enough for growing businesses with more users requiring access to the system. Businesses then extremely limit some users or provide too much access to others, leading to organizational incompetence.
With Business Central, you can limit functions by permission, groups, dimensions, or accounts. Plus, you can also use built-in workflows for even more enhanced security measures.
5. Scalability and Efficiency
As your business expands and becomes more complicated, business processes such as inventory management, job costing, reporting, and forecasting become more difficult utilizing QuickBooks. This makes you think of some powerful ERP system that grows with you, providing more functionality as you progress.
Hence, Business Central is customizable to your business requirements. It is easily extensible and configurable, plus you can further customize Business Central to build a unique solution that serves your business or industry requirements.
Conclusion
Given the depth of data and the visibility it provides, Business Central is a complete and reliable solution for your business. At DynamicsSmartz, we recommend Business Central as the best option for businesses with a plan for growth.
Whether you are aiming to optimize your operations, deliver projects on time and under budget, or simply sell smarter, Microsoft Dynamics 365 Business Central can help you achieve these goals.