Dynamics 365 vs NetSuite: Which is Better?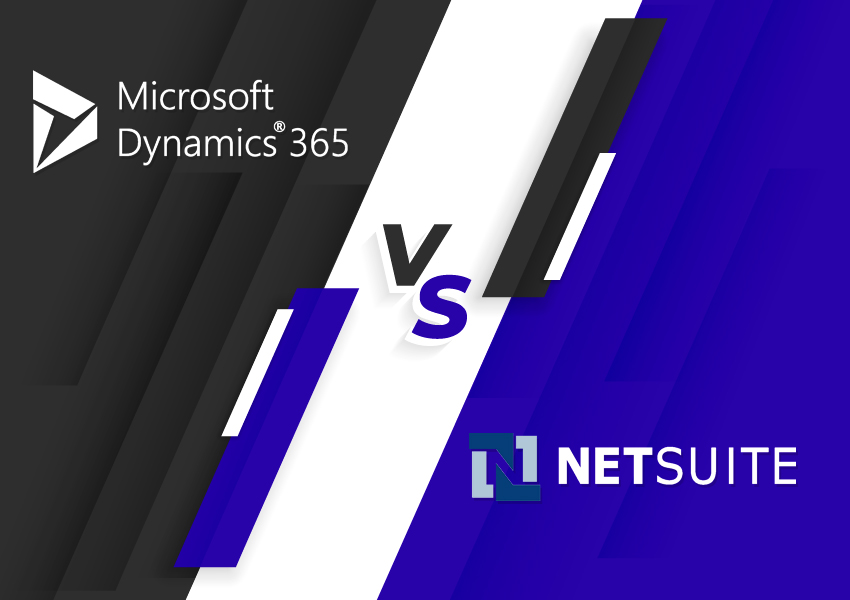 When it comes to new business management software, Microsoft and Oracle are two prominent industry heavyweights that you most certainly need to look into. Both offer cloud-based options that are widely used: Microsoft Dynamics 365 and Oracle NetSuite are two of the most popular ERP solutions on the market today.
In this blog, we'll compare and contrast Microsoft Dynamics 365 vs NetSuite. While both cloud-based solutions aim to help you modernize your current accounting system, they differ in several ways.
Both Dynamics 365 Business Central and NetSuite are robust, comprehensive business management solutions that are dependable ERP options. They have similar features and functionality, but their pricing, implementation, and reporting are all different. Let's take a closer look at Dynamics 365 vs NetSuite.
Microsoft Dynamics 365 Business Central
Microsoft's mid-market ERP system, Dynamics 365 Business Central, is a part of Microsoft's Dynamics 365 portfolio. It seamlessly integrates with other Dynamics 365 applications and solutions like Microsoft 365, Dynamics CRM, and Power BI.
Microsoft Dynamics 365 Business Central combines CRM and ERP functionality to provide your business real-time sales, financial, and customer service data. Dynamics 365 can help you find and nurture the right leads, close more sales, automate processes, and provide better customer experiences.
Oracle NetSuite
Oracle NetSuite is a cloud-based business management package that combines ERP, CRM, finance, and e-commerce functions. NetSuite is role-based software that allows each user in your company to have their own customizable displays and workflows.
NetSuite enables companies to manage their financial activities through a single, secure interface. It simplifies operations and makes use of forecasting tools to give you personalized KPI views and more.
Feature Comparison: Microsoft Dynamics 365 vs NetSuite
Let's take a look at how the two solutions compare in a few key areas:
Implementation
In most cases, Business Central can be deployed in a couple of weeks. On the other hand, NetSuite implementation can take months due to extensive customizations.
One of the most appealing features of Dynamics 365 is that its user interface is similar to that of other Microsoft Office tools such as Excel, Word, and Outlook, which customers are already familiar with. Its user-friendly, intuitive design means minimal training and faster employee adoption.
NetSuite's user interface is less straightforward, and users frequently require substantial training to efficiently utilize the application.
Pricing
Many SMBs find NetSuite to be a costly platform. The fact that it's a 100% cloud solution with no hybrid or on-premise options adds to the bottom line, along with multiple customizations. And as the number of users increases, so do the support costs. Licensing costs aren't disclosed, although they're thought to be in the range of $999 per month + $100 per user each month.
Microsoft Dynamics' perpetual and subscription license structures are fairly clear. The monthly licensing fee for Business Central is $70 per user, with various add-ons available. In terms of implementation costs, Business Central outperforms NetSuite.
Reporting
While both systems give you a complete picture of your company's data, users can set an unlimited number of parameters for evaluating data in Business Central, making it simple to drill down rapidly to receive more detailed information. Non-technical users can create reports without coding using Dynamics' drag-and-drop interface.
NetSuite analyses data in three dimensions and users may be required to run reports or navigate through multiple screens to get additional information. Since NetSuite lacks the user-friendly interface found in Dynamics, creating bespoke reports is difficult. Reports almost always necessitate the use of a developer.
Integration
Microsoft Dynamics 365 Business Central works seamlessly with a variety of Microsoft products, including Office 365, Azure, and the rest of the Dynamics 365 portfolio.
Oracle NetSuite does not have native third-party integration. SuiteCloud Connect is a collection of integration-related packaged solutions.
Scalability
Microsoft Dynamics has more features and functionalities in general, which may appeal to small businesses. As SMBs expand and grow their operations, they can leverage the power of customizations and third-party integrations.
NetSuite offers scalability through a set of standard features; additional features can be added, but the list of functions, as well as their customization, has some constraints.
Upgrades
The customer is not obligated to accept and install all of the newest updates because Dynamics 365 is built on a single-tenant architecture. Updates can be tested in a staging environment before going live in production to ensure there are no business ramifications.
NetSuite updates are rolled out to all clients due to the multi-tenant design. Clients have no choice but to install them, despite the fact that it may be damaging to their current business use.
Investing in the Future
This is a critical component of the evaluation process that is sometimes disregarded. Microsoft's considerable investments and attention on research and development have resulted in a solid product roadmap for Dynamics. Dynamics' ever-evolving AI capabilities are expected to transform the ERP environment as we know it.
NetSuite, especially after its acquisition by Oracle, lacks a clear vision and product evolution framework.
AI Capabilities and Business Intelligence
Microsoft's Power BI technology is used by Dynamics to provide powerful Business Intelligence features. It also features AI capabilities that allow businesses to use Microsoft AI research, tools, data, and the Power Platform to transform customer service, sales, and marketing. It also comes with a digital assistant that is capable of advanced Machine Learning and AI.
Business Intelligence and AI functionalities are not native to NetSuite.
Overall Ecosystem, System Integrators, and Resellers
Microsoft Dynamics 365 includes a large network of resellers, system integrators, and Dynamics Partners ensuring that your implementation is well-supported.
NetSuite typically sells to end users directly and offers remote assistance. There is a limited ecosystem of partners and integrators.
What makes Microsoft Dynamics 365 Business Central the Best Option?
While both Business Central and NetSuite are customizable, Business Central is an enterprise-grade system that is less expensive, easier to use, and scales as your business grows.
Furthermore, the more you use it, the more intelligent it becomes. It's the ideal blend of sales, customer service, and marketing tools. With its end-to-end support, Dynamics 365 effortlessly meets your unique needs, adapts when your priorities shift and provides everything your organization would want or need in an ERP solution.
While NetSuite has an excellent on-demand ERP product suite, its lack of customization options and BI and AI capabilities can be a worry for SMEs seeking a comprehensive and powerful solution.
Dynamics 365, on the other hand, is a future-proof ERP solution backed by Microsoft's vision and investments, as well as a strong Dynamics partner network. Dynamics should be the ERP of choice for SMEs because of its value-added consulting and implementation methodology. Request a quick consultation for more information on Dynamics 365 Business central.