Dynamics 365 Sales vs Customer Service: What are the key differences?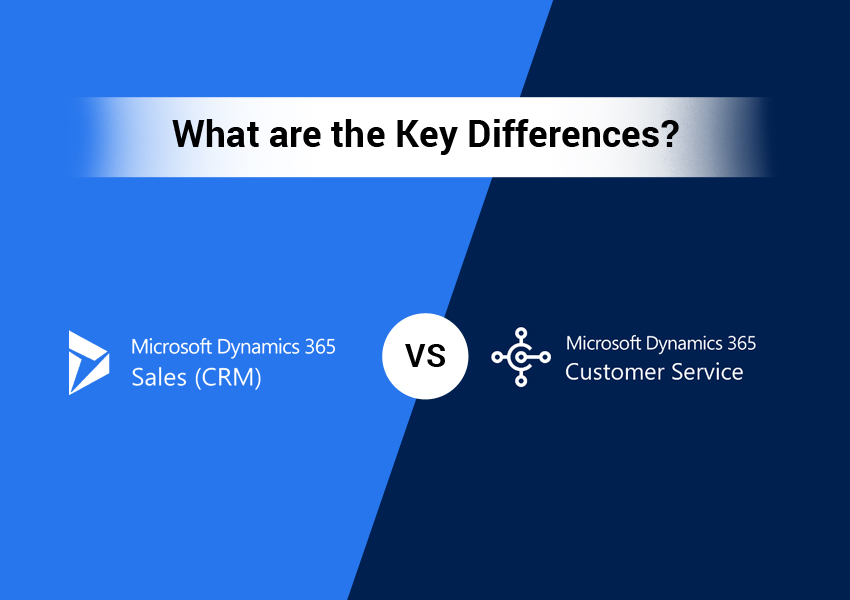 Are you looking for a CRM solution for your company? Then Microsoft Dynamics 365 should be at the top of your list.
But the underlying question is which module is better suited to your business requirements. What are the advantages of Dynamics 365 Sales? What are some of the most important features of Dynamics 365 Customer Service?
While both are powerful CRM modules with a long list of advantages, the choice between Dynamics 365 Sales vs Customer Service might get tricky.
This blog will help you understand some of the solution's most important features and benefits so you can figure out which one is right for you. You can also combine the two modules to get the best of both worlds, enabling you to optimize the sales process, increase revenue, and enhance customer satisfaction.
What is Dynamics 365 all about?
Microsoft Dynamics 365 is a business management software suite that includes both ERP and CRM capabilities. Microsoft Dynamics 365 CRM has been named a customer relationship management leader by Gartner and Forrester.
Dynamics 365 encompasses a number of modules, each of which can function independently or readily interact with others to form a comprehensive end-to-end business solution. Dynamics 365's stand-alone solutions include Sales, Customer Service, Field Service, and Marketing.
With various resources available across different modules, navigating through CRM systems can be confusing at first. Here's an overview of Dynamics 365 Sales vs Customer Service- the key differences:
What is Dynamics 365 for Sales?
Dynamics 365 Sales is a cloud-based CRM system that helps your company improve sales performance by going beyond sales force automation. It enables you to:
Enhance client interactions and customize the experience.
Boost Sales by using digital sales and remote engagement capabilities.
Connect your sales team to increase productivity and collaboration.
Make wiser business decisions based on real-time sales data.
The Microsoft Dynamics 365 Sales module includes:
Opportunity Management
Sales Process Management
Order Management
Sales Force Management
Pipeline Optimization
Quotes
Sales literature
Direct Email
What are the Key Advantages of using Dynamics 365 Sales for your Business?
1. Optimizes Sales Processes
By optimizing the entire sales process, Dynamics 365 for Sales can help your team sell more effectively. To begin with, it boosts productivity by streamlining sales processes. Standard processes can be mapped out as workflows and controlled automatically, reducing administrative responsibilities. It also improves collaboration, which helps your team sell as a unit. It offers a centralized platform for sharing sales materials and integrating Microsoft Teams chats into Dynamics 365 for real-time collaboration.
2. Enables Lead Generation
Dynamics 365 for Sales simplifies lead generation and management. For starters, it's easy to import data from external data sources in one go or in batches, as needed. It helps in the optimization of your telemarketing campaigns. Its process flow user interface delivers suggestions to assist your team in finding and qualifying new sales leads by asking the right questions. It also has built-in capabilities for planning, managing, and executing events for leads and prospects, such as live demos, presentations, and other activities.
3. Efficient Lead Management
You can track qualified leads along the sales funnel and set up rules with gated phases to ensure that your leads don't proceed to the next stage unless they match your criteria. This also assists you in tailoring your communications to the current stage. Dynamics 365 Sales will also automatically score and route leads for you based on your pre-defined rules if you manage a large number of leads per month.
Dynamics 365 for Sales includes a lot of features that can help you enable better selling across your organization. It can help the sales team generate leads, shorten the sales cycle, strengthen relationships, and win more clients.
What is Dynamics 365 Customer Service?
Customers nowadays expect businesses to provide good service round the clock. Service excellence is, in fact, a significant competitive differentiator for businesses.
Microsoft Dynamics 365 Customer Service is a prominent cloud-based solution that comes with everything you need to deliver outstanding customer service across all channels. It was named a Leader in the Gartner June 2021 Magic Quadrant for the CRM Customer Engagement Center.
In a nutshell, it can assist your business in the following ways:
Use knowledge base portals and virtual agents to automate self-service assistance.
Personalize and tailor your customer interactions.
Assists agents in case resolution by giving timely information.
Boost the efficiency of your customer service teams.
Dynamics 365 Customer Service Professional and Dynamics 365 Customer Service Enterprise are the two versions that are currently available.
Dynamics 365 Customer Service Professional is designed for small businesses and includes essential customer service capabilities such as case and knowledge management.
The Enterprise version of Dynamics 365 Customer Service includes analytics, reporting, and embedded intelligence capabilities.
With the Enterprise package, you can expand the solution's capabilities as needed to meet your company's unique requirements. Omnichannel add-ons include voice channels, digital messaging, and live chat.
The Microsoft Dynamics 365 Customer Service module includes:
Case Management
360-degree view of customer information
Email
Email management
Automated routing and queuing
Auto-response
Service scheduling
Searchable knowledge base
Service contracts
What are the Key Advantages of using Dynamics 365 Customer Service for your Business?
1. Get a complete picture of your customers
Many support teams struggle to provide a consistent, personalized experience across all channels due to disconnected data silos and the use of multiple tools. Dynamics 365 Customer Service makes it easy to better understand your customers and create a personalized experience by providing your service team with a consistent, 360-degree view across all channels. You can instantly view the customer profile and see a complete history of previous interactions with the support staff. You can also see a summary of their chat, support history, and any recent cases all in one location.
2. Use a uniform interface to make case management easier
One of the most important features of Dynamics 365 Customer Service is that it simplifies your service team's day-to-day tasks and allows them to work more efficiently. Dynamics 365's Customer Service Hub provides a consistent, user-friendly experience for your staff. The interactive dashboards allow agents to review their caseload and take action without having to go to different parts of the software.
An agent, for example, can open and update a case directly from the dashboard rather than searching for it. Agents can work across numerous open cases without losing context or work in progress, thereby saving time and increasing productivity in the long term. You can also create or update cases automatically using rules based on emails, social media activity, phone calls, and other actions.
3. Easy to maintain Knowledge base and Community Portal
To shorten call handling times, Dynamics 365 Customer Service offers a variety of self-service solutions for your customers. For example, the knowledge management module comes pre-installed and allows you to create and manage knowledge articles. You can also track your knowledge material and look at data like views, feedback, rating, and case usage to determine how well it's helping customers, which cases have used it, and where you can improve. You can also create a forum using the community portal add-on, where users can interact, share tips, and learn from professionals and other users.
Conclusion
Both Dynamics 365 Sales vs Customer Service are strong CRM software solutions that are suited to specific business processes. For a powerful, comprehensive CRM solution, DynamicsSmartz can assist you in extending sales functionality by integrating customer service.
We are a Microsoft Gold Partner who can assist you in digitally transforming your business and achieving your goals. Our team would be pleased to assist you, whether you'd like a personalized demo of the platform or have specific queries. To get started, please contact us today or request a demo.