The Importance of Sales Processes in Dynamics 365 CRM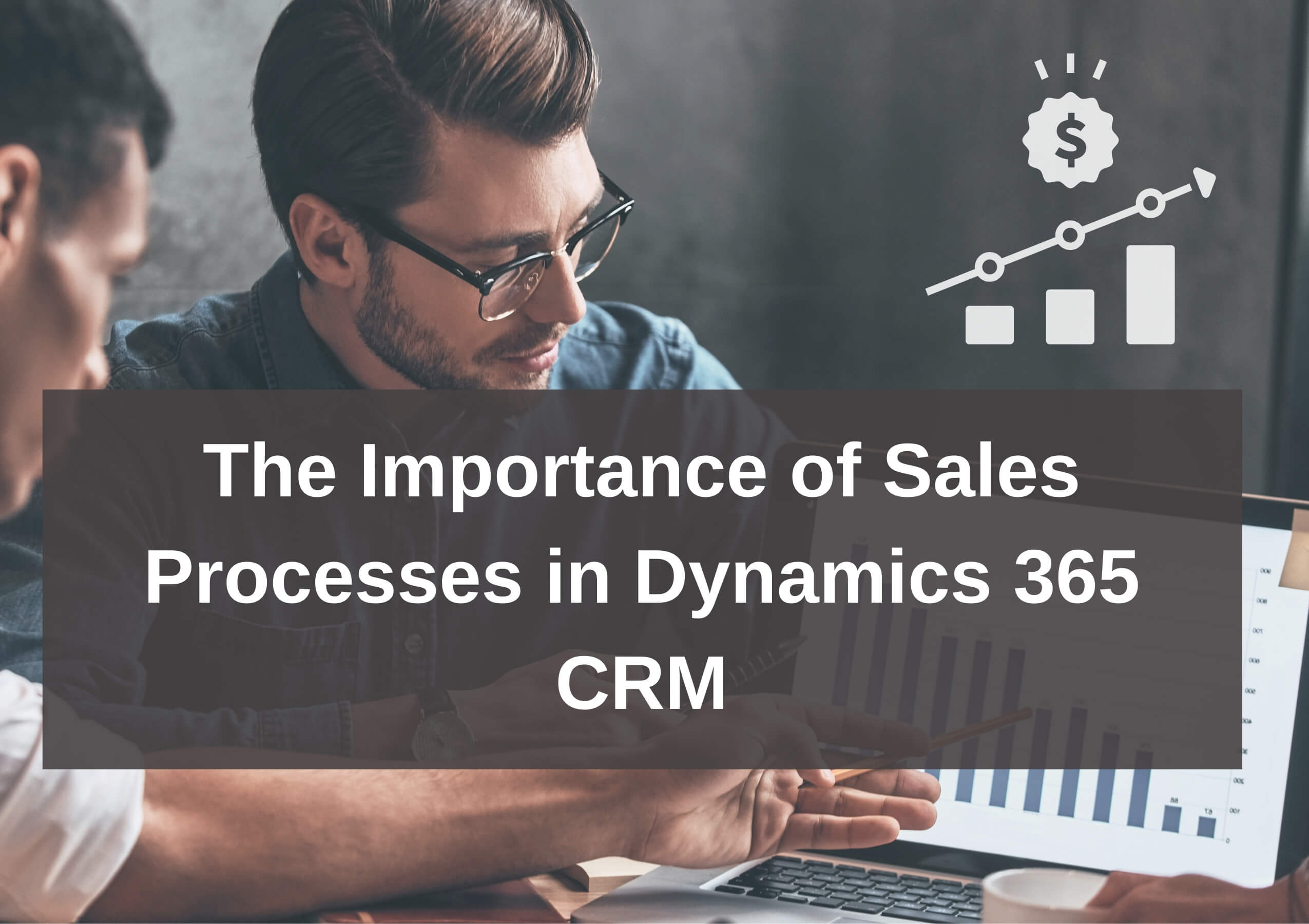 The success of any business, large or small, is entirely dependent on sales figures. Regardless of how good your product is or how much money was invested in marketing, every company's primary objective is to maximize sales. Microsoft Dynamics CRM is designed to help the sales process from start to finish, from generating a new lead to closing a deal. By following a defined set of actions, it enables you to close more deals and increase revenue.
Why is it important to have a sales process in place for a CRM implementation to be successful? Well, one way for a successful CRM implementation is to thoroughly define the sales process before you begin.
Microsoft Dynamics CRM's Objectives
The end goal of every business is to make profits, create opportunities, and nurture leads. CRM aims to support the sales process from the moment you get a new lead to the moment you close a deal, while also providing reliable sales forecasting. CRM software streamlines the sales process by automating and optimizing multiple stages. It even speeds up the process of closing.
When every sales activity is monitored, businesses can understand the data from the sales funnel and expand. The primary aim of the Dynamics 365 CRM sales process is to target the right leads and build a strong sales pipeline.
Microsoft Dynamics CRM Sales Process Life Cycle
The Dynamics CRM sales process lifecycle streamlines the process of generating new sales opportunities for your business. Since Dynamics CRM stores all of the information of new and potential leads, it aids in tracking follow-up contacts, such as phone calls, emails, and appointments, as well as qualifying leads into accounts and opportunities. The life cycle of the Dynamics CRM sales process is as follows:
1. Lead Capture
A lead is an individual or company with whom your organization has the potential to do business. Online or offline advertising, trade shows, direct contact, and other marketing techniques are often used to capture leads. In Dynamics CRM, you must enter the lead's name under the 'lead entity' tab and information about the lead under the 'subject' tab to create an entry in the system.
Once a lead has been captured, it is necessary to perform follow-up activities such as emails, phone calls, and appointments in order to obtain more information about the lead and progress to the next level of lead qualification.
2. Creating an Account
Accounts are entities with which your organization has a business relationship. In Dynamics CRM, this is where all account information is stored in the database. Prospects, suppliers, corporate associates are all examples of accounts.
3. Contact Setup
Customers are individuals with whom your company has a relationship; typically, these are customers or contacts of customers. While most contacts are associated with an account, certain organizations and companies can also represent or sell to individual customers. Since contacts in Dynamics CRM and Microsoft Outlook are linked, any contact you create or alter in the contact record fields in CRM will automatically reflect in Outlook, depending on the synchronization settings.
4. Opportunity Management
In Dynamics CRM, opportunities reflect future revenue for a particular customer; once created, an opportunity is added to the sales pipeline. When a customer agrees with the quote, the opportunity is said to be won; but, if a customer disagrees, the opportunity is said to be lost, and the sales life cycle ends.
By monitoring sales back to the original lead source and source campaign, you can calculate the effectiveness of your marketing efforts. When an opportunity is missed, the reasons for the lost opportunity can be tracked.
5. Catalog of Products
For all of your business needs, Dynamics CRM allows you to maintain a product catalog with various customizable prices and discount lists. With Dynamics CRM, you can generate quotes, invoices, and orders that include territory-based pricing, discount lists, commodity or price packages, and more. You can also provide a list of product relationships to make product substitutions easier, as well as cross-sell and up-sell opportunities and write-in discounts.
6. Quote Management
A quote is a list of products or services that the consumer is interested in, along with a defined price list and discounts. After reviewing, the customer may decide whether or not to proceed with the order. You can generate quotes in Dynamics CRM in two ways: from an opportunity with system-calculated pricing, or as a new quote. To include special pricing deals, multiple quotes can be generated from a single opportunity.
7. Order Management
An Order is a confirmation of a transaction that will be invoiced and sent to logistics for further processing. Orders can be generated in Dynamics CRM by clicking the 'Create Order' button on an active quote.
8. Invoice Management
Invoices are the last step of the sales process. An invoice is created in the Dynamics CRM system after an order is successfully placed. You have the option of creating an invoice directly from a specific order screen or going to the invoice section and selecting a new invoice. For each opportunity or order, you can generate several invoices.
9. Sales Business Process
To collect sales data and close a deal, every company follows a specific business process. The Dynamics CRM business process flow makes it easy for users to follow the directed process. You can either use an out-of-the-box business process flow or create your own based on your sales process lifecycle.
How can your Business optimize its CRM Sales Process?
Dynamics CRM is designed to help you increase sales by leading you through the prospect-to-customer journey. It also assists marketers in creating lead generation strategies and tracking where leads are coming from. Here are five ways that Dynamics CRM can help your business save money and optimize the sales process:
Goal Management
Microsoft Dynamics CRM compares the output and performances to KPIs and includes easy-to-understand charts and reports to inform sales directors, managers, and other sales professionals about the real-time analysis of person and team progress against sales goals.
New Business Prospects
With Dynamics CRM, you can take advantage of the data by segmenting it based on user experiences, such as the pages they've viewed or the items they're interested in. You'll be able to easily spot new sales opportunities this way.
A 360-degree view of the customer
From sales and marketing to finance and management, Dynamics CRM offers complete information about sales data to everyone who needs it. You can achieve better sales by aligning your sales activities with your company. You can also build up-sell and cross-sell strategies in minutes by using contextual knowledge available in Dynamics CRM.
Sales Dashboards
Dynamics CRM includes live reporting sales dashboards that enable you to keep track of active leads and sales opportunities and respond quickly and accurately. These dashboards, which include maps, statistics, revenue metrics, and KPI graphics, provide real-time insight that can aid productivity, sales, operational performance, and business optimization.
Mobile Sales
Dynamics CRM's mobile app allows field sales teams to work more efficiently on the go. Sales professionals can update CRM data in real-time using mobile CRM, even if they have intermittent or no internet access.
Conclusion
A well-defined sales process is essential for effectively managing both your sales team and your sales pipeline. Successful businesses are much more likely to have a systematic and organized sales process in place, which increases sales possibilities and productivity, resulting in increased revenue in the long run.
The sales process in Dynamics CRM seeks to prioritize, collaborate, and align sales activities in an effective manner, thereby having a direct impact on sales pipelines and business performance.
Many CRM implementation companies fail to account for the sales process in their approach. At DynamicsSmartz, our proven methodologies aid in the optimization of your sales process.
If you are ready to reap the benefits of Microsoft Dynamics 365 CRM, make sure to define your sales process properly or hire a consultant to assist you. Drop us a line for a quick consultation.