Dynamics Business Central vs Sage Intacct: The Ultimate Comparison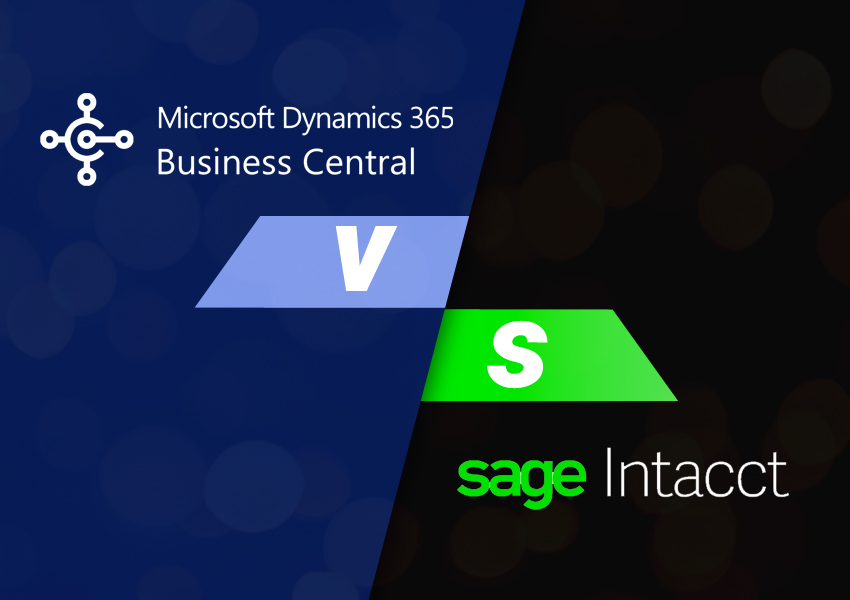 Microsoft Dynamics 365 Business Central and Sage Intacct are two popular mid-market business solutions that have similar features and functionality. While both systems have some features in common, there are a few key distinctions that make one a better fit for your company than the other.
Business Central and Sage Intacct are robust ERP solutions that offer a varying degree of fundamental accounting functionality. Large organizations and enterprises typically employ both, however, they cater to slightly different business sizes and use cases.
Sage Intacct is geared toward mid-size and big businesses, and the software focuses more on accounting and scalability for expanding businesses. Dynamics 365 Business Central, on the other hand, is designed for enterprise use, with an ERP-first approach and robust accounting capabilities.
Let's take a look at the side-by-side comparison of the two popular ERP Solutions- Dynamics Business Central vs Sage:
Features
Both Sage Intacct and Microsoft Dynamics 365 Business Central offer powerful features that are customized to their respective audiences.
Sage Intacct is built to give expanding businesses the flexibility they need to scale up as needed. The ability to customize deployments, data models and reporting is a major benefit. It also includes strong core accounting capabilities, as well as built-in features like timekeeping that boost productivity.
D365 Business Central, on the other hand, stands out for its reporting and extensive ERP capabilities. Users can dive down into the data as needed with Microsoft's versatile reporting features, giving businesses more visibility. The platform's vast features are complemented by its robust integrations and add-ons, which enable businesses to tailor the platform to their specific needs.
Accounting vs. ERP
Sage Intacct is a good option if you need a lot of accounting features. Sage Intacct specializes in accounting and provides significant financial management capabilities as a best-in-class solution. It complies with GAAP and is the only financial management software recommended by the AICPA. Although Sage Intacct has some operational capabilities, they are quite basic.
Business Central is a comprehensive ERP solution that includes financials, projects, warehouses, supply chains, customer connections, and services management. While it lacks the complexity of Sage Intacct, its broad capabilities can manage a wide range of tasks and operations for your business.
Sage Intacct is especially well-suited for professional service enterprises, whereas Business Central's characteristics fulfill the demands of most manufacturing and distribution companies as well as SMBs and enterprises alike.
Pricing
Business Central is undoubtedly less expensive and most effective when used in tandem with other Microsoft products. It integrates seamlessly with Microsoft products such as Office 365, allowing you to do Business Central tasks while using other tools. For example, instead of returning to Business Central, you can write and submit invoices and purchase orders right from Outlook.
Business Central also integrates with other Dynamics 365 apps (such as Sales and Customer Service), as well as Power BI for analytics and PowerApps.
Sage Intacct, on the other hand, is an expensive solution with a narrow, deep focus. Sage Intacct's drill-down capabilities enable firms better understand their core financials, and the open API allows it to interface with a wide range of software solutions.
Deployment Options
Sage Intacct is cloud-only accounting software. Sage Intacct cannot be installed on-premises or hosted in a third-party cloud environment. There are no hardware requirements to install or use Sage Intacct, and your provider will manage all upgrades.
Microsoft urges users to take advantage of Business Central Cloud, which is a cloud-first solution. However, Microsoft understands that certain businesses prefer or require different deployment options. Business Central On-Premise can be installed on servers in your office or hosted in the cloud by a third-party provider.
Flexibility and Mobility
You can now do business on the go with solutions like Dynamics 365, no matter where you are in the world. Business Central is more mobile and adaptable than Sage Intacct, and it provides convenience and control with a single click.
Scalability
Business customers demand a solid service and platform on which to run their business, collaborate, and get work done, regardless of the industry or size of their SMB.
Microsoft has spent extensively in improving the performance, stability, and scalability of Business Central throughout the platform and business application, in addition to a slew of exciting new features.
Sage Intacct is a cloud-based accounting solution that focuses on core accounting, financial management, and reporting. It is scalable and can handle expanding numbers of users, clients, and transactions.
Conclusion
Sage Intacct is a proven accounting powerhouse that helps finance teams modernize, automate, and become self-sufficient, despite its hefty sticker price. Because it is a best-in-class solution, capabilities outside of its accounting stack (such as inventory management) are limited, and you may need to combine it with third-party solutions to meet your needs in other business areas.
Dynamics 365 Business Central is a complete cloud-based ERP solution that provides full ERP features at a low cost. The software is updated twice a year and integrates seamlessly with other Microsoft products. Microsoft provides a variety of deployment choices, including on-premise, cloud-hosted, and fully managed cloud. Upon deep diving and comparing Dynamics 365 vs Sage, it's fairly evident that Dynamics 365 Business Central takes the lead.
If you're having trouble scaling your business because of multiple, disconnected systems, or you're looking for a cloud-based solution to manage the key aspects of your operations, it's a good idea to look into Microsoft Dynamics 365 Business Central's highly adaptable and feature-rich functionality. Drop us a line for a quick consultation.