Microsoft Dynamics 365 vs Power Apps: A Comparison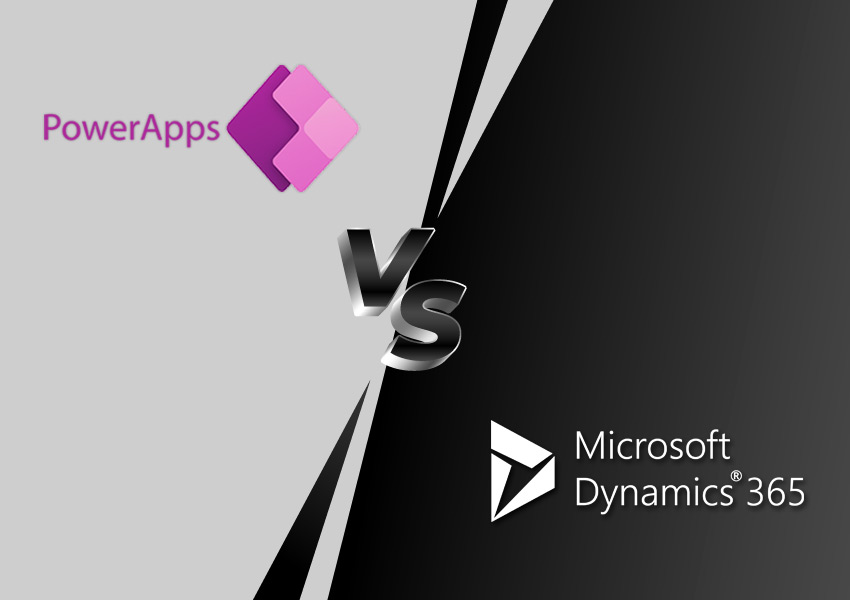 To keep up with the ever-evolving business landscape, the most up-to-date software tools have been built and optimized for use in the workplace. Business owners may intuitively use these tools to improve their business processes as they are user-friendly and require little to no technical skills. Advanced technology and business software provide comprehensive capabilities that provide any business owner a competitive advantage.
Dynamics 365 vs Power Apps
Microsoft Power Platform and Dynamics 365 are at the forefront of these business tools. Cloud computing is built into both these software solutions, allowing employees to share real-time data, collaborate more efficiently and access a centralized database from anywhere in the world.
As amazing as these tools may appear, growing organizations are bound by finances, which implies you can't just go all out and put your money into whatever you want. Every business owner must make informed decisions about investment endeavors, or the company will be unable to fund its everyday operations and will die before reaping the returns.
So, by way of education, we will compare Dynamics 365 vs Power Apps, providing all the pertinent information that will help you make an informed decision.
Microsoft Dynamics 365
Dynamic 365 is a cloud-based business software that combines ERP and CRM functionality. Dynamics 365 offers a number of benefits that can help any organization improve its processes, uncover weak spots, and create more efficient operational models.
Developed and marketed by Microsoft, Dynamics 365 comes with all of the latest features and the best level of compatibility. Microsoft Dynamics 365 can be combined with Microsoft Office tools, as well as additional add-ons and upgrades, to expand its functionality, originality, and profitability.
Dynamics 365 is delivered as a SaaS (Software as a Service), allowing enterprises of all sizes and financial capacities to leverage the solution. Dynamics 365 has several CRM and ERP offerings. Microsoft Dynamics Business Central is the ERP offering for small and mid-size enterprises whereas the CRM offering includes a range of solutions such as Dynamics 365 Sales, Dynamics 365 Customer Service, and Dynamics 365 Field Service for varied business functions.
Microsoft Dynamics 365 includes the following features:
Integration and cloud computing
Regular software upgrades
Access to a centralized database
Data compatibility and standardized data formats
Improved Data security
Cortana's and Power BI's Artificial Intelligence capabilities
Add-ons of your choice and Office 365 integration
ERP and CRM solutions with advanced features
Intelligent data sharing
Automation and analytics using artificial intelligence (AI) tools
Dynamics 365 gives you a single platform to manage all of your business processes. It enables you to manage and coordinate various teams, as well as improve teamwork and productivity. With a unified platform, you can centralize all of your security operations in one place, boosting efficiency and effectiveness. Employee reports and data input is standardized on such a platform, resulting in more thorough and efficient reports.
Dynamics ERP and CRM functions benefit a variety of corporate sectors, including finance, sales, marketing, customer support, project management, and human resource management.
Finally, industry-specific apps and add-ons can be added to Dynamics 365. You can find approved apps on AppSource that will enhance the functionality and distinctiveness of your Dynamics product. Because of the cloud, apps can be integrated quickly and effortlessly, allowing benefits to be implemented across multiple workspaces.
Microsoft Power Platform
Microsoft Power Platform is a business-oriented software that enables businesses to combine numerous applications, analyze data, and automate business processes. Power Platform is a PaaS (Platform as a Service) tool that runs on an intuitive and user-friendly interface and requires little to no technical knowledge. For increased business productivity, Power Platform incorporates data reporting solutions, app synchronization, task automation, business intelligence, and virtual agents are all used by the Power Platform to boost business productivity.
Much of the market data that would enable any company to succeed is often fragmented and stored across incompatible applications like accounting software, spreadsheets, word processors, websites, and CRM databases.
Microsoft Power Platform allows a company to connect these disparate applications, gathering the data into a consolidated system where it can be easily accessed. Power BI, Power Apps, and Power Automate all make up the Power Platform.
Microsoft Power Apps
Power Apps is an application development platform that is part of the larger Microsoft Power Platform and is based on and uses Azure cloud services. The Power Apps module was created with implementation in mind. Users can design one-of-a-kind, specialized apps to tackle challenges particular to their industry or business. Power Apps allow organizations to create their own custom applications without having to learn programming. Apps can be used on both mobile devices and desktop PCs, with greater interoperability on both systems.
Canvas and Model-Driven applications are the two types of applications available.
Canvas apps are created without the use of code and are set with a drag-and-drop interface similar to PowerPoint. This gives users a lot of control over their user experience and allows for a clean and intuitive interface. These apps are designed for simple and particular use-cases, such as filing an expense report and can link to both Microsoft (Sharepoint, SQL, etc.) and non-Microsoft data sources (Twitter, Dropbox, etc.).
Model-driven apps are created with the Dynamics 365 framework and can only connect to the Common Data Service for data. These applications, which make use of the Unified Interface UX, are better suited to complex scenarios with various functions.
Conclusion
Dynamics 365 vs Power Apps has been a long-going debate. If your company requires Dynamics 365 Apps such as Sales, Customer Service, and Field Service, or ERP modules, like Business Central, it is recommended that you avoid reinventing the wheel and instead use these apps, which Microsoft has built after years of research and development. However, if you require an out-of-the-box app, you should consider developing it using the Power Platform. To explore these solutions in greater detail, drop us a line.