How Microsoft ERP Solutions Can Help You Grow Your Business in 2021?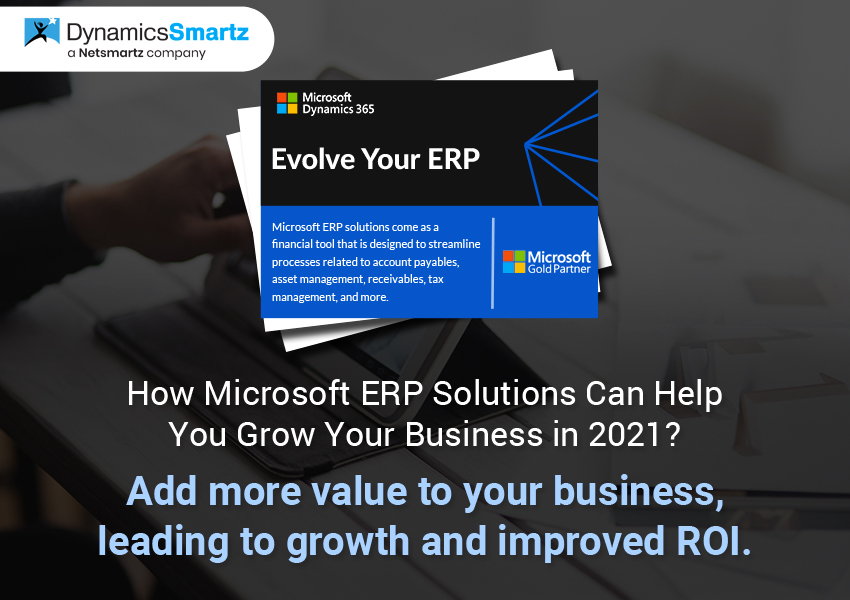 Through the years, ERP systems have been the key to success for business planning and operational management. ERP technology brings you the best of management and operational support and can deliver a competitive advantage on resource planning.
With more than two decades of experience providing business solutions, Microsoft technology has become a business essential that allows you to lean out your resource planning process for added productivity. Moreover, ERP technology has the capability to leverage all data which can add value to decision making for both current and future projects.
Let us quickly jump on the entire idea of using Microsoft ERP Solutions and how they can add more value to your business, leading to growth and improved ROI.
Enhanced Integration
One of the best and most significant reasons to choose Microsoft ERP solutions is fully integrated support. It allows the users to perform the most complicated tasks with ease through precise analysis and monitoring of the workflow.
In addition, Microsoft ERP solutions enable smooth integration between various departments leading independent operations, allowing full transparency between all stakeholders, owners, and departments for planning confident business moves.
Process Automation
The evolution of technology over the years has made it easier to automate the business process. However, one thing that makes Microsoft ERP solutions stand out is the benefit that it offers to workforce productivity. Since Microsoft ERP allows improved business automation, it leads to immediate enhancement of the business with a big save on time that otherwise would have been consumed through resource planning strategies or pulling together manual data from spreadsheets.
Data Analysis & Reporting
Another reason why Microsoft ERP solutions are considered more customer and business-friendly is the benefit that they bring to data analysis, whether it is client, customer, or financial data.
Data analysis on Microsoft Dynamics 365 based ERP solutions can, not only, reform your productivity goals, but also compile this data in robust reporting to help with real-time decision making. Meanwhile, the reporting features available on the system make it easy for the end-user to share the reports safely while defining restrictions on data usage, even within the organization.
Customer Relationship Management
Microsoft ERP solutions run on a centralized database, which allows immediate access to customer information as well as resource data for better business control.
And if you are a user who needs to manage leads for instant solutions, Microsoft ERP solutions can bring you absolute and genuine business growth.
Concluding it all
Microsoft ERP solutions come as a financial tool that is designed to streamline processes related to account payables, asset management, receivables, tax management, and more. In other words, Microsoft ERP helps those business organizations that are struggling to reduce the workload, define resources, while generating a real-time profit and sustaining a favorable atmosphere within the organization.
There are several benefits of ERP technology such as business and financial visibility with both in-office and field teams working remotely. Product delivery tracking are all certain features that make it business-critical to invest in cloud-based technology like Microsoft.
Planning to take your business forward by investing in Microsoft ERP solutions? Make sure you seek expert advice before making your move. Let our experts at DynamicsSmartz help you by transforming and growing your business.