Migrating from GP to Dynamics Business Central: What You Need to Know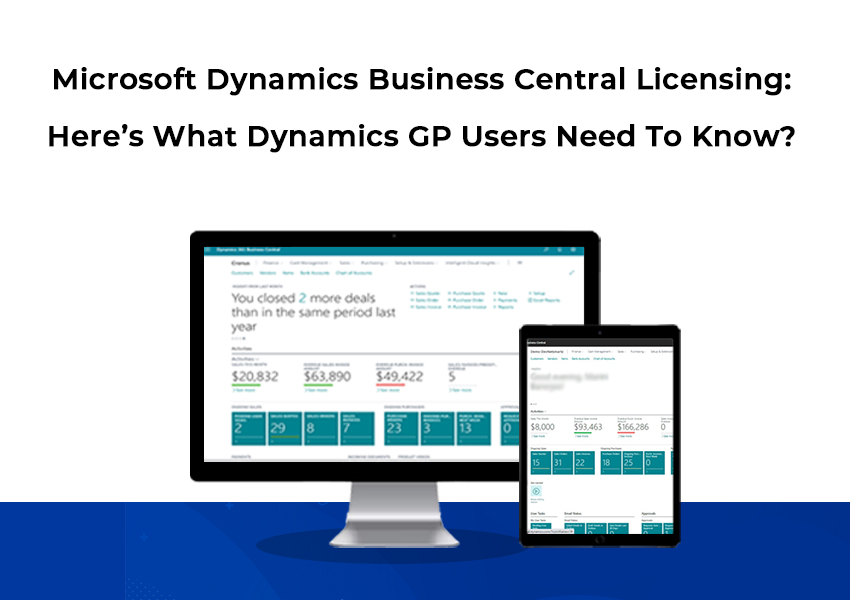 It takes a lot of work to make changes to your technology infrastructure. Due to the rapid pace of technological advancements, the shift has become less complex and the leap less daunting.
Many small and medium-sized businesses (SMBs) continue to use Microsoft Dynamics GP, originally known as Microsoft Great Plains. Team members are reluctant to transition to more cutting-edge solutions since Dynamics GP is so ingrained in their daily work.
What are the reasons why SMBs should reconsider using Dynamics GP?
While Microsoft will not discontinue support for GP, it will be limited to bug patches and compliance updates. As a result, they will no longer make updates. Instead, Microsoft is investing in developing its cloud-based business suite, Dynamics Business Central.
Business Central's robust features can help SMBs improve their software functionality and business management. While Dynamics Business Central and GP have similar capabilities, Business Central is a better solution due to process automation, cloud backups, automated updates, and user-friendly dashboards. Many third-party tools integrated into your GP system are native to Microsoft Dynamics Business Central.
Microsoft Dynamics Business Central vs. Dynamics GP: What's the difference?
Microsoft Dynamics GP has been the preferred solution for small and medium-sized organizations since its initial release in 1993 (as Great Plains). Accounting, payroll, business intelligence, analytics, and resource management are some of the day-to-day activities managed by the software for SMBs.
Although some functionalities can be migrated to the Cloud, GP is predominantly an on-premise solution. Most Microsoft Dynamics GP users have on-site servers, with IT teams handling the hardware, database, and security.
On-premise solutions, such as Dynamics GP, have significant drawbacks. For example, GP does not provide automatic updates. Instead, enterprises must pay a fee to update their software, and to do so, IT personnel must log users out of the system. This process is costly and disrupts business operations. SMBs must also invest in hiring IT and security teams to manage assets and maintain physical equipment.
Unlike Microsoft Dynamics GP, Business Central is cloud-based and does not require on-premise infrastructure. Business Central's monthly subscription provides SMBs with peace of mind that their assets are safe in the case of a disaster, in addition to security and data backups.
Furthermore, Microsoft Dynamics GP supports only limited cross-platform synchronization and process automation. As a result, teams must manually update and input data, which is time-consuming and prone to errors. Platforms such as Business Central automatically sync data over the Cloud, allowing staff to focus more on duties involving customer interaction.
Although changing systems can be daunting, Microsoft Dynamics Business Central provides SMBs with various tools and add-ons to increase workflows, productivity, and business insights.
Types of Business Central Licenses
Dynamics Business Central has two license options: Essentials and Premium. Each gives users access to a variety of features and functionalities. All your user licenses will fall under that choice once you choose the functionality that best suits your company's needs. To put it another way, all your full users will either be Premium or Essentials users.
The difference between the GP model and BC licensing should be considered when determining how many user licenses you require. The concurrent nature of GP user licenses limits the number of users who can log into the system simultaneously. Each person that logs into the system requires their own user license because BC licenses are named users. Review your list of GP users to establish how many persons will require a BC license before deciding how many BC licenses to purchase.
Dynamics Business Central Essentials License
The first level of Dynamics Business Central user licenses is called Essentials, and many enterprises find that it meets their business requirements. Essentials licenses cost $70 a month per user. The following capabilities are part of the Essentials license:
Financial Management
Warehouse Management and Inventory
Project Management
Supply Chain Management
Customer Relationship Management
Human Resources Management
Dynamics Business Central Premium License
Premium licenses cost $100 per user per month and expand upon the Essentials license. All the features from the Essentials license are included in the capabilities, plus the following:
Service Order Management
Manufacturing
Dynamics Business Central Team Member License
The Team Member license is a different licensing to take into account. A Team Member license can be used by users who need read-only access or who must accept or reject workflows that have been assigned to them in Dynamics Business Central. The Team Member license is a viable substitute for users who don't require a full Essentials or Premium user license. Licenses for Team Members cost $8 per user per month. When determining who requires a Team Member License, consider your GP Limited and Self-service customers because the access is similar.
Conclusion: Is it Worth it to move from GP to BC?
Some organizations are reluctant to switch since the payment structure between GP and Dynamics Business Central is so different. However, BC provides a wide range of cost-saving features that make up for the increased cost of the new membership scheme.
Additionally, if you switch to Dynamics Business Central, you'll have access to a wider variety of Independent Software Vendor (ISV) solutions, and your teams will have access to more automated workflows, enhancing their ability to be more efficient and effective.
For most SMBs, BC's advantages significantly surpass the costs of monthly subscriptions, particularly if you have a trusted Microsoft partner to guide you through the transition. To learn more about GP to BC migration, drop us a line.