Why migrating from Microsoft Dynamics GP to Business Central is a Better Option?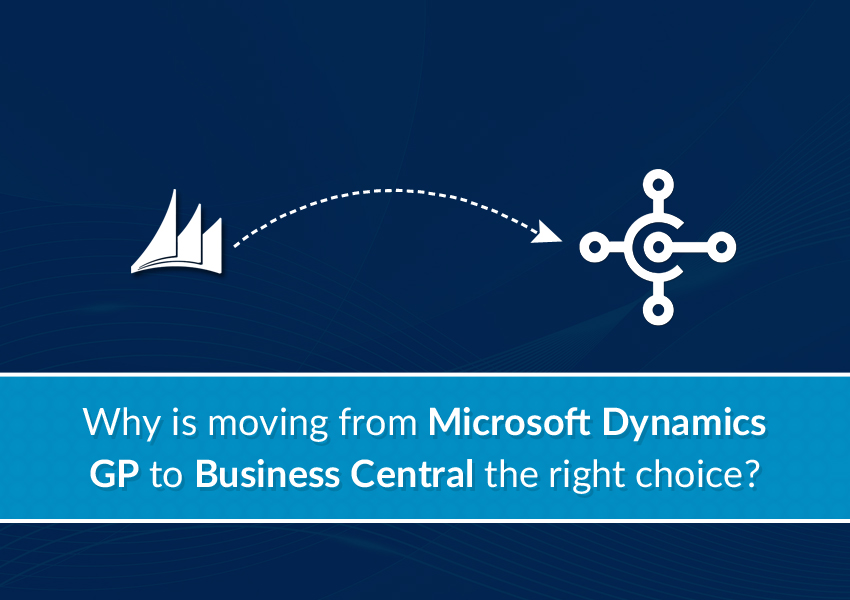 For more than two decades, Microsoft Dynamics GP (Great Plains) has been a solid ERP (Enterprise Resource Planning) solution, with thousands of satisfied and loyal clients. Despite the fact that Dynamics GP has been at the forefront of the industry for decades, technology continues to advance.
While Microsoft will continue to support Dynamics GP, the company has stated its commitment to cloud-first solutions. Some users have questions about GP to Business Central migration and whether moving from Dynamics GP to Dynamics 365 Business Central is the right choice.
Dynamics GP to Business Central Migration: What You Need to Know
Business Central and GP are both adaptable and easily customizable

GP users have long praised how easy it is to customize the software. Similarly, BC's drag-and-drop interface allows users to customize it even if they don't have any programming skills. Even for more complicated customizations, BC's business logic can be easily changed and everything is saved between updates.
The Developer Communities are fantastic

Since both products have been around for a long time, you won't have any trouble finding developer resources or ISV add-on solutions to expand the capabilities and meet unique business requirements.
Both Business Central and GP can be installed on-premises, but only Business Central can be installed on the cloud

If you're on-premises and want to stay there, for the time being, you can work with Business Central on-prem. Business Central allows you to seamlessly move to the cloud whenever you are ready.
Both Business Central and GP support external applications

These features are common in systems that have been around for a long time, and Business Central is no exception- in fact, it supports the next generation of integrations, interfacing with popular third-party cloud applications. HCM, CRM, and Payroll software can all be seamlessly integrated with Dynamics 365 Business Central.
Manufacturing and distribution capabilities are available in both Business Central and GP

GP has long been known for its solid manufacturing and distribution functionality, and BC adds to that. Warehouse and inventory management, lot and serial tracking, manufacturing process automation, supply chain management, barcoding, and more are all basic capabilities that can be extended.
Business Central Takes GP to the Next Level

For a variety of reasons, Microsoft selected BC to bring ERP to the cloud for SMBs, SMEs, and developing enterprises. Improved branch and multi-entity support, out-of-the-box dashboards, the ability to add user-defined fields to records and reports are all available in BC.

BC enables you to use the Microsoft Power Platform, which is a collection of programs that makes information accessible to non-technical users. Power BI for business intelligence and reporting, Power Apps for low-code/no-code app development, and Power Automate for workflow customization, are all included.

Top Benefits of migrating GP to Business Central:
A True Cloud Offering: Since its release, Business Central has soared to new heights in the SMB cloud accounting ERP industry. It's a cutting-edge, cloud-based solution that can be used from any device at any time, 365 days a year, 24 hours a day, seven days a week. Simply download the app to your preferred device from the Windows Store, Apple Store, or Google Play to process on the move.
Next-Generation: Business Central has a modern, intuitive, role-based user interface that is easy to customize without the need for expensive development. To improve your efficiency, you may quickly modify any screen in Business Central.
Stability: Because Business Central uses real-time processing in a true cloud system, it doesn't have the batch posting issues that Dynamics GP does. This translates to reduced time spent fixing data integrity concerns, fewer IT and support costs, and higher user satisfaction.
Robust Analytics: Hundreds of thousands of GL Account codes can be generated by examining data by many segments in Dynamics GP. Dimensions in Business Central solve this problem by allowing you to analyze data only where you need it without having to generate extra GL Account codes.
Tight Integration: Business Central is based on the NAV platform and is part of the Microsoft Dynamics family. Word, Outlook, Excel, Teams, SharePoint, and, most significantly, the Microsoft Power Platform are all fully connected. You can get the most out of your Microsoft investment by migrating to Business Central.
Export Data on Demand: Data from Business Central can be exported to Excel for viewing and editing (where applicable) without the need to construct SmartLists in a separate application or partner system.
Migration Enabled: A data migration solution that automates the process of migrating from Dynamics GP to Business Central is available, which significantly lowers the cost of migration. Not only can the tool transport standing or master data, but it can also move previous transactional data.
Product Investment: Microsoft's ongoing product investment is mostly focused on its cloud products. Every year, Business Central has two major updates, each with a slew of new features and improvements.
Scalability: Business Central is totally scalable, with a monthly fee per user. You can simply scale up or down depending on your specific business needs or as they evolve.
Upgrades are available for free: There will be no more pricey upgrades! Business Central is automatically upgraded, and there are no additional license costs, resulting in a high return on investment.
Conclusion
Business Central is a robust and dependable cloud solution. While Microsoft will continue to support GP, with the fast-changing business landscape and rapid change in advancements, it has become a business imperative to accelerate digital transformation and streamline business efficiency, which Business Central enables, among other things. At DynamicsSmartz, we can help you make a seamless transition to BC. For more information on Dynamics GP to Business Central migration, drop us a line.