What is the Difference in Microsoft Dynamics: GP and NAV?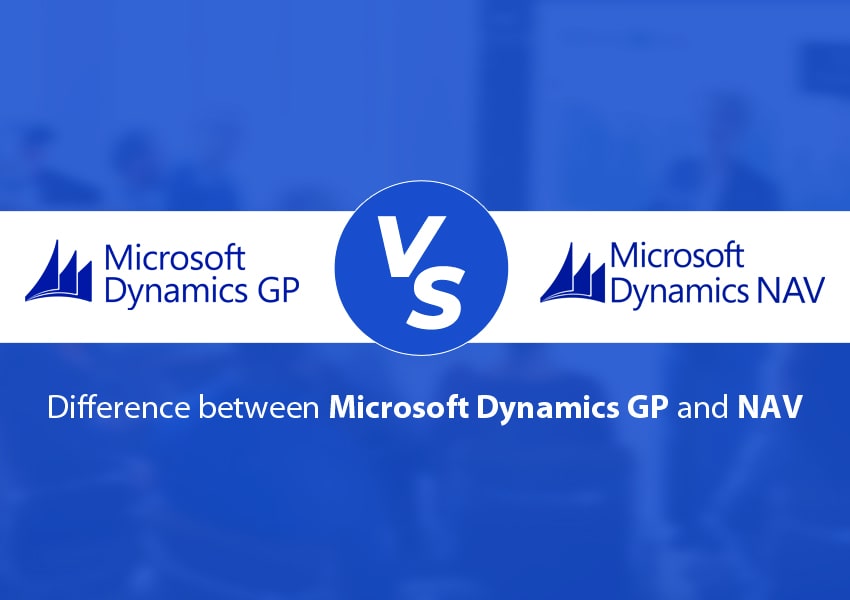 Are you a small or medium-sized business weighing the pros and cons of Microsoft Dynamics GP vs NAV? At first look, all Microsoft offerings appear to be very similar, and it is only after a more thorough examination of each financial management system that the differences become apparent.
Whatever your industry, needs, or company size, one of these two Microsoft Dynamics solutions- Microsoft Dynamics GP vs NAV,  should be able to meet your needs.
Microsoft Dynamics GP vs NAV – which one should you choose for your business?
There are several similarities between Microsoft Dynamics NAV (previously Navision) and Microsoft Dynamics GP (formerly Great Plains). Both are comprehensive ERP solutions with a set of strong features to help you manage your company's finances, operations, human resources, projects, supply chain, and manufacturing processes.
Since they are both Microsoft offerings, they are compatible with other Microsoft solutions and systems. It also means that they have a user interface that is familiar and intuitive, allowing people to rapidly adopt and learn it.
Despite the fact that they were both created to meet the needs of the mid-market, they have some functions in common. So, what factors should an organization consider when making a choice?
Microsoft Dynamics GP
Microsoft created Dynamics GP as a feature-rich out-of-the-box solution. It's designed for businesses that wish to tailor their workflow according to Dynamics GP process transactions. It has a lot of features, but it's not as flexible as Microsoft Dynamics NAV.
It is typical to have ISV or third-party products as part of a Dynamics GP package. In addition, there is a powerful, scalable, and feature-rich collection of ISV products on the market. This means that if you work in a given industry, an ISV solution may already exist to meet the unique feature requirements of similar organizations.
Although Dynamics GP is not as adaptable, it is easier to set up and offers a large number of standard add-ons.
Why Dynamics GP?
More functionalities than entry-level accounting systems
Supports continued long term growth
Manages multiple businesses or units
Supports manufacturing processes
Integrated payroll functionality
Microsoft Dynamics NAV
Dynamics NAV, with over one million users, is one of the most popular products in the Dynamics family. Dynamics NAV is extremely adaptable and can be customized to meet the specific needs of enterprises. It makes it possible to track and automate customization in order to keep upgrades and maintenance on track.
Dynamics NAV is a cutting-edge technology that enables business and industry leaders to expand their businesses by leveraging key capabilities.
Dynamics NAV is well-suited to bespoke solutions, making it excellent for developing specialized features for your industry. Dynamics NAV is also an excellent choice if you require a system that can expand with your company.
Why Dynamics NAV?
More functionalities than entry-level accounting systems
Supports continued long-term growth
Ideal for businesses that operate on a global scale
Roletailored ERP provides a user-friendly and customized user interface
Easy to use, customize, and modify
Full functionality for manufacturing processes
Microsoft Dynamics GP Dynamics NAV: The Differences
When determining which of the two ERP systems is ideal for your business, you should focus on the differences rather than the similarities between the two.
We've highlighted a few of the more notable distinctions below:
Accounting/ Financial Management
Dynamics GP offers comprehensive financial management capabilities with better controls and security to match your specific business needs.Whereas, Dynamics NAV offers complete financial management features with a more flexible chart of accounts that allows financial transactions to be tracked using account dimensions, resulting in fewer GL accounts.
Reporting
In Dynamics GP, you can easily set up and run consolidated financial reports using Management Reporter.Dynamics NAV has a versatile reporting framework that allows you to provide data in any form your organization requires, thanks to the utilization of up to ten dimensions.
Sales Order Processing
Dynamics GP: Out-of-the-box features include customized word templates that may be emailed to customers and the ability to record line item billing information for non-inventory items, as well as the ability to automate sales order processing.Dynamics NAV: Invoice for inventory and non-inventory items while utilizing a flexible report creation tool to assist in the creation of invoices that are tailored to the company or customer's needs.
Payroll
In GP, payroll is a feature that comes standard with the software. While in NAV, payroll functionality is available as a third-party solution that is integrated into the system.
Procurement
GP's materials requirements planning functionality allows for intelligent procurement decisions and exact procurement modifications based on unique requirements. Requisition management is also included in GP.In Dynamics NAV, Order status, product specifications, production planning, inventory, requisition management, and buy order authorization are all available in real-time with comprehensive procurement features.
Manufacturing
Sales forecasting, job costing, quality assurance, engineering change management, and capacity requirement planning are all part of the manufacturing suite offered by GP.NAV can improve production performance from the shop floor to the bottom line by leveraging tools specifically for production orders and BOM, supply and capacity planning, agile manufacturing, version management, demand forecasting, machine centers, finite loading, and production scheduling to control different manufacturing areas ranging from order entry to delivery.
Inventory Management
Dynamics GP: Reduces handling and boosts accuracy for single and multi-site warehouse operations, and guarantees the right inventory is available at the right time to meet customer needs by managing inventory on a site-by-site basis.In NAV, to reduce the number of inventory items in the system, you can track inventory items with multiple characteristics.
Project Management
Dynamics GP can help you handle project direction, cost, and execution by providing timesheets, expense reports, resource control, and correct billing functions.Dynamics NAV allows you to plan and manage projects by tracking spending, estimating availability, and planning capacity with budgeting and resource management support.
Additional Functionality
A broad network of certified third-party ISV solution providers that effortlessly interact with GP provides additional, specialized capabilities.

Developers can access the source code for NAV. NAV also has a vast network of third-party ISV solution providers who work within the software itself.
Winding Up!
Microsoft Dynamics GP vs NAV is an ongoing debate. If you want more information, or want to see the Dynamics products in action, talk to a Dynamics Expert. Dynamics 365 Business Central is a robust, comprehensive ERP solution that is the latest iteration of Dynamics NAV. Moving to Business Central unlocks a number of benefits; you can finally bid goodbye to costly on-premise servers, upgrades, and maintenance.