How to Overcome User Resistance to ERP Implementation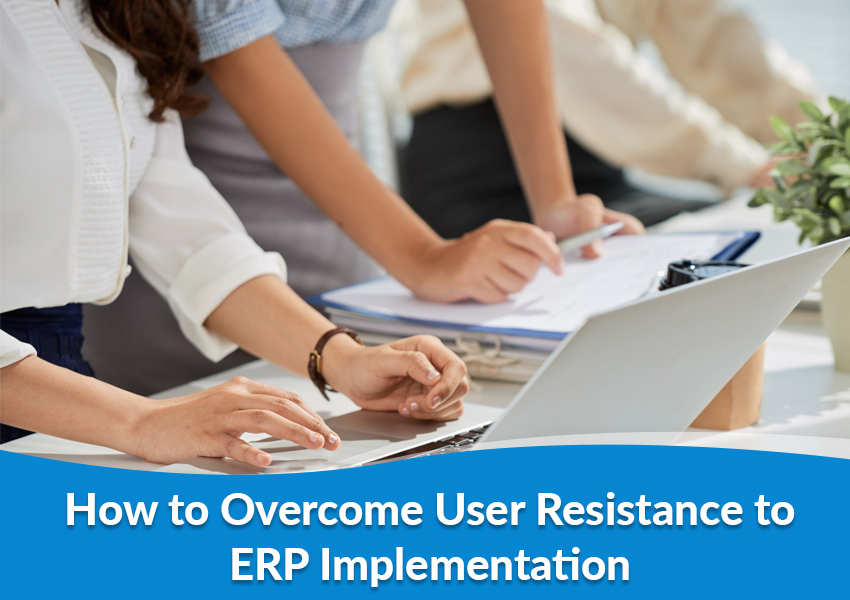 The only constant in business is change; however, whether big or small, important or insignificant, humans are hardwired to resist change.
Implementing an Enterprise Resource Planning (ERP) system is one of the most significant changes an organization can make. ERP software helps businesses develop robust capabilities, boost efficiency, enable better decision-making, and gain a competitive advantage. It helps the management by establishing better corporate practices and providing them the necessary information for strategic decision-making.
Many businesses still use obsolete and inadequate ERP systems that are unable to meet the evolving needs of customers, staff, and vendors. Management teams have several concerns when it comes to replacing their legacy ERP system, the most significant of which is implementation failure. Lack of ownership and adoption of the new system is the most common cause of implementation failure.
Humans often perceive change as a challenge, even when the change is a system, method, or process that will make their jobs easier.
There are a variety of reasons for the lack of ERP adoption:
They may have tried a similar system in the past and found it difficult.
They may be upset with the fact that they were not a part of the decision-making process.
They may be worried that their job is at risk.
They can be concerned that their well-established procedures have been altered.
And, in many cases, users reject the new system because it does not meet their requirements.
The key to resolving these concerns are successfully addressing change management and employee buy-in.
Change Management
A successful ERP implementation requires effective change management. The discipline demonstrated by the leadership is what lays the groundwork for how effectively the organization prepares for change management. Also, it's equally important how the leadership helps, directs, and educates its people during the implementation journey.
The formation of a selection team is one of the most effective change management strategies. It acts as a guiding force for ERP selection and implementation. The selection team consists of a diverse group of employees from various departments. Traditional change management challenges can be mitigated thanks to the selection committee and sponsorship from the executive leadership team.
Employee Buy-In
When it comes to ERP implementations, it is noticed that more often than not, the improvements are imposed on the employees rather than discussed with them. This organizational stumbling block can be disastrous for long-term change management.
Employee buy-in, participation, and acceptance are critical for successful organizational change. No matter how successful a change management plan is, if it isn't accompanied by an equally effective strategy for gaining employee buy-in, ERP implementation can face stiff resistance.
To prevent problems with employee buy-in when introducing a new ERP system, it's important to engage with the entire organization's workforce, right from upper management to entry-level employees.
At DynamicsSmartz, we recognize that our role goes well beyond that of a technology solution provider, which means we spend a significant amount of time engaging with our customers to ensure that people are at the center of ERP implementations. When faced with change resistance, we provide support by answering queries, presenting advantages, and countering misconceptions to help overcome user resistance to ERPsystems.
Here are some key strategies that organizations can leverage to overcome resistance to ERP systems.
1. Make the Business Case for Change
Creating the foundation for a new ERP system will help users in realizing its many advantages. To begin, businesses must perform a thorough market analysis and current state analysis to develop the business case. This reveals areas where the organization can improve and how the ERP system can help. Business leaders must share this knowledge – as well as their vision for the future – with all employees.
2. Communicate Thoroughly and Transparently
After establishing the business case, organizations must communicate the process to the entire company thoroughly and transparently. This entails articulating the company's vision and strategy, as well as how technology will play a defining role. It also necessitates engaging individually with employees to address any concerns or questions that they might have, as well as asking their suggestions about how to better their jobs and the business as a whole.
3. Have an Executive Sponsor
Support from senior management will go a long way towards lowering user resistance. The majority of project communications should come from the top, and the company's executives should present a united front on the need for a new ERP system. Having top management support the initiative ensures that the process and organizational changes take place on time
4. Have Proper Training
Employees will need to get used to the new system. A rigorous needs assessment should be conducted to decide what types of training will be required and who will be trained on which modules.
Users will need dedicated training time as well as access to support for any questions that they might have after go-live. Continuous training is also beneficial to reinforce knowledge and assist the staff in learning new skills within the ERP framework
5. Don't Move Too Quickly
It's never a good idea to make a major change overnight, particularly one as significant as replacing an ERP system. Allow enough time for your staff to process the forthcoming transition, as well as to learn the new system.
6. Ensure Users Understand Changes
Companies also need to restructure divisions and revise roles when implementing a new ERP system and users can be wary of these changes. All users must be aware of their responsibilities, the current organizational structure, and re-engineered processes. It's also beneficial to identify process owners who can act as 'change agents'.
Winding Up
The organizational challenges to an ERP implementation fade away when sound change management and employee buy-in strategies are in place. Fear will always play a role in every system implementation, but those fears can be mitigated by a solid, unified leadership team and change champions.
Implementing a new ERP system is a major undertaking that doesn't need to be managed alone. If the process seems overwhelming, or if change management and employee buy-in appear out of control, consider getting help from an experienced team of consultants at DynamicsSmartz. Contact us to learn more about how we can help you navigate the implementation process seamlessly.