Top 6 Things To Do Before an ERP Implementation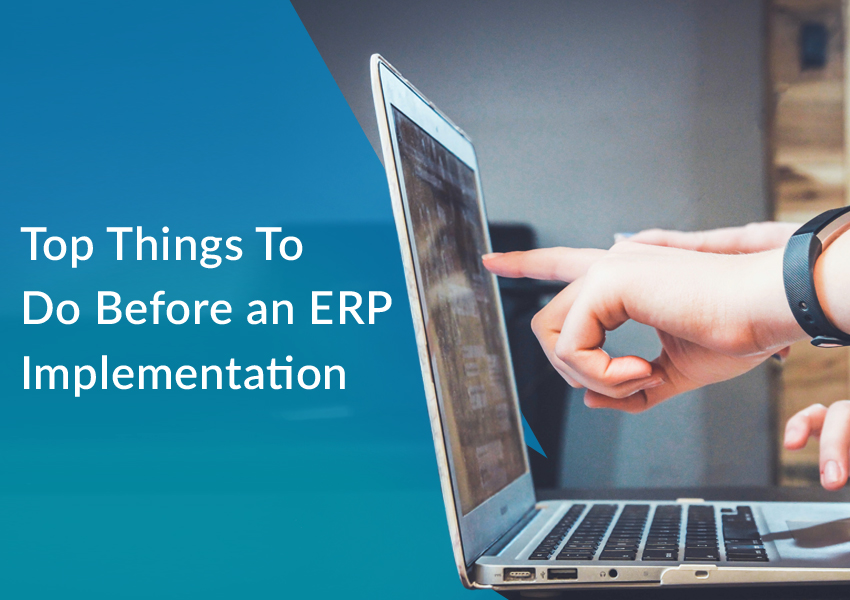 One of the significant high points of any digital transformation is the time you decide to upgrade your old legacy system and consider an ERP implementation. Chances are that you have already tested and maybe even selected new systems with the idea to improve your business operations and make the work of your employees easier. You've also probably chosen a Microsoft implementation partner that can help you make a seamless transition.
While all this enthusiasm and energy is a positive thing, it is equally important to have a strong plan of action on 'how' to move forward. More often than not, organizations speed up the implementation without first reviewing the situation, assembling a practical implementation plan, corralling resources, and checking off a variety of other things that require prior attention.
While ERP implementation is a major undertaking, the process need not be painful. To position you and your team for success, here's what to do before implementing ERP:
Key considerations for ERP implementation
1. Understand the real needs and goals of your Business
It's important to understand the real needs of your organization before introducing a new ERP solution. How do you expect to benefit from the implementation? What issues are you hoping to fix? What specifications would each function require? These are some critical questions that you should ask before implementation.
Build a detailed document that outlines all of your business requirements and objectives. Before starting the implementation, you must know what your key priorities are. You certainly can't get what you want, unless you know it. Your company is unique; your ERP implementation should be tailored to meet your unique business needs.
It is equally important to consider what does not work for you at present and what your goals are as you move forward in the implementation process. Throughout your journey, keep track and assess these priorities, ensuring that the implementation stays on track with your core business requirements.
2. Define your internal and external Project Resources
ERP implementation project is high stakes. Therefore, it is important to have the right team in place. Before starting your journey, there is a range of company, IT, and advisory resource considerations (internal and external) to be defined and sourced. Roles and responsibilities for the program manager, internal and external project managers, leaders of organizational change, and a host of other roles should be identified.
3. Start key implementation critical path activities
Although most ERP implementations take more time than expected, technological or software problems usually do not cause delays. More often than not, even though the program is completely designed and checked other vital path operations delay projects. For instance, problems related to individuals, business processes, and data are far more likely to delay the project and generate cost overruns than software. It is important to concentrate the early efforts less on software configuration and more on activities that are essential paths, such as data migration, preparing for organizational change, and identifying business process improvements.
4. Clean your data
Most businesses often face challenges with data cleansing at some point or another. It is mostly due to a lack of understanding or importance of the data cleaning process before the implementation takes place.
The key is not to wait until you begin the project. Initiate the process immediately. If you know the data you want to move over and how much of it needs to be transformed, then start early on by selecting your team to begin the process. Define 'owners' for different sections of the data. The process owner can then employ the help needed to clean the data and maintain consistent data standards. This will involve changing addresses, names, and explanations of item numbers to consistent specifications that will support the data conversion process to the next ERP system.
Define the amount of history you would like to pass over. Don't clean all your data, instead concentrate your attention on the data you want to pass over. If the history is worth three years, then narrow your energy to specific data within that timeframe.
5. Change Management
More often than not, with a new implementation, there is a huge emphasis on technology, but the human aspect is overlooked. ERP aims to help organizations more efficiently manage their resources. In other words, ERP is primarily about people.
Change management, before, during, and after, is a significant facet of ERP implementations. It's a big undertaking to introduce an enterprise software solution; one that will have an impact on almost every department of your business. It is important to monitor this transition to see whether or not the implementation goes as expected.
6. Select a Partner you can build a strong relationship with
Forging a healthy relationship with a Microsoft Dynamics Partner is one of the best ways to ensure that your ERP implementation would be successful. You'll have a far smoother implementation phase by cultivating a partnership that helps both the organization and the software provider. You will be able to ask better questions, more effectively answer pain points, and have a much stronger support team behind the solution.
At DynamicsSmartz, we have a seasoned team of certified consultants who support your organization at every phase of the implementation process.
Implementations are high stakes! With our 'Build Your Team' Model, you can Go Live faster and drive digital transformation sooner. We are certain that our Microsoft Certified Gold experts can simplify a potentially painful process and streamline your solutions. Shortlist, interview, hire and have total control of your team. Witness substantial savings and hit the ground running from day one. Drop us a line for a quick consultation.