SugarCRM vs Microsoft Dynamics 365 Comparison in 2022: Which is a better fit?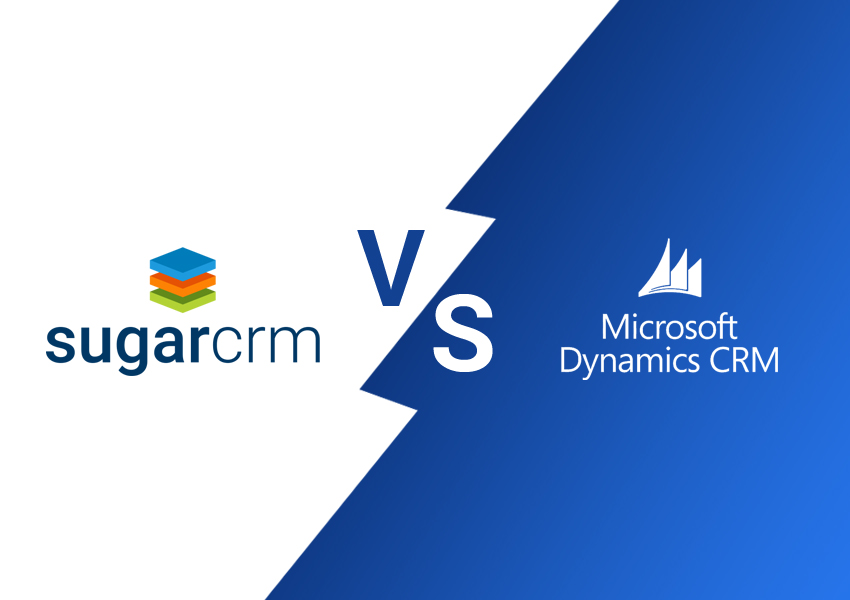 Finding the right CRM solution that meets your unique business requirements is not an easy task. Implementing a robust CRM system like Dynamics CRM or SugarCRM involves a lot of thought and careful consideration. You're probably wondering which one is better: SugarCRM vs Dynamics 365 CRM.
So, let's take a look at a side-by-side comparison of two of the most powerful cloud CRM software solutions. Find out what differentiates the two and which one would be the greatest fit for your business and industry.
Microsoft Dynamics 365 CRM
Microsoft's CRM solution, Dynamics 365 Sales, is a comprehensive and robust CRM solution that offers sales force automation to assist your sales and marketing teams. It can be seamlessly integrated with other Dynamics 365 applications such as Customer Service and Business Central, as well as Microsoft products like Office 365, PowerApps, and PowerBI.
Dynamics 365 Sales can be deployed in the cloud, on-premise, or in a hybrid environment. The pricing is based on a software as a service model, with each user paying a monthly subscription fee.
SugarCRM
SugarCRM is made up of three modules that enable you to market, sell, and serve your customers. Sugar Sell is a sales tool that combines emails, account updates, social network posts, and other data to examine each prospect's profile. Sugar Sell and SugarBPM work together to enable complex, automated operations. There are a lot of add-ons on Sugar's Exchange site.
Sugar Sell is hosted in the cloud, with a high level of security and scalability provided by the SugarCloud system. Sugar Sell is classified as a software as a service (SaaS).
SugarCRM vs Dynamics 365 CRM: What are the key differences?
Mid-Market vs. Small Business
The size and scope of your organization will have a significant impact on which software is the best fit for you. SugarCRM solutions are better suited to small organizations due to their low cost and quick implementation. Some organizations may prefer a Sugar software bundle, whereas small enterprises may opt for the Sugar Sell application. This solution is a little more limited in scope, but it provides plenty of focus for small businesses. SugarCRM can likely be used by mid-market enterprises, but its narrow focus may hinder your potential to scale quickly.
There is no denying that Microsoft is a software powerhouse. The Dynamics 365 CRM system is an excellent fit for mid-sized companies looking to scale and prosper at the same time. The software integrates effortlessly with Microsoft products such as Office 365, PowerBI, and other Dynamics 365 tools, making it a suitable fit for businesses looking to expand their infrastructure.
Sugar Sell is a wonderful solution if you're a small business just getting started with CRM. Dynamics 365 CRM may be more your speed if you're a seasoned business with a lot of growth under your belt.
Microsoft Dynamics 365 Sales provides intelligence-based scores and recommendations to help you sell smarter. Your leads and opportunities are given scores based on powerful data models, allowing you to focus your efforts and actions on buyers who are ready to buy. It allows you to have a better understanding of client interactions so that you may be more proactive with your email contacts. It even suggests talking points to make the interactions more personal. To assist find and reach the relevant prospects, you have access to tools and data across Microsoft's data platform, such as embedded Office 365 features and LinkedIn's extensive database.
Sugar Sell CRM system focuses on providing the greatest possible customer experience. Its 'no-touch' function automatically collects data from many social and business sources to establish your customer's profile, allowing you to spend less time manually entering data. It then uses Hint to deliver actionable insights and updates, as well as push notifications and alerts. Tools and views allow you to chart and follow each customer's journey from the first interaction to sending a satisfaction survey, which can help you keep clients and manage connections.
Microsoft Dynamics Customer Service gives your support team access to centralized data and unified technology so that they can provide personalized service to your customers. The robust search function instantly displays the most relevant content, enabling them to provide the most useful resources to clients. Agents can engage on the customer's preferred channel, from chat and email to Facebook Messenger, using AI to predict customer needs based on complete customer data. Agent-facing bots, Team collaboration, Forms Pro surveys, and seamless case resolution and routing are among the other capabilities.
Agents have access to a console in SugarCRM that automatically ranks cases and inquiries based on SLA and severity. Sugar Serve also includes self-service portals, which can reduce service calls by allowing customers to assist themselves. The system's time-aware and tracking capabilities are displayed in reports and dashboards. It identifies instances that require additional attention, allowing your staff to be more prompt in resolving or escalating situations.
Top Reasons why you should choose Microsoft Dynamics CRM
1. Microsoft's Might
Microsoft makes continual updates to its Dynamics offering every six months in major releases that you, as a customer, get to benefit from. Microsoft has put a significant amount of money into this development, acquiring companies and incorporating their features into the final product. As a result of the company's financial strength, you get AI and Machine Learning features for a relatively low entry fee.
2. Integration with Microsoft products
It should come as no surprise that Dynamics integrates seamlessly with Microsoft products like Teams, Outlook, PowerPoint, Excel, and Word. This allows you to process customer opportunities within Dynamics using technologies that your employees are already familiar with.
3. Security and Safety
Let's face it, you don't want your customer information, which is the lifeblood of your company, to go missing or be read by an unauthorized individual. To ensure that your data is as secure as possible, Dynamics uses Azure and its complementing security mechanisms.
Conclusion
Dynamics 365 is a well-rounded system that combines ERP and CRM capabilities to provide businesses with a comprehensive all-in-one solution. SugarCRM focuses on clutter-free CRM software that promises to provide necessary capabilities in a simple-to-use package.
Given the many benefits of Dynamics 365, if a company has the budget or is already invested in the Microsoft ecosystem (Office 365 or other Microsoft products), it makes sense to go with Dynamics 365. Dynamics 365 is the more "feature-rich" of the two solutions (SugarCRM vs Dynamics 365), which makes it the better choice. Try Dynamics CRM for yourself, and request a personalized demo.