Top 6 Reasons Why Your Business needs Dynamics 365 Implementation Services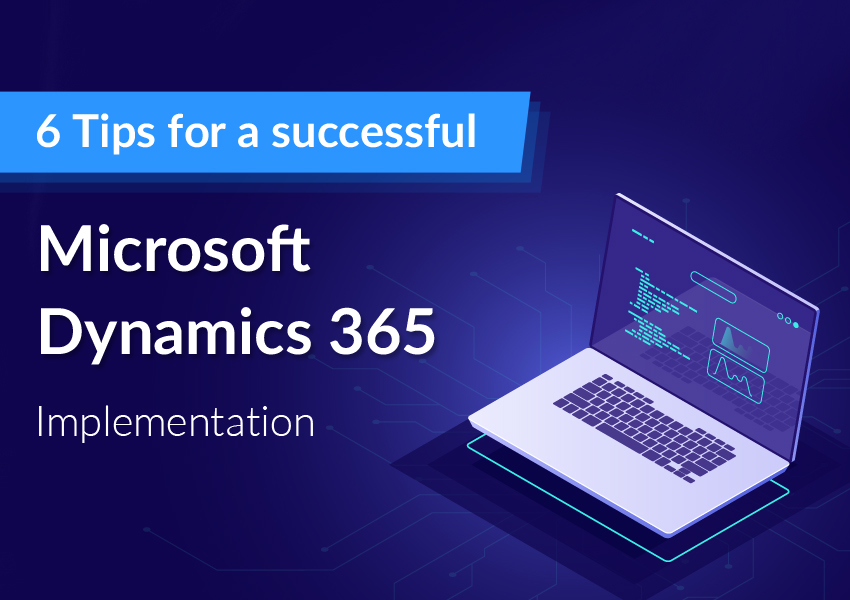 Today's ever-evolving business landscape demands modern businesses and enterprises to keep their CRM and ERP systems in line and in sync. Dynamics 365 is a key enabler in making that possible.
Microsoft Dynamics has been the industry leader for ERP, CRM, and sales solutions for the past many years. Due to its rich collection of features, seamless integration with other applications, and a unified user experience, Microsoft Dynamics 365 is the platform of choice for all senior executives (IT Directors and CFOs) responsible for selecting a trustworthy IT system. Dynamics 365 nearly sells itself.
However, to realize the real potential of Dynamics 365, it is important to implement it correctly. Failure to do so can contribute to money going down the drain and delayed projects.
This is where a Microsoft Dynamics partner comes into the picture- to help you make a seamless transition. Selecting the right Microsoft Dynamics 365 partner is vital to the project's success and has a direct impact on the rollout. While the end game is the same, there are certain differences in the implementation methodology and support provided by various partners. The right partner, therefore, can make or break your project.
At DynamicsSmartz, we help you choose the right technology and implementation strategies to meet your unique business needs and analyze, strategize, and devise action plans that keep your ERP project on track. Below we have rounded, some of the top reasons for Dynamics 365 implementation services.
Benefits of Dynamics 365 Implementation Services
1. Optimize Dynamics 365 to meet your business needs
One of the key benefits of Microsoft Dynamics 365 is the availability of modules segregated by specialty areas common to any business. Your implementation partner can direct you towards the capabilities required to enhance your business. Without industry expertise, you run the risk of acquiring a solution that will not be used effectively once the system has been implemented.
Microsoft Dynamics Implementation consultants evaluate the functional needs of your organization in detail and guide you throughout your journey.
2. Get market-specific insights for your Business
It is imperative to seek seasoned technological experts for a successful ERP implementation. The key is hiring consultants who have deep industry expertise and market understanding. The right partner can master your industry and takes time to understand your business processes.
As much as you know your industry landscape, bear in mind that a Microsoft certified Gold Partner carries the experience of working for many businesses and industry verticals. Such varied experience builds up know-how that is difficult to accomplish internally in your business. A consultant has a more strategic and oriented vision and brings more agility to Dynamics 365 implementation.
3. Access to Business Strategy and Technical Support at the same time
Your Microsoft Dynamics Partner will take end to end responsibility for your Dynamics 365 implementation plan and business operations. The consultant should, in practice, take over the strategic planning of your project and, at the same time, provide technical support, prior to implementation. If your IT department is to operate at 100 percent capacity, cooperation between the two is necessary.
There's a huge gap between knowing technology and making technology work for others. It takes seasoned professionals to analyze customer's specific business needs and provide a tailored solution.
4. Provide your Team access to the best resources
Much of an ERP project depends on how users adopt the system. To ensure that the system is used successfully and efficiently, implementation partners provide training programs for your team members. They monitor user behavior during the training process and help adjust them to handle the system more efficiently.
5. Dedicated focus on Dynamics 365
Your Microsoft Dynamics Partner is focused on getting results. They will work towards clear goals and objectives; optimize efforts, direct attention, and drive results. Expert consultants can provide you with a fresh point of view, and help you scale your business as needed.
At DynamicsSmartz, we have a seasoned team of certified consultants who support your organization at every phase of the implementation process. Implementations are high stakes!
With our 'Build Your Team' Model, you can Go Live faster and drive digital transformation sooner. We are certain that our Microsoft Certified Gold experts can simplify a potentially painful process and streamline your solutions. Shortlist, interview, hire and have total control of your team. Witness substantial savings and hit the ground running from day one.
6. An end-to-end Project Delivery Framework
When you depend on internal resources to drive improvements, everyday operations end up taking a large chunk of the time, which means that the deadlines can be extended indefinitely.
An Implementation Service provider will devise an action plan from start to finish and let you know the precise timeline to achieve your business objectives.
At DynamicsSmartz, we understand that implementations can be complex. With our 'Build Your Team' model, we provide you an unmatched combination of enhanced business agility, lower operating costs, improved performance, and growth across business functions. Drop us a line for a quick consultation.