Top Reasons why you should move to the Cloud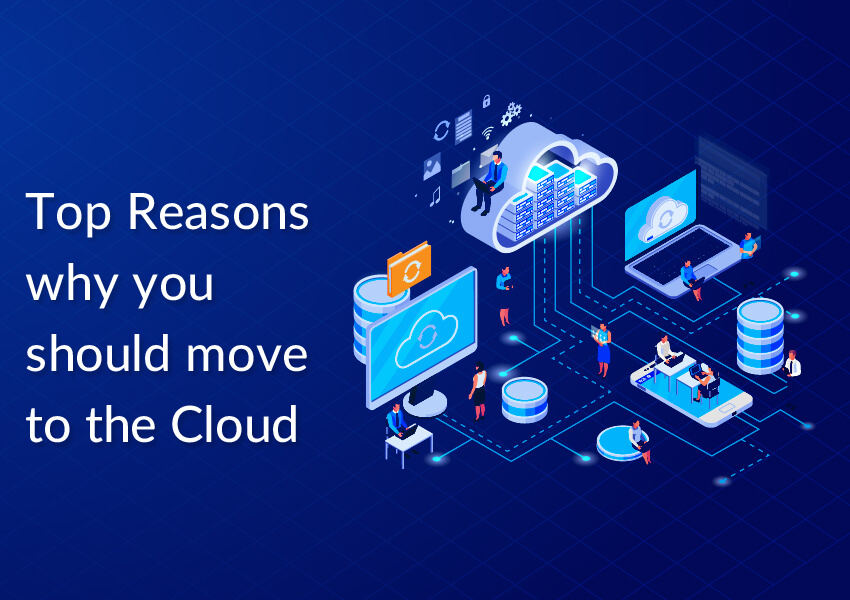 It's hard to envision a world without cloud technology, given the speed of modern business and the need for millions of employees to work remotely due to COVID-19. The pandemic has proven to be a stress test for organizations regardless of where they are- in the cloud, using a hybrid of cloud and On-Premise/legacy systems, or relying completely on legacy systems with no cloud access.
At no other time in history has there been a greater demand for immediate access to cloud-based solutions than during this pandemic. Many organizations may not realize that the requirements or issues you are facing currently have always existed; nonetheless, they are in the spotlight now more than ever.
During the pandemic, many organizations were scrambling to migrate from outdated legacy systems to cloud-based solutions. After months of navigating remotely, executives need real-time financial information, employees need the convenience of co-working, whether in shared documents, on video or conference meetings, or the ability to securely access and transfer files, the list goes on and on.
The industry witnessed a boom in cloud migrations in the aftermath of the pandemic, as more and more organizations recognized their inability to harness remote work effectively, regardless of the company size or industry.
Transforming your business's operations may appear to be a large undertaking; however, if approached as a transition with strategic phases, this endeavor can take your business to new heights. The race to the cloud allows companies to think bigger—to take a step back and analyze their processes, tactics, and goals to see how technology may help them overcome inefficiencies and operational problems.
Customers that have successfully transitioned to Dynamics 365 will tell you that the business benefits of the cloud much outweigh the perceived risks of migrating or staying on-premises.
Moving corporate processes to the cloud, like Dynamics 365 or Office, is a fundamental strategy that businesses are employing to gain efficiencies and improve data insights. Microsoft has made significant investments in the structure and security of its cloud and cloud solutions in order to help businesses move forward with their digital transformation efforts.
So, what are the advantages of migrating your on-premises systems to the cloud? We've compiled a list of the main reasons why organizations make the switch and the perks that come with it:
1. Peace of Mind
COVID-19 has established that having your business apps on the cloud is crucial for maintaining business continuity. Businesses that use Dynamics 365 in the cloud may be able to pivot their resources and operations in response to unforeseen circumstances.
These businesses can quickly transition to a totally remote work environment and manage supply and demand fluctuations. Because Dynamics 365 is a fully managed software as a service (SaaS), they don't have to worry about upgrades or security, allowing them to concentrate on strategic work rather than IT maintenance.
If you want to stay resilient and agile, it's time to transition your on-premises applications to Dynamics 365 in the cloud.
2. Microsoft Cloud
When you move your systems to the cloud, you gain access to Microsoft's full range of services, including infrastructure, security monitoring, threat management, intrusion detection, and stability. Your data is always accessible and safe, thanks to a 99.9% uptime and built-in redundancy.
In addition, the Microsoft cloud complies with 90 standards, including 35 compliance options tailored to the demands of businesses like health, government, finance, education, manufacturing, and media.
3. Cost
The cloud is a more cost-effective solution than on-premises since it eliminates hardware expenditures, reduces administration costs, and eliminates third-party products.
According to a Forrester Total Economic Impact (TEI) analysis, organizations that switched to the cloud saw a 10.25 percent reduction in TCO( total cost of ownership) and a 40 percent decrease in administration costs due to the elimination of software upgrades, storage allocation, server backups, and restores.
They saved 30-50 percent on deployment costs compared to on-premises, as well as money on hardware, storage, and disaster recovery.
4. Regular Upgrades
Consistent, timely, and automatic updates are critical features when moving to the cloud. You won't have to worry about scheduling and paying for huge upgrades, or whether your version is out of date or no longer supported. Microsoft's One Version idea ensures that every machine is running the most recent version with the most up-to-date features and capability.
Each year, eight updates are released, including two significant changes in April and October. The updates are provided to you by Microsoft and your Partner expert.
5. Modern User Experience and Platform
Dynamics 365 online has a more up-to-date user experience and platform that is easier to use and accessible on any device. No matter where they are or what device they are using, your users have access to the information they need at any given time. The smartphone app has an offline mode that allows users to work even when they don't have internet connectivity. The system automatically syncs that information, when they are connected.
6. Updated Functionality
Dynamics 365 helps business owners gain a 360-degree perspective of their business by providing the latest functionality including real-time insights and customized modern reporting alternatives.
With Dynamics 365, you'll always be running the most up-to-date software, with new capabilities that address industry and regulatory trends. Dynamics 365, in conjunction with Microsoft Teams, Office, Microsoft Azure, and Power Platform, provides enhanced capabilities and competitive benefits, allowing you to stay ahead of the competition at all times.
Several organizations that use Dynamics 365 are able to completely reinvent their business processes as a result of these improved capabilities, while also becoming more flexible and adapting to change even faster.
7. Integrated Business Operations
Integrating your business systems successfully implies automating and streamlining operations for all of your employees. Dynamics 365 breaks down silos between systems and processes, allowing users from all departments to access the data and information they need to achieve their objectives.
8. Business Insights
Thanks to the ability to gather information from a multitude of sources, analyze data, and access in-depth dashboards and reports, Dynamics users have greater visibility into data and underlying trends than ever before. You can forecast churn or take the next best action depending on this information. You can also make well-informed decisions by anticipating opportunities and closing more deals.

Winding Up!
No matter what your primary motivation, the advantages of migrating to the cloud are evident. Many businesses have already begun their transition to the cloud and are beginning to see the benefits of doing so. As cloud usage grows, we'll certainly see a change toward a cloud-first strategy, with the cloud becoming the default option for new services, applications, and infrastructure.
If you are considering the move to the cloud, it's critical to work with experts that take the time to understand your business goals and match them with a unified cloud migration strategy. Not only will this strategy help you avoid any gaps in your organization's day-to-day procedures, but making technological initiatives that are aligned with your business goals will enhance your product or service in the long run. For a quick consultation, drop us a line.