6 Essential Tips for a Successful Dynamics 365 Migration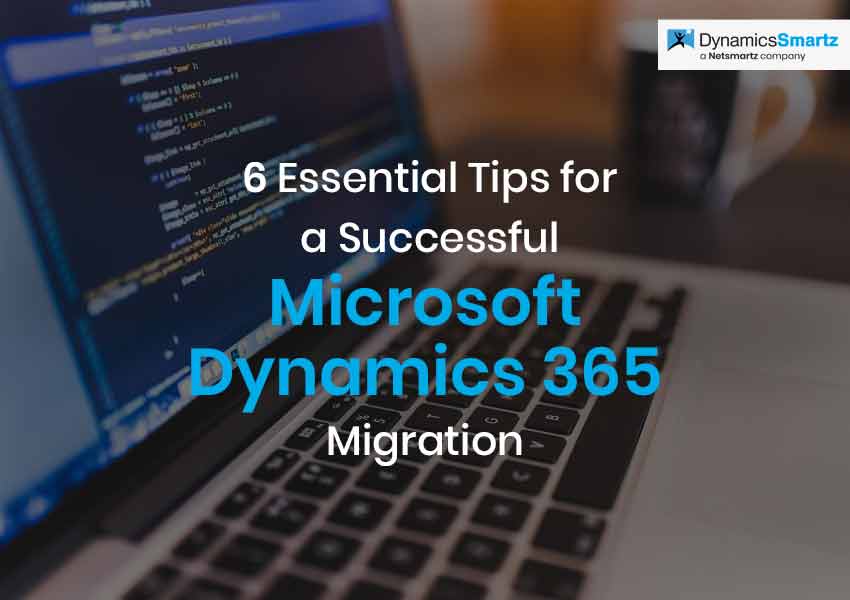 Among all the applications used by an organization, a Customer Relationship Management (CRM) solution is the most essential to business owners. A robust CRM system maintains and handles all the data and information relevant to customers.
Microsoft Dynamics 365 is one of the finest, best-in-class CRM solutions in the market today. Dynamics 365 helps thousands of businesses daily by catering to the customers and offering them the best-in-class experience and functionality. Many organizations that were not using Dynamics 365 CRM are now increasingly embracing this robust solution to facilitate perpetual business growth.
According to Forrester's study, titled 'The Total Economic Impact of Microsoft Dynamics CRM Online', enterprises reported, faster time to market with reduced infrastructure costs and lowered CRM maintenance with Microsoft Dynamics 365.
Dynamics 365 CRM brings control into the hands of the business owners. But migrating data from your existing CRM solution is not a cakewalk, especially if you are not aware of the path. Many assume that data migration is a simple and easy process, but it takes a technological effort to map and migrate data from one system to another.
Migrating data from an old CRM solution to a new one, such as Microsoft Dynamics 365 can be one of the most technical, complex, and essential components of the entire implementation phase. While it may be a complex process, it is easily achievable with the help of a Dynamics 365 partner.
Getting the current data to the new system as efficiently as possible is one of the most critical aspects of migration. To do that, planning is essential; the more you do, the more likely you are to succeed in this endeavor.
Moving to the Cloud
Given the state of recent trends, many organizations that are not currently using cloud-based CRM have migration on top of their mind in 2021. Are you one of them?
Mentioned below are some tips to help you plan for your Dynamics 365 CRM data migration.
1. How much data do you need to migrate?
To begin with, the first thing to decide is what entities are most relevant and how many records need to be transferred in each case. Do you have an exhaustive list of entities with a great number of records that need to be moved? Or is it mostly just the essentials with a small number of records?
It is important to understand that data governance is key. Data costs money to maintain and holding on to historical data of low value can cast a negative impact on your business.
2. How clean is the data?
Migrating to a new system is the perfect opportunity to determine the cleanliness of your data. Are there a lot of duplicates? Is your information outdated? Is your data obsolete? These are some pertinent questions to ask for successful data migration.
If you have any duplicates, evaluate what makes each entity a duplicate and specify any associated affected entities. Keep a note of how many duplicates you get. If the number is tiny, a built-in Dynamics 365 merge feature can handle the duplicates. If there are several duplicates, using a third-party tool is the best approach.
If you think the data could use a cleanup, the next step is to decide whether it would be easier to do this when the data is still in the old system or wait until it is moved to the new system.
3. What tools should you use for data migration?
Dynamics 365 for Customer Engagement data import wizard is likely to do the trick if you are just bringing over the basics. A third-party program such as Scribe or Kingswaysoft is a better fit for a large number of records and more complex data. LogicApps or Flow can also be used as per your data requirements. If you are moving to the cloud from an on-prem environment, then a purpose-built migration tool such as Cobalt will be the perfect fit.
4. How will security work?
Now is the time to define how security is going to operate in the new system. If everything is going to be owned by a single team, record the team's name. Yet, you are more likely to need a security matrix. This will enable mapping the ownership of the data in the old system and the new system.
5. What fields will be transferred?
During this time, you should develop your migration documents, data mappings, etc.
When you record your data migration to Dynamics 365, two field categories require special consideration. There are look-ups and pick-lists.
Migrating picklist fields in Dynamics 365
First, determine if all values are the same between the old system and the new system to move your picklist fields. If that is not the case, construct a translation table to indicate the value in the old system and what value it should map to in the new solution.
Migrating lookups in Dynamics 365
For lookups, a similar approach should be followed. Look-ups face particular challenges: to create the link for the record being imported, the referenced record must exist. This can play a defining role in the order in which you import documents.
Utilizing the Source CRM fields in Dynamics 365
For your Dynamics 365 data migration, you should also create preservation fields. These preservation fields are typically called Source CRM and ID. These fields allow you to know where the data originated from long after the migration is complete and present a link for the record to its source field. Preservation fields allow the person migrating the data to easily establish connections with the legacy records.
Conclusion
Since a lot of factors play a fundamental role in the data migration process, it is best to have a Microsoft Dynamics Certified Gold Partner. DynamicsSmartz is a full-service software provider serving a wide array of CRM and ERP clients globally.
Having successfully managed hundreds of data migration for Dynamics 365 CRM, our seasoned experts will guide you at every step of the process and determine the best practices for a smooth and seamless migration. Drop us a line for a quick consultation.