Facilitating Business Continuity & Productivity Goals: MS Dynamics 365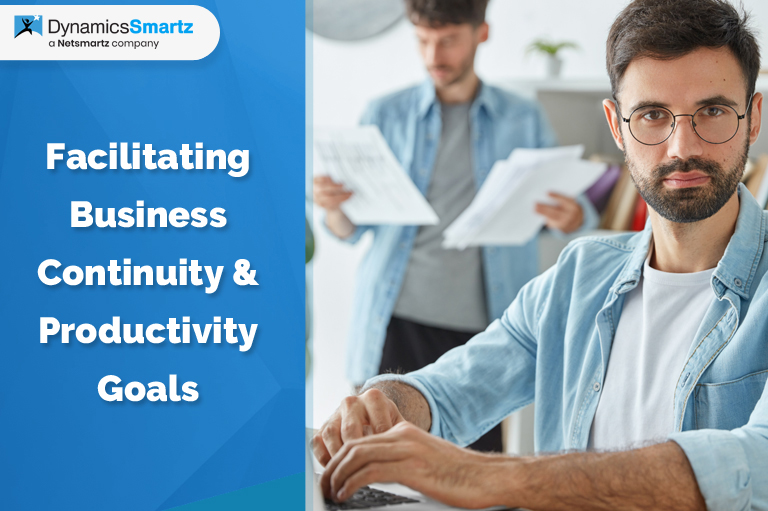 The majority of 2020 was consumed in lockdown, loss, and uncertainty. From postponed events to business restrictions, the spread of COVID-19 introduced the entire global working population to a new normal based on remote practices.
Since no organization was prepared for the sudden shift to remote work, there was an initial loss of productivity and missed opportunities. And this turned to be a concern for most small and medium-sized firms who had no access to the futuristic business solutions. Also, the biggest impact of the shutdown was seen amongst sales and marketing teams who lost their coordination due to working from distance.
Amid the hustle, Microsoft Business Solutions emerged as a utility for all organizations who need to experience the digital future of business management. Though Microsoft technology has always managed to prove its worth, this time it was about establishing uninterrupted collaboration between teams using the home networks.
In this blog, we bring you a quick overview of features from MS Dynamics 365 solutions that have turned to be a boon for business continuity and productivity needs during the crises.
Understanding the Detail of The Situation
To limit the spread of COVID-19, it became necessary to shutdown offices, giving way to remote work practices. But the unfamiliarity that companies had dealing with a large numbers of remote workforces disturbed the efficiency and productivity goals. However, those who were informed and had access to the right resources managed to pull their business back on track, even with the new normal.
Nevertheless, it was very natural for organizations to face pressure when they need to bring together teams from various locations, time zones, and varying shifts. Therefore, it becomes much more important to seek technology that can be used to establish communication amongst the team without any security threats underway.
Using Dynamics 365 Solutions for Business Continuity
For organizations that have never worked with remote capabilities, there is a need to prepare for this new normal, not only to sustain their business environment but also to keep ahead of the competition. This includes instant communication, data sharing, and easy control of CRM and ERP systems.
In fact, the pandemic has turned out to be the most appropriate time for capitalizing ERP solutions and adding value to the business. Though it completely depends on the outlook of Chief Operating Officers and Project Managers, here we have a few good reasons why you may want to choose MS Dynamics 365 to meet collaboration and connectivity goals.
Seamless Access To ERP On Dynamics Cloud
Whether it comes to typical finance management features or tasks related to marketing, sales, and administration, tools like Dynamics 365 Business Central brings the features you need for managing the job. From customer interactions to order management, inventory, and sales reports, the Dynamics ERP solutions could meet all your needs. It also gives you the benefit of scaling the solution for your varying requirements which helps reduce load and improving efficiency.
Real-Time Communication On The Go
In order to use the resources and capabilities available on Microsoft Business Solutions, it becomes crucial to establish real-time connectivity between teams. Thanks to features like Microsoft Teams which comes integrated with Dynamics 365 ERP, delivers improved performance even during networking errors or while operating from bandwidth restricted area.
Since it comes with modern communication protocols, it even helps to counter networking issues allowing quicker communication, faster file sharing, and real-time collaboration on business documents.
Facilitated Collaborations With Office 365
Dynamics 365 could be integrated with Office 365 for added features to compliment team collaborations and work from home goals. It can help give access to the staff, irrespective of their location, enabling online meetings, file sharing, and real-time document editing.
In other words, it allows you to work on a document alone or with your team at the same time for more exposure to ideas. Also, features like these help employees from remote locations to connect better and stay on the same page when it comes to crucial developments.
The Crux
The spread of COVID-19 has not only disrupted operations but has severely affected continuity, causing damage to operational plans. Since the hampering effect of the pandemic does not seem to be slowing any time soon, it is the right time for businesses across the globe to take some actions for better employee connection and productivity.
However, achieving the expected goals demands maximum employee efficiency, especially with the remote working agenda. And investing in Dynamics Business Solutions for regulating the capabilities of Dynamics 365 tools can be the best thing for building resilience against interrupted growth.
Planning to take your business on an advanced Dynamics ERP Solution? Plan a quick chat with our experts at DynamicsSmartz to learn how Microsoft Dynamics 365 could be the ultimate solution you need to retain business continuity and productivity goals. Call us today!