Top Five Reasons Why SMBs need a CRM System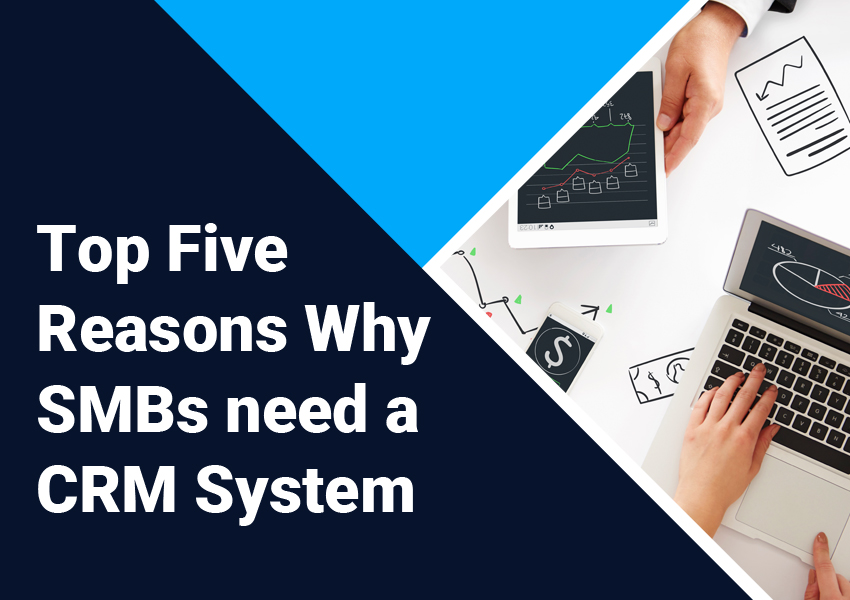 As a small or mid-size business, you must be mindful of a variety of factors. While selling cutting-edge products, providing a varied range of services and having a strong marketing plan are all crucial, you must be able to build and sustain long-term customer relationships.
This is exactly where CRM comes into the picture. A Customer Relationship Management (CRM) is a must-have software solution that allows businesses to build, maintain and scale meaningful relationships with customers. While small businesses have a limited customer base, a robust CRM system provides them the necessary advantage by allowing them to tailor communication channels for each of their users.
CRM software has been around for a long time, supporting businesses in keeping track of their client interactions and providing recommendations on how to improve communication. However, a CRM system won't benefit your business unless it's used correctly.
According to studies, 65 percent of businesses implement a CRM system within the first five years of operation. According to Forbes Insights, 53 percent of top-performing organizations continue to invest in CRM systems to generate sales.
Why Do SMBs Need CRM?
A CRM system is one of the most important tools that any small or medium-sized business can use, yet only a handful do. CRM can assist you not only in improving your productivity and business relationships but can also help you grow your company.
According to a recent study by a major CRM provider, a properly utilized CRM system can boost SME sales by 29%. CRM helps businesses in keeping track of client lists, managing pipelines, and streamlining sales procedures.
However, because there are so many CRM systems around, it can be a little difficult for small businesses to identify which one will work best for them- which frequently leads to them never using one, and missing out on the key benefits. The many advantages of Microsoft Dynamics 365 make it the best solution for SMEs that are looking to expand with a powerful yet simple CRM.
The Business Benefits of Microsoft Dynamics 365 for SMBs
The main advantage of Dynamics 365 for small businesses is that it is a genuinely flexible platform that can expand, flex, and connect as needed. It has all of the features a small business could want, but it doesn't compel you to pay premium prices if you don't need them. Instead, you just pay for what you use, making it an especially attractive alternative for small businesses.
Besides, Dynamics 365 is more than simply a CRM system; it provides your organization a single solution that spans CRM, ERP, and office functions to encompass all business activities.
By connecting Dynamics 365 with your business, you can use it to manage and run your company more efficiently. Mentioned below are some of the key business benefits of Dynamics 365 CRM:
Excellent integrated sales, marketing, and service functionality.
Office 365 connects with Dynamics 365 quickly and effortlessly, boosting productivity.
Improved reporting and business insights, leading to better and faster decision-making.
A platform for company development and processing that is entirely scalable.
Because of Dynamics 365's vast capability, business owners may leverage real-time data reporting, automation, pipeline processing, and customer service management capabilities to overhaul their company's operations without spending hours learning or administering the system.
1. Eliminating Data Entry
If sales professionals make any errors during data entry, it results in incomplete records. You can't always hold people responsible; when switching between multiple datasheets and sources, human error after all is inevitable.
But with a robust CRM system, you can set up lead collection forms, feedback forms, and essential fields to ensure complete data capture. Sales professionals are relieved of data entry responsibilities, which save them a lot of time. If manual data entry is required, the system can ensure that no details are missed.
2. Accurate Forecast
With a CRM system, it becomes easier for a small business to track a customer's journey from beginning to end, and beyond. Even the customer's social media sentiment about your business or other businesses can be collected, providing you a magnified view into their lives.
You can get a comprehensive picture of how your customers interacted with your brand and determine what works and what doesn't. Over time, you'll start to notice patterns and insights into the purchasing process, which will help you improve your sales strategy.
With a CRM, you get a clearer and more accurate picture of your lead funnel, as well as a more effective sales approach, and forecasting becomes less guesswork and more trustworthy, thanks to data-driven projections.
3. Managing Customers Effectively
Customer service management is at the heart of CRM. SMBs can leverage the power of personalized marketing elements available in many CRM applications.
CRM gathers information from your phone calls, emails, and website and stores it in a centralized location that is easy to retrieve. There is no more dialogue tracking across different channels.
Above all, implementing a CRM system guarantees that your sales or customer care representatives do not miss any critical messages in the flurry of daily exchanges.
4. Integration is Key
Your CRM system will receive more data if you have more communication channels. While this may be tough to do manually, CRMs offer data analysis capabilities that can crunch the figures quickly and automatically. As a result, increasing the amount of data collection points in your CRM is critical. Including a variety of social media platforms in your CRM's roster will improve its efficiency.
5. Lead Management
While existing clients are critical to your business's existence, if you want to expand, you must look for new prospects. Any communication channel, such as a user enquiry or a sales team outreach, can generate a lead. Converting leads into paying customers can help your company expand. A CRM can help an SMB maintain a zero-leakage strategy.
Winding Up!
CRM software is essential for all businesses, whether they are Fortune 500 corporations or small firms. Since there are a multitude of tools with diverse applications, it is essential to choose a CRM system that can help you significantly increase your revenue.
Small and mid-market businesses can use Microsoft Dynamics CRM to manage interactions with customers, prospects, and team members. It comes with a suite of cloud applications for managing several business functions, including sales, operations, and accounting. It equips employees with the resources they need to boost productivity, improve client connections, and increase revenue.
Drop us a line to know more about Dynamics 365 CRM. As a Microsoft Gold Partner, we can help you scale your business and implement Dynamics 365 CRM without a hitch.