Top ways to Improve Revenue and Profitability with Integrated CRM Solution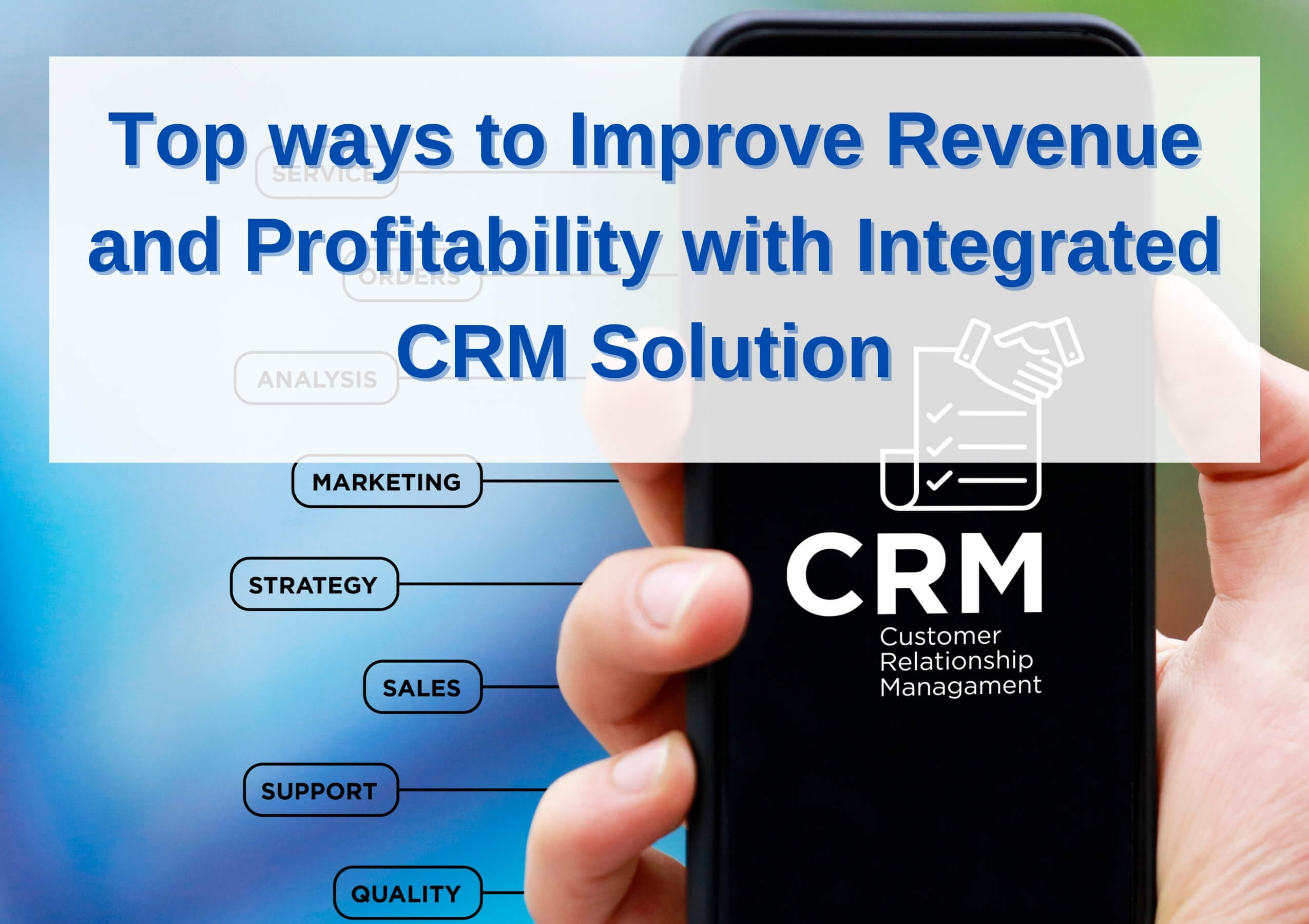 Customer Relationship Management (CRM) has evolved and become the heart of every business. Every successful organization depends on strong customer relationships. Businesses build deep, meaningful relationships with their customers and use that rapport to break through the noise of an overcrowded, over stimulated market to grow and prosper.
Regardless of whether you work in a B2B or B2C market, modern consumers expect to be treated as unique individuals. Unfortunately, building and sustaining customer relationships is a challenge that many businesses struggle with.
All of that is changing, thanks to Customer Relationship Management (CRM) technology. This integrated solution empowers businesses to control their dynamic customer and lead relationships, so that their sales staff can remain focused on selling.
Traditional CRM systems were designed to handle sales leads and store customer data, but since then technology has made rapid advancements. Today's robust CRM solutions keep track of customer interactions, analyze data and consumer sentiment, and use artificial intelligence to provide insights that help businesses develop personalized experiences for their most valuable customers. These cutting-edge technologies also incorporate and automate processes to help businesses run more efficiently.
Investing in the right CRM software isn't just about supporting your sales team; when used correctly, integrated CRM increases revenue and creates a ripple effect throughout your business. A robust and scalable CRM solution benefits not just your sales team, but your entire businesses' bottom line.
Introducing a CRM platform yields real results, including direct financial benefits. CRM software has an established track record of boosting:
Lead conversion by up to 30%.
Increased sales by up to 30%.
Increased sales efficiency by up to 30%.
Improved Customer satisfaction by up to 35%.
Faster decision-making by up to 38%.
Up to a 25% increase in revenue.
Why Use Integrated CRM For Sales?
An integrated CRM gathers all of the customer information in one location. This data primarily includes:
Contact information of the customer (social media accounts, email, phone, address, etc.)
Communication history with each customer- records of your interactions on any given platform. This involves interactions over the internet, emails, online chat, and customer support tickets, among other things.
Details of the customer relationship, including how the customer found your business, the duration of the relationship, their purchasing history, and everything else related to their experience with your business.
CRM systems are designed for sales teams who evaluate the data and use it to enhance consumer communication, create a successful sales strategy, encourage repeat business, and more.
Which Businesses make use of an Integrated CRM?
For businesses that have a long sales period, such as B2B and SaaS enterprises, a CRM solution is a must-have tool. Before a transaction is made, a lengthy sales period necessitates thorough contact between the prospect and the salesperson.
Since the communication process in a long sales period is direct and requires the salesperson to be on top of things in order to close the deal, it's critical to keep track of customer interactions throughout the period.
That's why a CRM solution is one of the first technologies that B2B and SaaS enterprises implement to optimize growth and maximize their strategy.
Here are 5 ways how CRM increases profits for businesses:
1. Seamlessly connect marketing with sales, finance and production
The ability to integrate CRM is a game-changer! You'll see big benefits for any department when you integrate your CRM framework with the rest of your business management applications.
For example, customer-related data can be easily transferred and viewed between marketing, sales, finance, and development. You can easily automate the ordering process, link purchasing to inventory, determine which areas of your business are the most profitable, and much more.
With an integrated CRM framework, you can improve customer support, gain more financial insight into sales, optimize efficiency, and reduce internal manual processes to increase profits.
2. Gain real-time visibility into consumer insights and trends
In today's evolving landscape, business intelligence is a critical component of your success. Mobile-friendly dashboards, easy reporting, and real-time tracking of marketing and sales goals are just some of the business analytics tools that can offer you a whole new level of insight into your customers.
Which of your products is the most popular? Is your most recent marketing strategy bringing you some results? You can find precise answers to such questions in real time if you use the right CRM solution.
With this information, you can better distribute your resources, increase revenue and cut costs, to benefit your bottom line.
3. Better communicate with prospects using built-in engagement tools
Social selling is becoming an increasingly important part of successful marketing and sales strategies. Using social media to connect with prospects helps the team to establish rapport and trust with leads, identify influencers and decision-makers, and quickly share information that consumers require to make purchasing decisions.
The right CRM solution will allow you to use built-in relationship and communication tools to boost sales.
4. Accelerate your sales lifecycle
Are your customers navigating your sales funnel with ease? What other details or nudges do prospects need in order to take the next step with you?
The dashboards included in a modern CRM solution such as Dynamics 365 for Sales make it much easier to see what's working well, as well as creating improvement plans for what doesn't work. You'll be able to find out key information such as how long prospects remain in the funnel and determine whether they've stalled out or abandoned their buying journey.
5. Predict purchasing habits
Modern CRM solutions go much beyond just bar charts and dashboards. A cutting-edge software can analyze sales, track results, and predict how purchasing habits will change over time using machine learning and artificial intelligence.
Leverage the power of advanced analytics to concentrate your attention on the most likely to purchase opportunities, keep resources flowing in the right direction, ensure accurate inventory, fill orders faster, and spot negative trends before they have an effect on your business.
Using an integrated CRM system will help you improve the efficiency of your business, improve your team's productivity, examine the interaction and engagement with customers, as well as their outcomes. Automate your processing and reach out to your customers at the right time and at the right moment to boost sales.
If you want to learn more about your customers, streamline your sales process, and increase revenue with Integrated CRM software, Microsoft Dynamics 365 CRM is the right match.
While adding a new platform to your existing infrastructure can be tricky, as a Microsoft Gold Partner firm, we can help you implement Dynamics 365 without a hitch. Call for a quick consultation today!