Top 8 Reasons to Invest in Dynamics365 for Marketing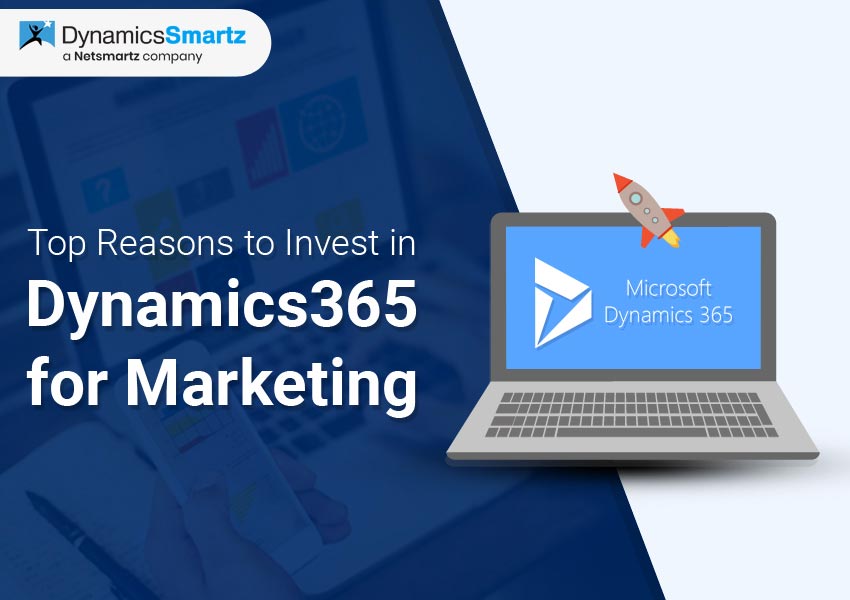 The importance of marketing in today's digital landscape can't be stressed enough. Your business can struggle if it doesn't attract the right attention at the right time. Even with the best sales experts and processes, you need the right marketing tools to draw high-quality leads and convert more prospects into customers.
This is exactly where Microsoft Dynamics 365 for Marketing comes into the picture.
To develop its marketing offerings, Microsoft has spent a great number of resources in research and development over the past few years. The result is Microsoft Dynamics 365 for Marketing, a robust and powerful marketing tool that can be completely integrated with the rest of its business applications.
Dynamics 365 for marketing is a modern, adaptable solution that allows you to place your prospects and clients at the center of all your marketing activities. Microsoft Dynamics 365 marketing automation is redefining how marketing is done across industry verticals.
What is Microsoft Dynamics 365 for Marketing
Dynamics 365 for Marketing, the first purpose-built marketing app under the Dynamics 365 umbrella, provides all the necessary tools and resources that SMBs need to run successful marketing campaigns across channels and platforms.
Microsoft Dynamics 365 Marketing App features robust tools that can be leveraged to execute out-of-the-box campaigns across multiple channels. It comes with built-in high-end templates that can be personalized using a simple drag-and-drop interface.
Depending on customer interactions, users can create tailored customer journeys with targeted messages and activities. Such customized automated interactions help to nurture and move leads along the pipeline.
Dynamics 365 for Marketing benefits from being closely integrated with other components of the Dynamics CRM framework, such as Sales and Customer Service. As a part of the Dynamics 365 family, all these apps are always in sync and up-to-date, enabling your marketing and sales team to collaborate more efficiently. The app is also designed for use on a variety of devices and features a single interface across desktop, mobile, and tablet.
Besides these robust tools and features, several reasons make Dynamics 365 for marketing a perfect fit for managing your marketing activities.
Reason to switch to Dynamics 365 for Marketing
Save Time and Money
With Dynamics 365, you can schedule emails and social media posts well in advance. It also integrates seamlessly with Office 365, thereby helping businesses cut down on unnecessary costs. Dynamics 365 for marketing allows you to create engaging and powerful email templates with intuitive drag and drop controls. To meet your exact needs for each campaign or outreach, text, image, button, event, and other modules are available for customization.
Target your Outreach
Dynamics 365 for Marketing is a powerful tool that can be leveraged to target your outreach for optimum results. By effectively using the search option you can send specific messages to your target groups. Whether your clients are from the construction industry or belong to a specific subsection of a vertical, you can meet them wherever they are.
Develop Successful Drip Campaigns
Not everyone is willing to buy the moment they reach out to you. As a matter of fact, you can be approached at all points in the customer journey by prospective clients. Dynamics 365 for Marketing helps you nurture such prospects before they are ready for purchase. It allows you to create multiple nurture campaigns that are specifically targeted at various types of leads. By tailoring marketing strategies for unique opportunities, you are assisting sales executives with the right tools to close more deals.
Event Management
An attribute that sets Dynamics 365 apart is its suite of event management tools. Marketing is all about offering value to your existing and potential customers, and if your company engages in in-person activities or events like conferences or seminars, Dynamics 365 has a range of built-in resources to help.
The event management function of the app offers robust features for planning event logistics, registrations, scheduling, and attendance monitoring. It also comes with a portal management system that allows organizations to create a branded event portal for attendees and provide them all the necessary information about the event schedule and speakers.
Webinars
Another great way to generate leads through content marketing is by hosting webinars. Dynamics 365 for Marketing helps you to schedule, organize, and host webinars by integrating with third-party webinar platforms. With a full-blown pandemic underway and 'stay at home' orders, these tools have become even more relevant and useful for marketers.
Better Insights
Dynamics 365 for Marketing enables businesses to get better insights into their customers. With inbuilt intelligent tools such as Power BI, you can keep track of all activities in one place. In addition, these inbuilt smart applications often make it possible to detect something that seems "off" with existing trends.
Since everything is readily available and accessible, marketing executives have the right idea when reaching out to prospective customers, making the process relatively easy for their sales counterparts.
High-performance Marketing Team
Dynamics365 makes it incredibly easy to build a great marketing team, enabling executives across the organization to drive innovation and creativity. Since the application automates routine-based tasks, it allows marketers to focus more on strategy formulation and value-added activities. Marketing campaigns deliver positive results with a high-performance team in place.
The Synergy between Sales and Marketing Teams
With Microsoft Dynamics 365, organizations can integrate applications and delegate work with ease. This enables better synergy, communication, and collaboration between sales and marketing teams within an organization. D365 Marketing provides both teams with a better understanding of the client and helps in cultivating a fruitful and productive relationship with the customer.
Conclusion
Microsoft Dynamics 365 for Marketing is an exceptional solution that can bring a list of benefits to your organization. Due to its intuitive use and the power of customization, it can be tailored to suit the needs of any business. At DynamicsSmartz, we take the guesswork out of implementing Microsoft Dynamics 365. Call for a quick consultation today!