The Benefits of Using Power BI with Dynamics 365 CRM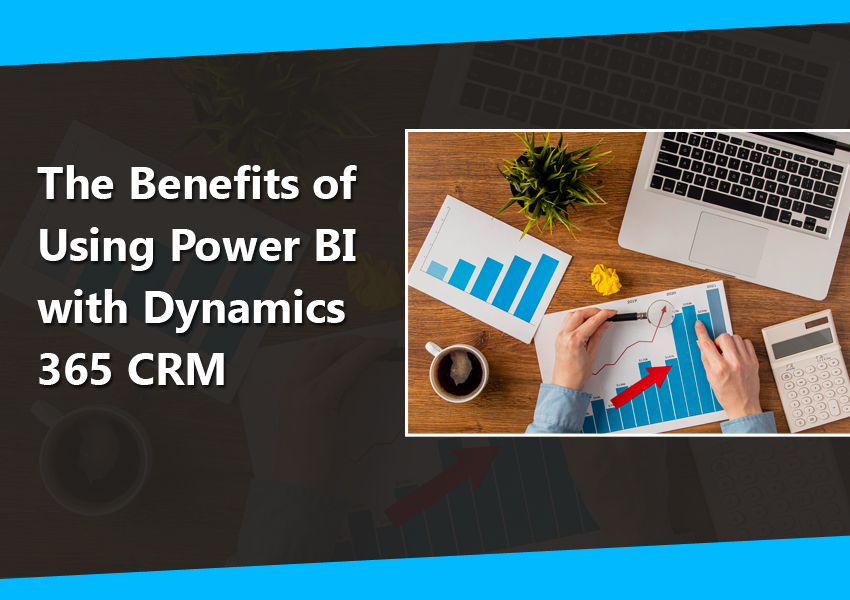 With ever-intensifying market competition, rapid advancements in technology, growing digital transformation, and changing consumer expectations, it's critical to strengthen your CRM system to keep pace with evolving trends.
Since the sales department is primarily responsible for increasing revenue, enhancing the sales process is critical to increasing profitability. It is essential to equip your sales professionals with the latest tools to optimize the sales process and make informed data-driven business decisions.
Power BI is a collection of business analytics tools that allow users to quickly examine data and communicate findings with their team. The greatest method to strengthen your CRM system is to leverage Dynamics 365 Power BI.
Dynamics 365 Power BI enables customers to create intelligent apps with their own set of custom development features. It's essentially a platform that combines relevant data from different sources to generate reports that help you understand everything about your company and its goals.
If your organization already has a solid CRM system in place, such as Microsoft Dynamics 365, it's time to combine it with Power BI to stay ahead of the competition and drive digital transformation. Since the sales team is responsible for extending the inventory of resources, improving the sales process can also raise profit margins.
To make educated decisions that increase sales and profitability, data-driven insights are of utmost importance. You must also be able to communicate such information across teams. This can be difficult if your company's data comes from a variety of places or if your present reports don't provide you with the information you need.
When you combine Microsoft Power BI with Dynamics 365 CRM, you get a whole new way of providing strong insights to your sales team.
What is Power BI?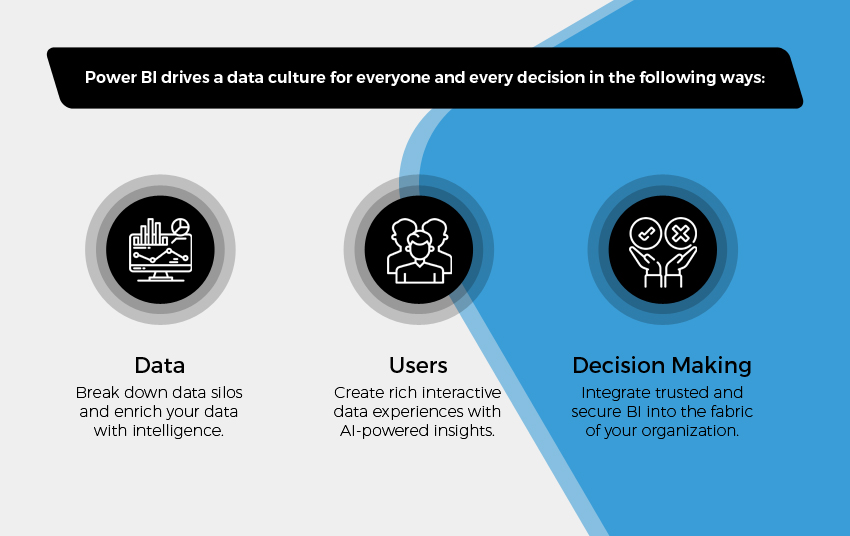 Microsoft's Power BI is a cloud-based business intelligence application that brings together data from several different sources into a single platform and promotes a data culture. The application allows you to utilize that information to build reports and dashboards that help you understand what's going on in your company.
Even if the products aren't interconnected, Power BI can combine data from multiple sources and software programs. You can draw sales data from Dynamics 365 CRM and financial data from another accounting system and draw meaningful insights from them holistically.
Dynamics 365 Power BI Integration with CRM
Power BI enhances the capabilities of Dynamics 365 CRM significantly, providing your business the necessary advantage it needs to succeed in today's data-driven environment.
Power BI increases what you can discover about your sales performance by introducing a reporting layer that goes beyond the Advanced Find tool in Dynamics 365 CRM.
Why is it essential to integrate Power BI with Dynamics 365?
The Power BI-Dynamics 365 Integration is crucial for two reasons:
The two software and their capabilities perfectly complement each other.
The Power BI-Dynamics Integration helps sales teams make better decisions based on data.
The Advantages of Using Power BI for Sales
Connects to virtually any data source and collects sales data in one place.
Data is presented in a visual style, such as charts and graphs so that the information can be quickly understood.
There are pre-built dashboards, reports, and data models to choose from, as well as the option to create your own with custom fields.
Connects your Dynamics 365 CRM dashboards and apps to your sales data, charts, and graphs.
Allows you to see how sales data has changed over time, which can assist your team predict customer buying behavior and adjusting strategy for maximum impact.
Allows team members across your firm, including executives, finance, and operations, to easily exchange dashboards and other useful information.
Users can access Power BI reports, graphs, and charts on the move with the mobile app.
Dynamics 365 Power BI's customer account summary and opportunity trends reports are extremely helpful. You can measure customer KPIs, sales revenue, auto-renewals, and contact history in addition to leads and sales possibilities.
The combination of Power BI with Dynamics 365 can help you get the most out of your CRM investment. When Power BI is linked with Dynamics CRM, the ODATA Layer in Dynamics CRM can be used to generate Power BI reports.
Microsoft Power BI and Microsoft Dynamics 365 CRM are a great match. Your sales team's business intelligence capabilities and powerful insights will be greatly enhanced. Even though Dynamics 365 CRM offers built-in reporting features, adding another reporting layer enhances the program and improves your sales team's performance.
The Benefits of Using Power BI with Dynamics 365
First and foremost, using Power BI with Dynamics 365 will boost your company's business intelligence capabilities almost instantly. Furthermore, you will have powerful insights into your sales staff, allowing you to address issues that are causing a productivity backlog as soon as possible.
Although Dynamics 365 offers native reporting capabilities, adding another layer of reporting would increase the speed of operations, reduce the likelihood of errors, and so automatically empower the sales team and ensure customer satisfaction.
Create Real-time Reports
Using Power BI and Dynamics 365 together can simplify the process of generating real-time reports. This means that the real-time report produced by these business apps can be read and modified at any time and from any location.
Increase the Quality of Customer Service
Your company will be able to easily evaluate the opinions and demands of existing and new consumers by combining Power BI with Dynamics 365 solutions. This will eventually prioritize customer service and reduce the time it takes to respond to their inquiries.
Customize Your Dashboards
Most businesses make the mistake of allocating a shared dashboard to all departments. Collecting data from a shared dashboard might cause misunderstanding, need more work, and, most significantly, disrupt the team's momentum. Companies can have personalized dashboards tailored for different departments to monitor data simply by browsing their specific dashboards by combining Power BI with Dynamics 365.
Apart from that, there are a few more advantages of combining Power BI with Dynamics 365:
Compare the various types of data given by each department in order to obtain the precise information needed to generate the customer report.
Get a detailed picture of your long-term sales trends.
Present data in logical visual formats, such as charts and graphs.
Have the sales reports embedded in your CRM's Dynamics 365 dashboards and other apps.
Winding Up!
Power BI and Dynamics 365 CRM are a dynamic combo that can transform your sales staff into a high-performing, high-efficiency team. It empowers your sales team to seamlessly track leads and prospects, monitor customers, optimize the sales process, and increase sales revenue.Are you ready to take advantage of integrated Power BI and Dynamics 365 CRM capabilities? Our Dynamics 365 CRM experts can get you started in no time. Call us for a quick consultation today.