Microsoft launches Power BI Goals to help with Productivity Management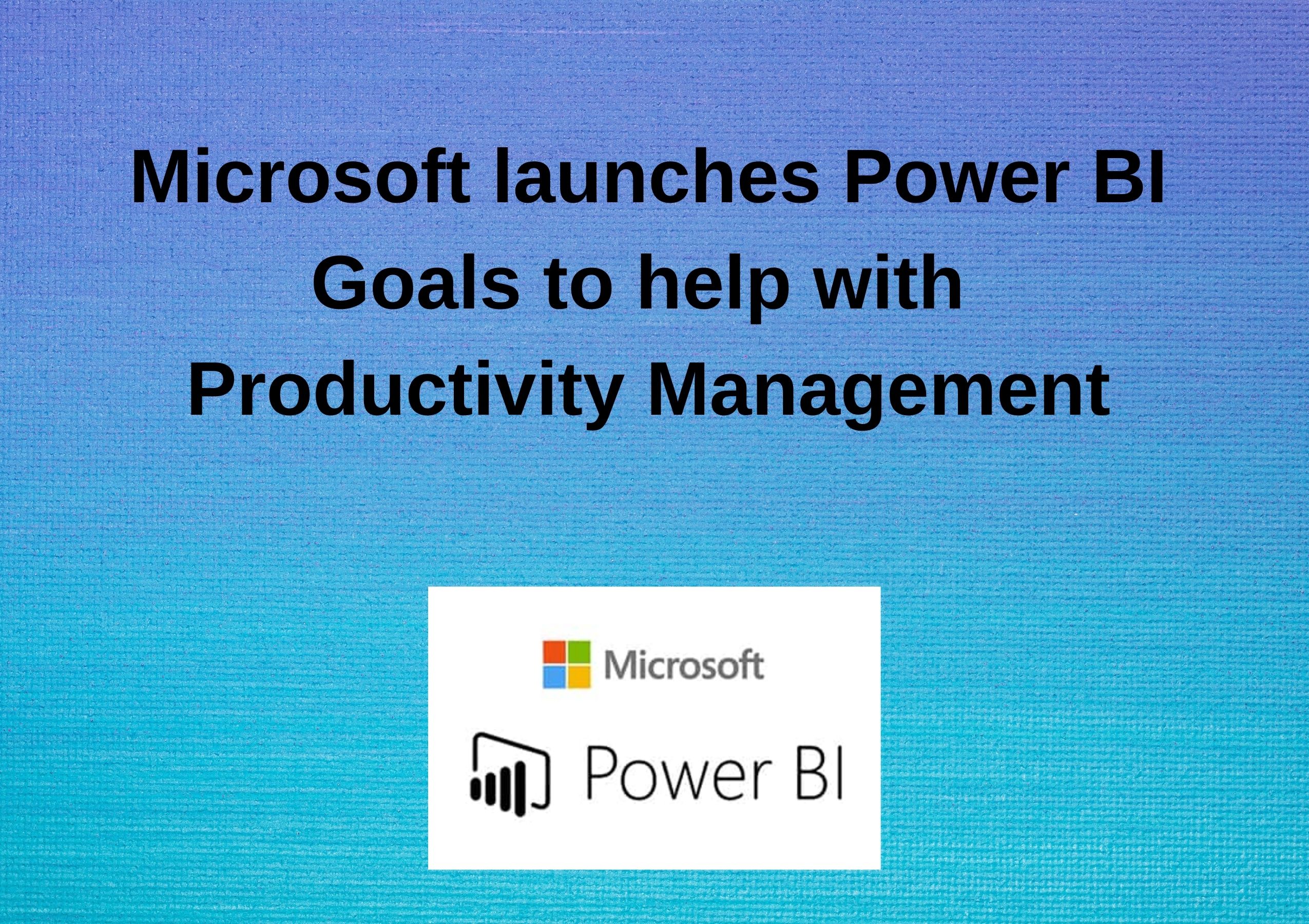 In today's data-driven environment, success is largely measured by good quality data. However, in some organizations, goal monitoring and tracking systems are disconnected from business data and need manual updates, making this a challenging process. Therefore, goals must be optimized for teamwork, closely incorporated into core business processes, and easily expanded.
Microsoft hosts the Business Applications Summit every year. This year's event was held virtually on May 4th and featured some fascinating Dynamics 365 and Power Platform announcements.
Since a lot of announcements were made at the Summit, we decided to summarize the key takeaways in the following blog.
Introducing 'Goals' was one of the big announcements made at the Business Applications Summit this year. 'Built directly on top of Power BI, Goals is a data-driven, collaborative, and adaptable way to measure key business metrics.'
Microsoft's vision for Power BI is to encourage and empower customers to embrace a data culture. "We're working on three big areas of innovation: providing everyone with rich data experiences, enabling data-driven decisions in the moment of work, and providing every enterprise with a stable, performant, and scalable solution."
Any organization can leverage Power BI to meet the most challenging modern enterprise requirements. Power BI is used by 97 percent of Fortune 500 companies today, and we understand why consumers big and small are using it.
Using Power BI to create a Data Culture
Goals are Power BI's new performance management capabilities. Goals bring together disparate metrics to help you understand the health of your company at a glance. They allow you to link your KPIs to specific people, increasing transparency and enabling users to track their progress. Check-ins allow for early detection of problem issues and prompt communication to the rest of the team.
Goals make it simple for teams to curate the most important business metrics and combine them into a single view. Teams can then monitor their progress against their goals, exchange feedback with their teammates in real-time, and dig deeper into the data when anything requires further analysis. Users can easily track the health of their company by importing data from various Power BI workspaces and creating amazing scorecards to drive impact.
What makes Power BI Goals unique?
Data is the driving force behind goals. It takes advantage of the hundreds of connectors included with Power BI. Your data, analytics, and business logic are already in Power BI, and you can link them to your goals right away.
It's designed to work with Microsoft Teams. Goals are simply integrated into the Teams experience, much like anything else in Power BI.
It's AI-enabled. So you know exactly how you're doing and what you can do to improve.
Automated action will be possible. Microsoft is working on incorporating Power Automate to allow you to recognize business processes that are automatically activated as your goals advance.
Goals is a powerful tool, which will have a wonderful mobile experience in times to come. Goals, according to Microsoft, are designed to help users make data-driven decisions and remain on top of the team or individual goals.
The way targets and goals are monitored has changed as a result of changing job environments and teams scaling at a rapid rate. Successful data usage is critical in the modern workplace to ensure that decisions result in measurable outcomes.
According to a Forrester study, between 60% and 73 percent of all corporate data is never analyzed for insights or broader trends.
Users may use Power BI Goals to create specialized scorecards, assign tasks and monitor progress towards specific goals. Managers can leverage these scorecards to identify areas for improvement, interact through platforms like Microsoft Teams, and take action with check-in notes.
Goals provide a central location for users to manage their tasks and navigate. The top section displays Power BI-curated goals, including delegated and edited goals. For new users, the final segment includes sample scorecards.
In Power BI, scorecards collect all of the various goals and subgoals that teams are tracking in one location. Goals have a status that informs stakeholders whether or not they are on track, and users may assign owners to them. Scorecards can also be used to keep teams updated by storing data and notes. They also come with an information pane that displays target progress, check-ins, and note histories.
Besides the introduction of Goals, this is what we can expect as time progresses:
Automated status rules
Rollups
Customize and format Scorecards
'Scorecard Visual' in Power BI Reports
Power Automate Integration
Cascading of goals
What else is new in Dynamics 365?
Customer Insights
Microsoft has added AI-powered category development, consumer lifetime value prediction, and churn prediction capabilities to Customer Insights to help you better understand and personalize each interaction with your customers.
Sales
Microsoft has added conversation intelligence, which captures actionable data from a live sales call, such as consumer sentiment, behavior, and, next steps.
Customer Service
Microsoft Azure Communication Services has launched an all-in-one contact center with a first-party, natively built voice solution. Additionally, the framework now provides a comprehensive set of AI-based analytical dashboards.
Winding Up!
Businesses can now take advantage of newer channels for collaboration, networking, and productivity, thanks to rapid technological advancements. Organizations have been able to lower computing costs and increase productivity with robust and cutting-edge technology like cloud-based application suites and platforms.
Microsoft is constantly building new experiences to help people excel in today's new hybrid environment of work and learning. Microsoft was recently named a leader in enterprise collaboration by Forrester, one of the world's most prestigious analysis and consulting firms. Microsoft leads the industry as a collaboration provider by actively working on innovative solutions that scale productivity.
As a Microsoft Gold Partner, DynamicsSmartz offers robust solutions that address the changing needs of the modern workplace. Drop us a line to know more.