Migrating from Salesforce to Dynamics 365 CRM: Here's Everything you need to know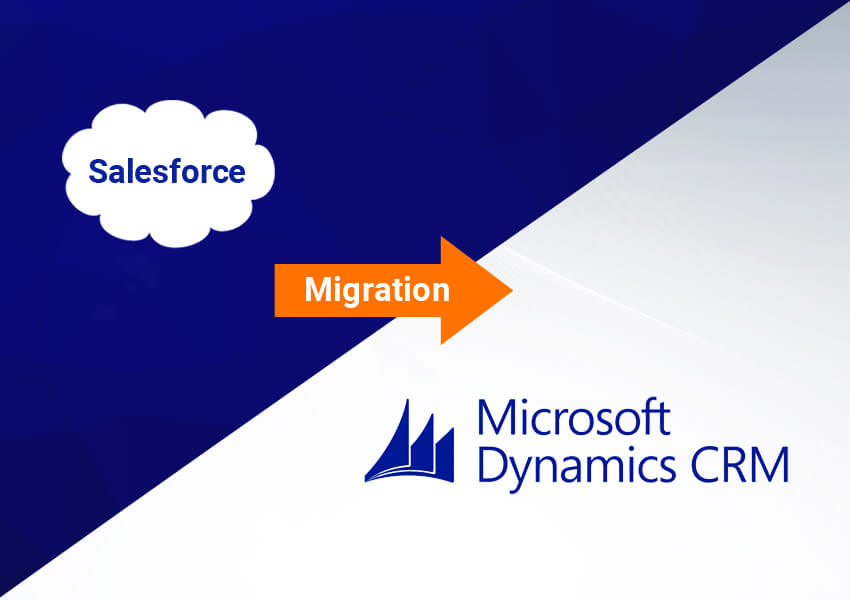 Implementing new software can be a challenging process, and moving data from one system to another can pose additional challenges. So, what drives customers to move from Salesforce to Microsoft Dynamics CRM?
The vast functionality of Microsoft Dynamics has been its biggest selling point. Users do not need to employ a specialist platform developer to build the custom capabilities they require, as Dynamics uses popular programming languages in its customizations.
Another compelling incentive to migrate is cost-effectiveness; Dynamics CRM is known for being substantially less expensive and transparent in its pricing structures than some of its leading competitors.
The data migration process, in general, can be difficult due to the massive task of gathering data from its original location, changes in format structures used by the new system, and potential problems in loading data to its new location. Because the majority of Salesforce's customization is programmed in proprietary code, moving away from the platform comes with additional challenges.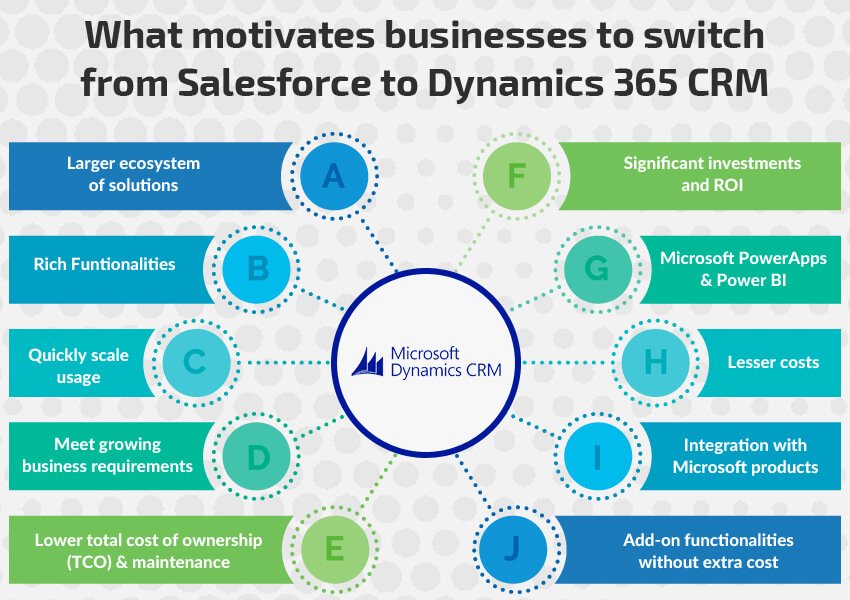 One of the main reasons is the lack of additional capability in Salesforce CRM.
Another advantage is the straightforward connectivity with existing Microsoft products such as Word, Office 365, PowerPoint, Excel, and Outlook.
In addition, Microsoft Dynamics CRM is less expensive than Salesforce.
Dynamics 365 allows businesses to scale their use of the products and applications they need.
Microsoft's platform also has integrations with Microsoft PowerApps and Power BI.
All add-on functionality is sold separately by Salesforce. On the other hand, Microsoft Dynamics includes the majority of these functions. For example, Salesforce's Einstein Analytics Platform is an add-on, whereas Microsoft Dynamics Cortana Intelligence Suite is included in the Dynamics offering.
Maintenance and the total cost of ownership (TCO) are lower.
Before you migrate from Salesforce to Dynamics 365, there are a few things that you must consider.
Planning
The first best practice for a successful transition from Salesforce to Dynamics CRM is to involve the necessary parties and people early in the planning phase to ensure that champions and advocates are on the same page when the switch is made.
Change management
Change management necessitates a great deal of planning when switching to Dynamics 365. The transition from Salesforce to Microsoft Dynamics 365 should be meticulously planned, right from data migration to user adoption
Dynamics 365 Deployment Options Include:
Dynamics 365 Online
It's the one that's closest to your Salesforce CRM setup. The online deployment option allows you to access your CRM data from any location and on any device that can connect to the internet.
Dynamics 365 On-Premises
Your CRM system will be installed on your own servers in your own data center with an On-Premises setup. Direct access is the major advantage of an On-Premises deployment.
Dynamics 365 in a Private Cloud
This D365 deployment option is the same as on-premise. However, instead of your server, it would be your Partner's private data center. The main benefit of deploying in a Private Cloud is that you don't have to worry about managing the infrastructure.
How to migrate from Salesforce to Dynamics 365
1. Planning
As mentioned earlier, the most important thing you can do to ensure a successful CRM migration from Salesforce to Dynamics CRM is to prepare ahead of time.
Consider the following:
The business processes you'll be migrating.
Who should be a part of the migration? Define and communicate with key stakeholders, such as end-users for advocacy and senior leaders for buy-in.
The time limit for completing your migration. Never wait until the last possible minute to make a decision. Allow three to four months for you and your team to collect data, hold discussions, and figure out how your CRM should work.
There are a number of deployment options available. Dynamics 365 is available online, on-premise, or in a private cloud. Determine which deployment will meet your organization's specific demands and CRM objectives.
2. Determine your Migration Type
When transitioning from Salesforce to Dynamics 365, you'll need to consider a number of factors, including how much and how quickly you want to change. These are the kinds of questions that will help you decide whether you need a full implementation or just a re-platforming.
Thorough data reconciliation is required for complete implementation. This strategy is likely to be preferred by businesses looking to improve their business operations and fully utilize Dynamics 365 and all of its features.
The process of re-platforming is simpler as it entails transferring current Salesforce data to Dynamics 365.
3. Prepare your Data
The data that you move is mirrored in your new CRM. Prioritizing data quality is critical for migration success. Consider the following to ensure data accuracy:
Data cleansing: Cleaning and profiling data is recommended for long-term dependability and validity. It's a great idea to do it before you migrate. Examine data for errors to be corrected, validate if your data meets required naming standards, flag incomplete records for updating, and delete duplicate entries.
Data grouping: Data grouping comprises identifying data categories in Salesforce and linking them to Dynamics 365 labels. Data switching is made easier by grouping data.
4. Migrate your Data
Migrating data from Salesforce and importing it into Dynamics 365 are both examples of data migration. This migration is influenced by differences in Dynamics 365 and Salesforce:
Export: Because some entities are not available in Dynamics 365, not all data fields from Salesforce can be extracted. All fields that you want to take out must be designated "visible" and outlined correctly, with the appropriate letter cases.
Import: Use the D365 data import template, which accounts for calculated field and custom entity type differences. Prepare for the import at least two weeks before the new CRM goes live, or make the switch in phases.
5. Integrations
Both Dynamics 365 and Salesforce were designed to work with third-party systems. However, not all Salesforce integrations that you use will be applicable to Dynamics 365. Choose which apps you'd like to bring with you when you migrate. Consider Business Central ERP, the Office 365 suite, Power Automate, and Power BI, among Microsoft's other business tools.
Your organization might also employ data integration middleware like Scribe or Kingsway Soft. Data can be transferred from Salesforce to Dynamics CRM using these services. This is particularly the case for more challenging migrations.
Moving to Dynamics 365 brings up a whole new world of possibilities. Microsoft's Business Central, Office 365 suite, Power BI, and Power Automate integrations will broaden your horizons, and these solutions will work together to help your business grow.
To see a detailed, side-by-side comparison of Dynamics CRM vs Salesforce, download the whitepaper. Compare software deployment, industry strengths, features, implementation, pricing, and reviews, and find out why Dynamics takes the lead.
Now is the time to make the switch to Dynamics CRM and accelerate your business!
Switching to Dynamics 365 opens up a world of new possibilities. It has a wide range of features and capabilities to meet the unique needs of any organization.
DynamicsSmartz is a committed Microsoft Gold Partner, helping you scale your business and seamlessly transition to Dynamics 365. With years of technical experience in Dynamics data migration, our CRM experts will guide you through all phases- planning, migration, data preparation, and integration. To discover more about our services, drop us a line.