Migrating from Dynamics GP to Business Central in 2023: Here's what you need to know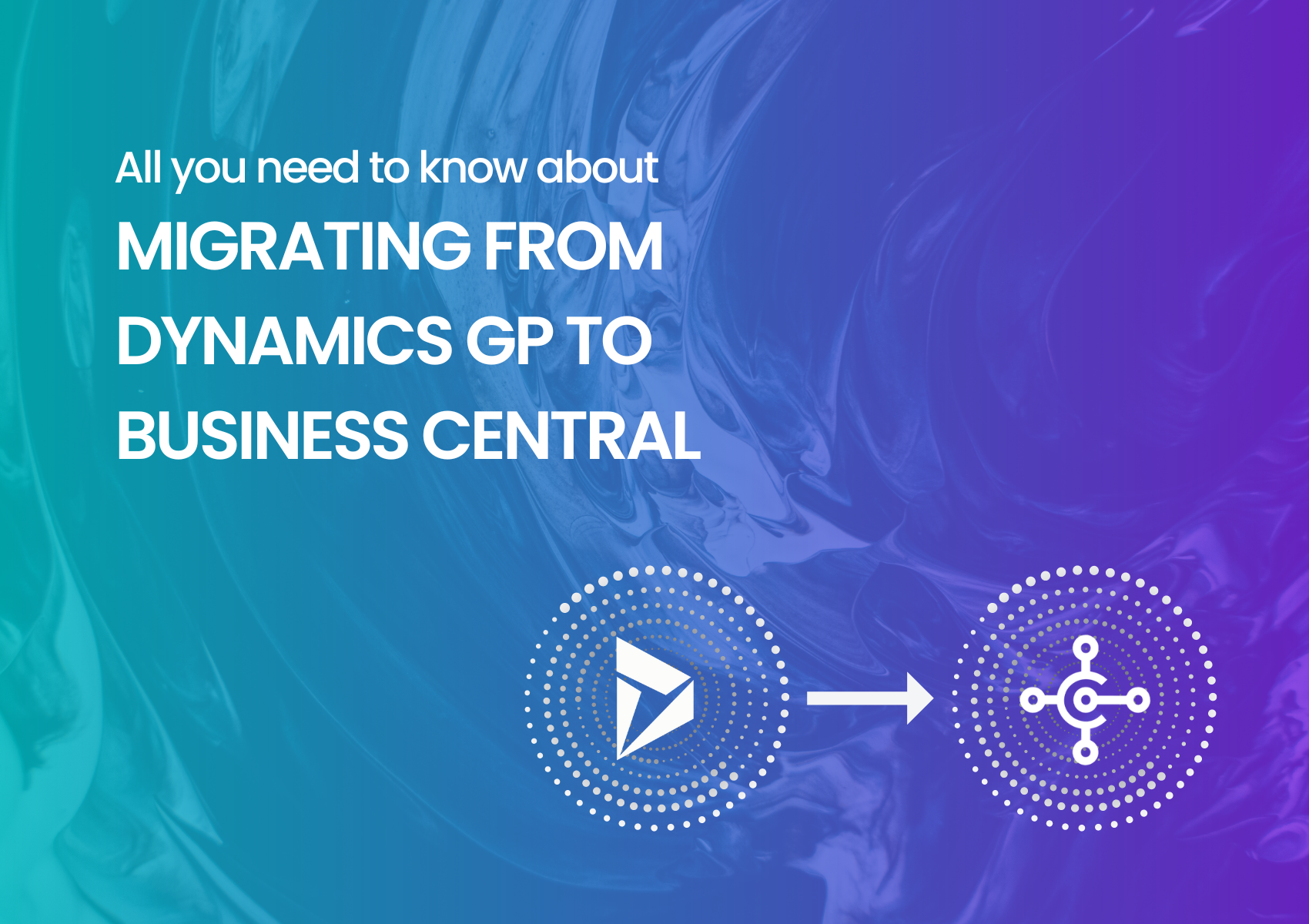 Technology infrastructure changes aren't made on a whim. However, the transition becomes less intense as technology advances, making the leap less daunting.
In today's tech world, many businesses still rely on the decades-old legacy system Microsoft Dynamics GP, known initially as Microsoft Great Plains. Because the UI and workflows in Dynamics GP have become second nature, teams are hesitant to migrate to newer solutions.
Microsoft will continue to support GP, but only for bug fixes and compliance updates. Instead of innovating, they will simply support the platform. Instead, the company has shifted resources to developing Dynamics Business Central, its cloud-based solution.
Microsoft Dynamics Business Central provides more powerful features for businesses wishing to strengthen their software capabilities and business management.
Although Dynamics Business Central and Dynamics GP have many similarities, Business Central's workflow automation, cloud backups, automated updates, and user-friendly interface make the switch worthwhile. Many third-party solutions incorporated into your GP system are native to Dynamics Business Central.
Considering a Microsoft Dynamics GP to Business Central migration may be a good idea, but the process involves many technical aspects.
Nevertheless, you can overcome these challenges with the right support and planning. This blog will provide all the information you need to migrate from Dynamics GP to Business Central.
What is the Difference Between Microsoft Dynamics GP and Business Central?
First released in 1993, Microsoft Dynamics GP was the go-to solution for SMBs. It has a lengthy track record of success. Dynamics GP helps SMBs to manage their day-to-day activities, such as accounting, payroll, business intelligence, analytics, and resource management.
Although some GP functions may be migrated to the Cloud, it is predominantly an on-premise solution. This implies that most businesses that use Microsoft Dynamics GP have servers on-site that are maintained and managed by IT teams.
There are several disadvantages to using an on-premise system like Dynamics GP. For example, GP does not provide automatic updates. Instead, enterprises must pay a charge to upgrade their software, and IT professionals must log users out of the system to conduct the updates. This technique is expensive and disruptive to daily business activities. Managing assets and maintaining physical hardware also requires considerable resources from SMBs.
Unlike Microsoft Dynamics GP, Business Central works in the Cloud and does not require on-premise hosting. Instead, Microsoft's dynamic staff of IT professionals performs bug fixes and upgrades remotely, eliminating the need for businesses to recruit in-house expertise. Business Central's monthly membership also includes security and data backups, giving businesses peace of mind that their assets are safe in the event of a disaster.
Microsoft Dynamics GP also offers some process automation and cross-platform synchronization. Unfortunately, this implies that teams must manually update and input data, a time-consuming and error-prone process. Platforms such as Business Central automatically sync information over the Cloud, allowing staff to focus more on customer-facing operations.
Although moving to a new solution might be daunting, Microsoft Dynamics Business Central provides an extensive set of tools and add-ons to help businesses improve workflows, productivity, and business insights.
Top Advantages of Migrating to Dynamics Business Central
Microsoft Dynamics Business Central is unrivaled in terms of capabilities and usability. After transitioning to Business Central, Dynamics GP customers may continue to utilize many of their favorite workflows, add-ons, and features. Furthermore, as teams have become used to Dynamics Business Central, they will have access to increased automation, tool integration, and accounting options.
1. Automatic Updates: Microsoft releases minor updates monthly and major updates twice a year. The monthly subscription includes all updates. Changes are automated, so companies can schedule updates during off-hours to minimize disruptions.
2. Improved Reporting and Analytics: Because platforms and channels are continually connected, your team will have a better understanding of company-wide sales, marketing, and customer analytics. Connect to Google Analytics and other performance monitoring systems and integrate them smoothly into Business Central to get a complete picture of your business.
3. Workflow Automation and Streamlining: Business Central integrates Microsoft products and third-party add-ons to synchronize data and simplify workflows automatically. For example, teams can use Business Central to automate invoice approval, edit Excel files, and handle transactions and bids right from Outlook.
4. Improved Connectivity: Business Central integrates seamlessly with other Dynamics 365 apps, Office 365, PowerApps, Power Automate, and Power BI. It now supports over 2,000 third-party add-ons via Microsoft AppSource, allowing you to keep using the unique software solutions you used in GP.
5. Reduced Costs: With Business Central, you won't have to worry about maintaining hardware or keeping data on-site. Moving your systems to the cloud will lower your total cost of ownership and increase your cash flow.
6. Custom Applications: After moving to Business Central, you will have access to Microsoft's Power Apps Platform, which allows you to create no-code or low-code applications. You can use this to harness your data to create applications tailored to your company operations without the headache of lengthy customizations and coding. Furthermore, no code/low code apps will update alongside Business Central, eliminating the possibility of unexpected crashes.
7. Remote Connectivity: More people are working from home than ever before. Moving to the Cloud will provide your staff with safe access to all the data and apps they require from anywhere in the world.
8. Peace of Mind: One of the most significant benefits of switching to Business Central and the Cloud is knowing your data is safe in Microsoft's Azure data lake. You won't have to worry about unforeseen data breaches or downtimes with teams of security and software specialists monitoring systems around the clock
Conclusion
By partnering with an experienced migration service provider, you can ensure a successful migration. At DynamicsSmartz, we offer a wide range of services to support your migration to Business Central, including:
Business Process Analysis to discover gaps in data migration and system functionalities based on your specific needs.
ISV solutions to fill identified gaps and tailor the solution to your business needs
End-to-end project management for the Dynamics GP to Business Central migration.
Ongoing support with end-user training and managing post-implementation issues.
Migrating from Microsoft Dynamics GP to Dynamics Business Central might be a great way to provide your company with cutting-edge technology and long-term security. Drop us a line to learn about Dynamics GP to Business Central migration.