Microsoft Dynamics CRM vs Salesforce: Which CRM is the Best?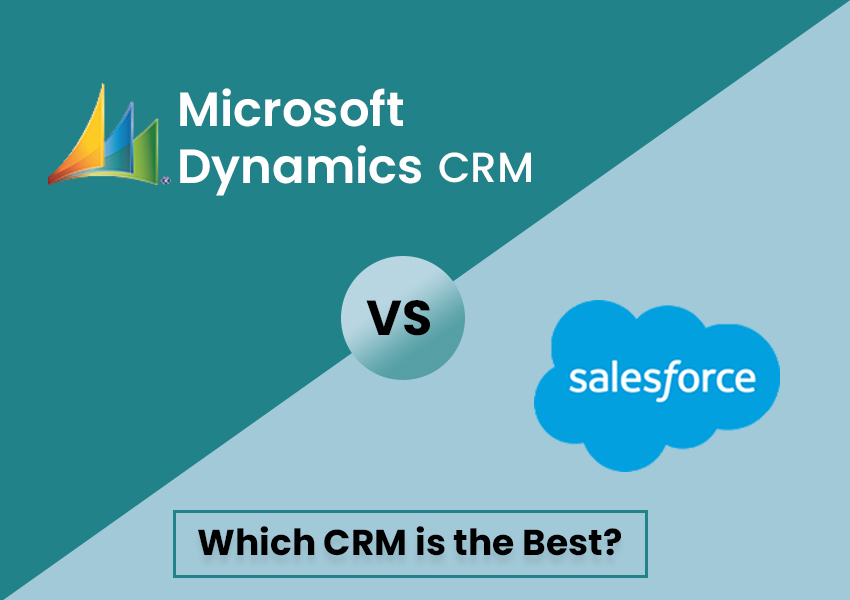 Salesforce and Microsoft Dynamics CRM are the two most popular CRM software in the market. Jam-packed with out-of-the-box functionality, both solutions are designed to help you run your business more efficiently and save precious time and money.
But how do you determine which CRM is ideal for your business?
The key is to examine your existing systems, identify the functionality that your teams require, and determine how much you're willing to invest.
Before we get into the nitty-gritty of Microsoft Dynamics CRM vs Salesforce, let's take a look at the current state of the CRM industry and where it is headed.
CRM (Customer Relationship Management) is the fastest-growing software on the market today, with revenues expected to exceed $96.5 billion by 2028. The global CRM market was valued at $43.7 billion in 2020 and is expected to increase at a CAGR of 10.6% from 2021 to 2028. That is massive, to say the least.
As organizations around the world struggle to return to normalcy in the aftermath of the pandemic, it has exposed not just the inefficiencies of the traditional method that most businesses still rely on, but also compelled organizations to modernize their existing systems and embrace the need to implement a robust CRM solution.
Implementing a CRM solution is a significant transition for any company. The software that you choose can influence how productive your employees are, the service your customers will receive, and whether or not your business will grow.
Here, we've compared two of the top software giants in the CRM industry: Dynamics CRM vs Salesforce. Let's take a closer look at both of them and find out which CRM software reigns supreme.
Microsoft Dynamics CRM
Microsoft Dynamics CRM is a customer relationship management software that helps organizations in managing their customer database, generating new opportunities, engaging with consumers, and resolving customer service concerns.
The automated capabilities and artificial intelligence (AI) in Dynamics CRM allow sales teams better understand their customers, determine when to send emails, and track social media channels better than ever before.
Dynamics CRM can also be seamlessly connected to LinkedIn. Dynamics 365 Sales, the core CRM package, is focused on sales force automation, helping teams to find and close more business opportunities. It is offered as a standalone solution or as part of a package with other applications.
Salesforce
Salesforce is a flexible customer relationship management system that helps organizations with increasing revenue, automating operations, and making smarter business decisions. Salesforce CRM enables your sales staff to access real-time customer information and gain insights through dashboards and reports. Sales Cloud offers lead and contact management, sales opportunity management, and workflow rules and automation.
Dynamics CRM vs Salesforce Applications
Microsoft Dynamics 365 is a suite of business applications that includes Microsoft Dynamics 365 for Sales, Customer Service, Marketing, Field Service, and, Project Service Automation. These are specially designed to assist in the management of certain business areas. Dynamics 365 for Sales is the core CRM package.
Dynamics CRM also benefits from the Power Platform, which includes Power BI, Power Automate, Power Apps, and Power Virtual Agents.
Salesforce's apps are distributed into separate clouds. Sales Cloud, Service Cloud, and Marketing Cloud Einstein are all available, similar to Microsoft. The Service Cloud includes components such as Customer Self Service, Field Service, Digital Channels, and AI for Service.
Platform and Deployment Options
Salesforce is a cloud-based CRM solution. If your company is absolutely committed to storing data on a remote server and using browser-based and/or mobile-friendly applications, this is a great option.
Microsoft Dynamics 365 offers a variety of options: It can be deployed on-premises, in the cloud, or in a hybrid environment. You can choose the ideal model for your business based on your specific needs and requirements.
Despite the fact that on-premise options are still available when needed, Microsoft has transitioned to a cloud-first strategy in recent years. Microsoft Dynamics 365 is more accessible to enterprises who seek alternatives to a cloud-only approach because it offers several deployment options and is highly flexible.
Dynamics CRM vs Salesforce Integrations
Is your CRM software unable to meet certain business requirements? Don't worry.
Both Microsoft and Salesforce offer a plethora of application add-ons to help you customize the system to your specific needs. If you need something other than the native add-ons, look through Microsoft's AppSource and Salesforce's AppExchange for third-party apps and integrations.
When it comes to customizing your CRM for certain industries or business models, Salesforce offers over 3,000 applications as well as has its own partner program and related platforms. If your in-house developers wish to create custom Salesforce solutions, this feature comes in handy.
Microsoft, on the other hand, has invested a lot of money into its app integrations and is quickly catching up to Salesforce. Also included are native integrations with Microsoft's other popular, market-leading products, such as Microsoft Power BI and PowerApps, Office 365, and Teams.
While Salesforce connects to several major Microsoft apps, Dynamics 365's native integration is far more superior as Microsoft owns these products. If your company has invested in Microsoft business solutions, Dynamics 365 CRM can be the best option due to greater synchronization and familiarity with the user interface.
Furthermore, Office 365 and Dynamics 365 are already connected. Many business owners find this an added advantage because data from both applications is immediately synchronized. Your team can conduct business directly from Outlook, make sales calls, and schedule online meetings using Skype for Business.
Sales reps won't be able to accomplish that using Salesforce. It can be accessed straight from Outlook, however, data synchronization is not available. You'll also need a few third-party Salesforce apps, which aren't free.
Dynamics CRM vs Salesforce Business Intelligence Capabilities
Does your business generate a lot of reports? If you require robust reporting capabilities, either solution is a good choice. Drag and drop reporting features with real-time charts and graphs are available in both Dynamics 365 and Salesforce. All reports may be accessed via interactive dashboards that can be configured to display quotas, critical opportunities, and sales figures.
Aside from this, both systems feature additional business intelligence tools, such as Microsoft Power BI and Salesforce Analytics Cloud, that enable organizations to make the most of their data.
Dynamics, however goes a step further. For the 14th year in a row, Microsoft has been named a Leader in the Gartner Magic Quadrant for Analytics and Business Intelligence Platforms in 2021. This indicates the tool's capabilities in comparison to other tools, as well as how advanced the software is at assisting your organization with data visualization.
Because there are so many apps, licensing levels, and optional add-ons to consider, Salesforce pricing can be rather complicated. In most cases, it is determined based on the number of users and features included in a package.
Pricing for Dynamics 365 can be just as complex because it isn't a stand-alone CRM; there are other ERP applications available in addition to CRM. Many Partner sellers also provide customized pricing and discounts based on the package/number of products being licensed.
As a result, Dynamics 365 is far more flexible than Salesforce, as well as more cost-effective. Thanks to a host of apps, it's easier to build the optimal package for your business using Dynamics 365.
Microsoft can offer competitive pricing, licensing, and bundling for Dynamics 365 due to its large product range. With Dynamics CRM, you get the most bang for your buck; it is suitable for organizations of all sizes and more cost-effective.
While Salesforce is better known as the leader in the CRM market, Dynamics 365 provides a more comprehensive solution for sales, service, and marketing.
Download the whitepaper to get a more detailed breakdown of the above-mentioned comparison points- deployment flexibility, integrations, customizations, and cost.
Find out what motivates customers to switch from Salesforce to Dynamics CRM and make a seamless transition.
Winding Up!
Microsoft Dynamics 365 and Salesforce have a lot in common in terms of capability and functionality. Therefore, determining which one is better can be a bit difficult. It all comes down to what you want out of your system and how well it fits into your current business operations.
Both Salesforce and Dynamics CRM are market leaders, with vast functionality and a scalable platform, as well as the ability to create customized solutions for your business using additional modules and integrations from their online stores.
However, in most categories, Dynamics CRM outperforms Salesforce. Microsoft Dynamics CRM allows SMEs, mid-market firms, and enterprises to benefit from increased flexibility and cost.
To know more about Dynamics CRM, drop us a line. As a Microsoft Gold Partner, we can help you scale your business and implement Dynamics CRM without a hitch.