Leverage the benefits of Business Central with the "Microsoft Bridge to the Cloud" Offer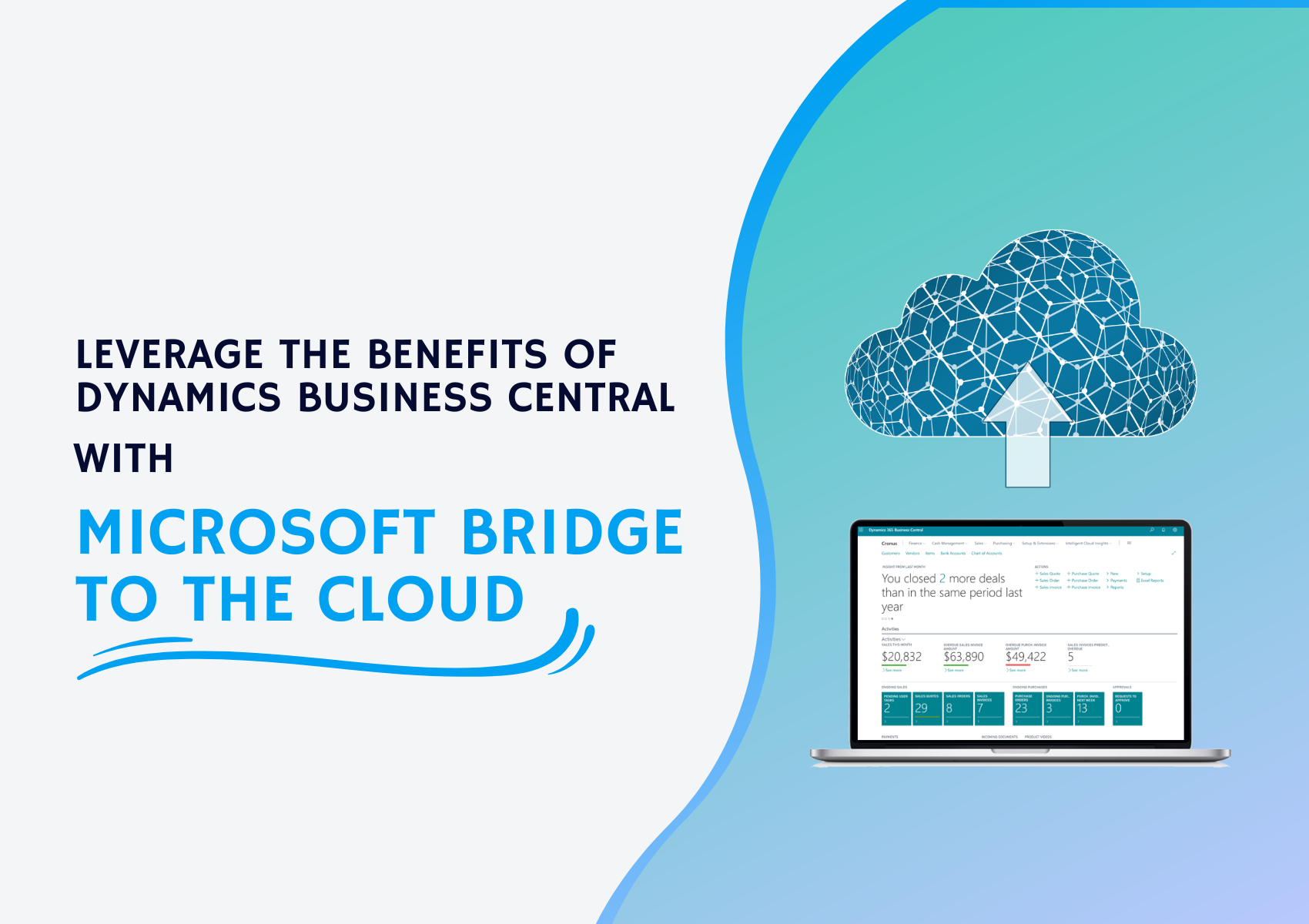 Are you still using an on-premise ERP solution such as Dynamics NAV or GP? If this is the case, you are missing out on several cloud benefits of Microsoft Dynamics Business Central that provide your competitors with a significant edge.
Businesses from across all industries are moving to the cloud for a good reason. Cloud solutions have proven their worth in periods of high volatility by providing resilience, scalability, flexibility, speed, and the ability to go remote anytime.
If you want to move to the cloud but are not sure what that entails or are concerned about the cost, Microsoft's newest promotion, 'Bridge to the Cloud,' makes it simple.
What is Microsoft's Bridge to the Cloud Promotion?
Microsoft's 'Bridge to the Cloud' promotion will assist organizations using on-premise Dynamics GP and Dynamics NAV in seamlessly transitioning to the Business Central cloud.
You gain access to the latest functionality and benefits when you leverage Microsoft's Bridge to the Cloud offer. Essentially get Free Business Central Licenses* by transferring your Dynamics GP or Dynamics NAV renewal into Business Central Cloud licenses, and never pay for hosting again. A one-time promo is available for existing Dynamics GP and NAV clients that are current on the renewal to transition to Business Central Cloud.
This promotion allows existing customers with an active Enhancement Plan (EP) to renew their EP and acquire Dynamics Business Central online licenses through the Cloud Solution Provider (CSP) program.
This means you can renew your EP plan as a monthly subscription and get a discounted license for Dynamics Business Central. In addition, you can continue to use your existing on-premises system. The offer will expire on December 31, 2022.
Here is your final chance to upgrade for essentially free. So, what are you waiting for?
The Microsoft Bridge to the Cloud offer is ideal for businesses that are ready to migrate to the cloud and prefer to budget for a monthly payment rather than a hefty yearly charge for ERP software.
We recommend taking advantage of the Bridge to the Cloud discounts as soon as possible or before your current Microsoft ERP solution's yearly renewal. The sooner you act, the sooner you may reap the benefits of cloud-based enterprise software.
While this may seem overwhelming, DynamicsSmartz is here to help you move to the cloud and provide more details on how to best leverage the Bridge to the Cloud promotion.
If you are still unsure about making the switch to Business Central, here are some of the key advantages the solution offers.
Top 10 Benefits of moving to Microsoft Dynamics Business Central
Unlimited Dimensions- Slice and dice your GL Data quickly.
Office Integration- For critical client tasks, work directly in Outlook. Update BC data from Excel with a single click.
Power BI Embedded in Business Central- Make critical business decisions on the go
Personalize– Quick access to the tasks that are most important to you
Payroll- Popular GP solutions are available on the AppSource for Business Central, for instance, Integrity Data.
Anytime/Anywhere/Any Device Access– Anytime access via phone, tablet, and laptop
Save Lists View- Filter lists and save them for quick access later
Power Automate– Workflows integrated into the flow of your company solutions
Full Supply Chain Functionality- Manage warehouse operations, including manufacturing capabilities
MICR- Core component of Business Central
Why Choose DynamicsSmartz as your Upgrade Partner
Full-service Dynamics NAV, GP, Business Central Partner
Fixed Upgrade/Development Cost
Expert solution architects to design your systems
Best reference case studies available from leading companies
Partner-friendly: Ability to work directly or with your existing partners
Conclusion
Moving to Business Central from Dynamics NAV or GP requires a full-service Business Central partner like DynamicsSmartz. We are a Microsoft Gold Partner who can assist you in making a seamless transition. For more information about the offer, drop us a line.