Upgrading from Dynamics NAV to Business Central? Here's What You Need to Know About Integrations and Common Challenges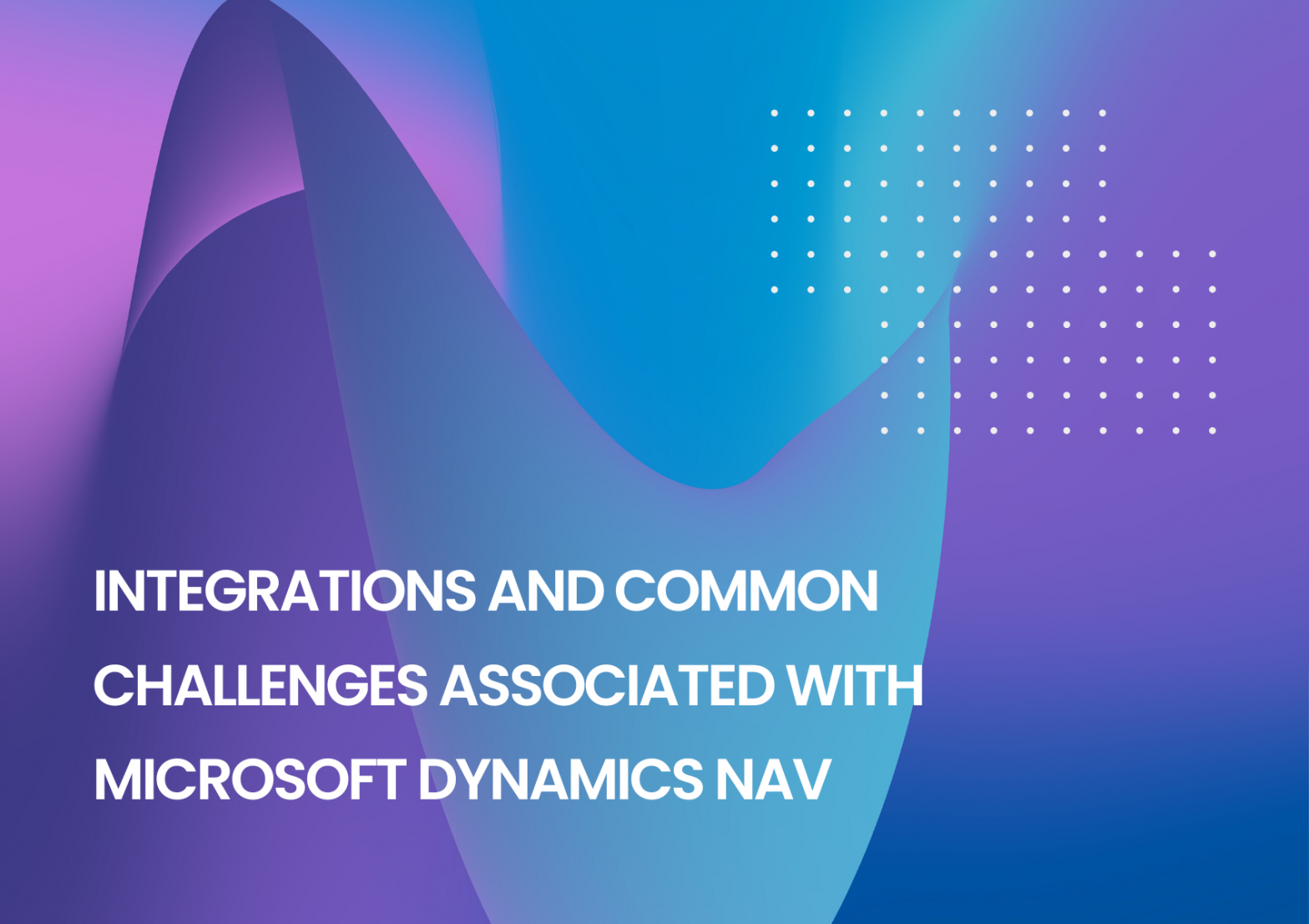 The world has changed due to the digital revolution. If you are running a business in the digital era, do you have a strategy for putting digital transformation into practice? One of the most important organizational changes you must make if you are still using Dynamics NAV is to upgrade to Dynamics Business Central.
You must utilize the power of the Cloud and the power of Data and AI to accomplish your digital transformation goals. Dynamics NAV upgrade does not involve gradually introducing new features and functionalities into the software, but it consists in transforming products and services, staff empowerment, and operational effectiveness.
If you want to upgrade Dynamics NAV to Business Central, this blog will cover everything about integrations and common challenges you might face. However, let's first understand the difference between Dynamics NAV and Dynamics Business Central.
Dynamics NAV VS Business Central
Microsoft Dynamics Business Central and Microsoft Dynamics NAV are both enterprise resource planning (ERP) solutions designed to help businesses manage their financials, supply chain, and operations. However, there are some key differences between the two platforms that businesses should consider when choosing the right solution for their needs.
One of the key differences between Microsoft Dynamics Business Central and Microsoft Dynamics NAV is their deployment options. Microsoft Dynamics NAV is typically deployed on-premise, while Microsoft Dynamics Business Central is a cloud-based solution. The deployment model can significantly impact the cost and flexibility of the solution, as well as the level of support and maintenance required.
Another difference between the two platforms is their functionality. Microsoft Dynamics Business Central provides a more comprehensive solution that includes project management, service management, and other advanced features. At the same time, Microsoft Dynamics NAV is focused on providing core ERP functionality for small and mid-sized businesses.
Also, Microsoft Dynamics Business Central is a more scalable solution that can support businesses as they grow and expand. The cloud-based deployment model of Microsoft Dynamics Business Central also provides businesses with improved access to their data and information and improved security and reliability.
Finally, Microsoft Dynamics Business Central is a more modern and user-friendly solution, with a modern interface and improved user experience. This can help improve employees' productivity and efficiency and support their adoption and use of the solution.
Even though we learned about Dynamics NAV VS Business Central, and clearly Dynamics Business Central is a better solution, you might fear if NAV integrations will be compatible after the upgrade or not. Let's take a deep dive into that.
Will NAV Integrations be Compatible with Dynamics Business Central?
Dynamics NAV integrations will work with a new Dynamics Business Central deployment. Dynamics Business Central is the cloud-based version of Microsoft Dynamics NAV and is fully compatible with all existing integrations for Microsoft Dynamics NAV. This means that businesses can continue to use their existing integrations and take advantage of the improved functionality and scalability offered by Dynamics 365 Business Central.
When businesses upgrade Dynamics NAV to Dynamics Business Central, they can expect a seamless transition, with all existing data and integrations intact. The process of upgrading to Dynamics Business Central is straightforward, with Microsoft providing various tools and resources to support businesses through the transition.
In addition, using Microsoft Power Platform and Common Data Service in Dynamics Business Central enables businesses to easily integrate with other systems, such as CRM, e-commerce platforms, and other cloud-based solutions. This means that companies can continue to expand their integrations and take advantage of new technologies as they become available. Let us take a look at other integrations:
Integration with a Third-Party Application
Business Central includes several native integration capabilities that allow you to connect to popular third-party programs. The development environment encourages adaptability and the ability to create user integrations. You can also obtain programs tailored to your company's needs by connecting to the Microsoft App Source business apps marketplace.
Integrate with Other Microsoft Tools Effortlessly
Microsoft Dynamics Business Central seamlessly integrates the Office 365 suite, Power BI, Microsoft Outlook, and SharePoint. Users of mobile devices, web browsers, and Outlook can also access the data by navigating between applications. Thanks to the many operational similarities shared by many applications, you can reduce employee training costs.
Overall, the integration capabilities of Dynamics 365 Business Central provide businesses with a flexible and scalable solution that can adapt to changing business needs and requirements. Whether using existing integrations or creating new ones, Dynamics 365 Business Central is an excellent option for businesses looking to improve their operations and drive growth.
What are the Possible Challenges You Can Face While Dynamics NAV Upgrade?
The following difficulties could arise when switching to Business Dynamics Central.
Lengthy Process
The upgrading process from Dynamics NAV to Business Central takes time. The company will need to manage its resources to prevent daily operations from being impacted during the transition period.
Data Availability with Zero Errors
The business should have a comprehensive data transfer plan if Microsoft Dynamics NAV is integrated with other systems to guarantee consistent and error-free data availability after the upgrade.
Analysis of Post-Upgrade Systems
System analysis is crucial to determining whether customizations are feasible and will function after an upgrade. A workaround might be necessary if there are any compatibility or other problems.
Employee Involvement in the Upgrade Process
Getting the word out to the staff about the need for the upgrade and making sure they participate with the least amount of resistance would be another challenge. Employee training after an upgrade is crucial to ensure they are familiar with it and can use it effectively.
The Bottom Line
Upgrading from Dynamics NAV to Business Central is a significant change for businesses and requires careful planning to ensure a smooth transition. The key to success is understanding the different integrations and common challenges companies may face during the process. However, with the right preparation and support, businesses can successfully upgrade from Dynamics NAV to Business Central and take advantage of the many benefits of this cloud-based platform.
It is important to work with a Microsoft Gold partner like DynamicsSmartz to help manage the upgrade process and ensure that all of the necessary steps are taken to ensure a successful transition. If you want to learn more, contact us for a free demonstration.