Benefits of Integrating Power BI with Dynamics Business Central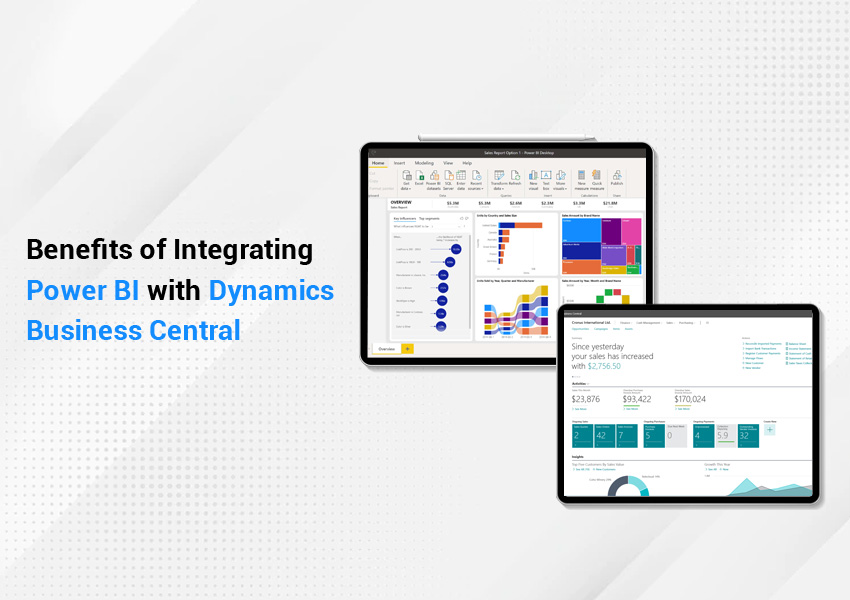 A vital component of a company's ability to remain competitive is its capacity to translate data into meaningful insight for itself and its customers.
Approximately 70% of organizations believe their data needs to be used to its full potential. Increasingly, businesses with a lot of data need to learn how to effectively use it. Businesses realize that they have a lot of data but need to learn how to use it meaningfully.
The concept of data culture is constantly evolving as organizations develop strategies to create an environment centered around data culture. Organizations must enable every team member to make the best use of the data at their fingertips.
As technology advances, organizations are trying to make sense of their data, and that's where Power BI comes in. Instead of cleaning and bringing data together, spend time visualizing and analyzing the data to make intelligent business decisions.
Power BI
The Power BI platform makes it easy to connect, model, and visualize data, allowing you to create personalized and secure reports for your company. You can get maximum value from your data and technology by integrating Power BI with your existing Microsoft technology.
5 Key Components of Power BI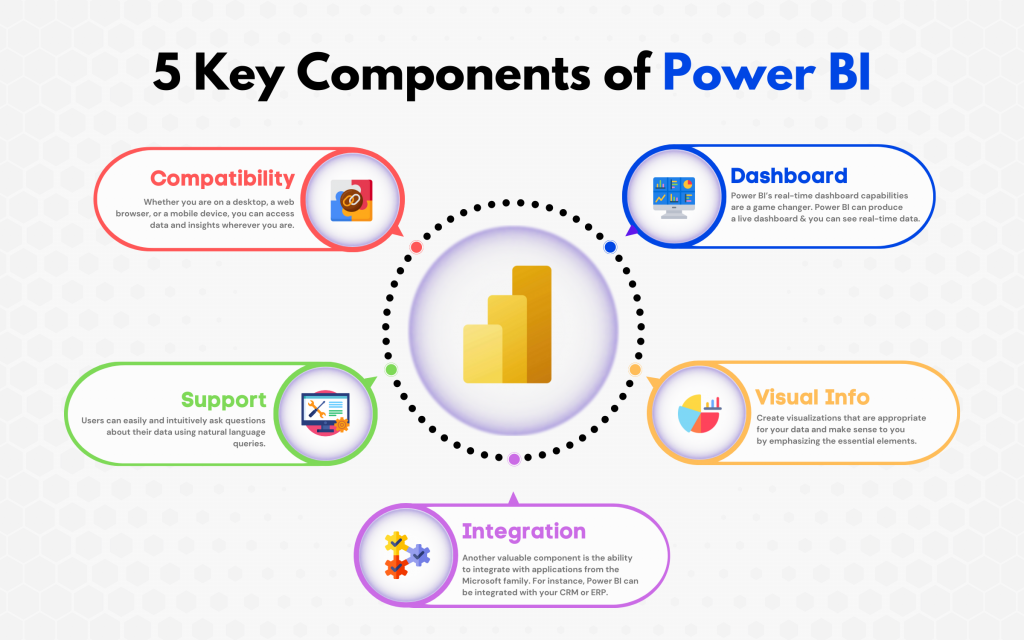 Power BI Integration for your Business
You can easily aggregate, analyze, visualize, and share data by combining Power BI and Business Central. Several software services, apps, and connectors work together to transform unrelated data sources into visually immersive, interactive, and valuable information. Who can benefit from Power BI?
Analysts
Developers
Business Users
IT Professionals
The Microsoft Dynamics Business Central application is a powerful business management tool that connects your organization's core processes and centralizes your most crucial data. While Business Central already offers built-in reports to give you insights, combining it with a business intelligence solution can make it much more effective, enabling you to interrogate your data thoroughly.
Dynamic reporting, detailed visualization, and multi-layered analytics are all features of BI solutions. Integrating it into Business Central allows users to fully utilize your data, facilitating quicker and wiser decision-making for improved operational effectiveness and company performance.
Dynamics Business Central and Power BI are complementary tools for interactive data visualization and analytics. Your company can profit significantly from integrating these two systems:
You can extract and merge data from several different sources within your company to get a "bigger picture". Your data is transformed into valuable insights through interactive dashboards and detailed visual reports thanks to the seamless integration of Business Central and Power BI. You can make educated decisions more quickly since it allows you to evaluate data from various touchpoints.
Thanks to Power BI reports embedded into Business Central, your users will find it easier to view reports quickly without navigating between different systems. Additionally, it can be accessed from any device and location, enabling your users to safely view or publish reports that are important to them.
Dynamics Business Central is one of the Microsoft solutions that Power BI can directly interact with. Data and processes can be easily integrated amongst different systems, and from an IT administration standpoint, it is also simpler to manage. Since Power BI is a component of your current Microsoft 365 subscription, trying it out is risk-free. To get started, you can allow a restricted group of users to explore Power BI and connect to your Business Central data.
Combined ERP Business Intelligence:
Power BI gives organizations a competitive edge by enabling them to respond to queries about their operational performance. Some of the main reasons businesses choose to invest in a quality BI tool for their ERP are as follows:
Quick access to dashboards, visualizations, and real-time information
Boost operational effectiveness
Keeping an eye on market trends and patterns
Improved competitor analysis and competitiveness
One version of data truth for all
Metrics and KPIs
Business Intelligence for all users across the organization
Conclusion
Reduce the time you spend gathering data and spend more time visualizing data to make informed business decisions! Maximize the benefits of your ERP solution by using Power BI as your reporting tool with Dynamics Business Central. Power BI enables you to develop a deeper understanding of your entire business operation so that you can make more data-driven decisions that can promote productivity, raise profitability, and improve business performance. Drop us a line to explore Power BI and Dynamics Business Central further.