The Consequences of Delaying an ERP System Upgrade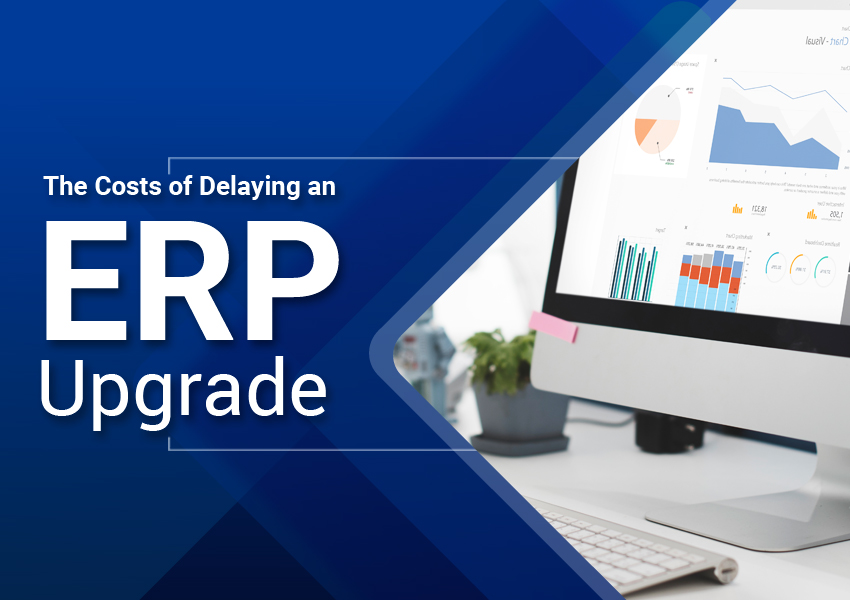 An Enterprise Resource Planning (ERP) system can significantly increase the efficiency and profitability of any organization, regardless of its size. It efficiently reduces lead time and operating costs by managing sensitive data, increasing organizational transparency, and streamlining the business process. However, having an ERP system isn't always enough.
An outdated system could stifle business growth, compromising your company's productivity and profitability. As a result, an ERP upgrade is a logical next step for your organization.
Many a time, when we talk to people who are considering an ERP system upgrade or implementing a new ERP project, they cannot understand the cost and potential of business disruption.
This is understandable: ERP projects are a difficult task, but people should understand that the cost of maintaining legacy systems or using outdated business processes is usually much higher than upgrading ERP.
These costs are more difficult to detect. They are often tied to the way companies do things, so much so that due to outdated technology, they appear as a waste of time, lost productivity, and frustrating processes.
Why do organizations delay Digital Transformation?
Some executives put off digital transformation or spend too much time weighing the advantages and disadvantages of an ERP upgrade expecting that their current system will live a few years longer. People don't often realize that the cost of doing nothing and remaining with old or legacy systems is significantly higher in the new era of cloud-based business software.
You may put your company in danger of income loss, security breaches, and system breakdowns. It may appear that doing nothing is the safest option, but that's hardly the case.
Businesses can readily change their business models or operations to changing industry conditions by migrating to the cloud (and using a cloud-based ERP system). Acquisitions are becoming increasingly common as firms strive to expand, and integrating newly acquired companies into established accounting and supply chain systems can cost millions of dollars.
Instead, you can rely on a system that is always current and up-to-date, allowing you to be ready for any changes in your sector.
Let's look at some of the main areas of your organization where doing nothing can cost you a lot more money than you believe.
1. Customers Are Leaving
Customer service is extremely important to 66 percent of American consumers, according to Microsoft's global condition of the customer report. Firms that rely on legacy systems, on the other hand, frequently run into challenges since old systems have a hard time connecting with CRM and other customer support software.
From your e-commerce platform to your POS system, customer service center, and fulfillment center, you must deliver a flawless buy, transaction, and return experience for your customers.
Keep an eye out for the following signs of poor customer service:
Complaints about promotional pricing problems.
Difficulties with delivery and shipping delays.
Customer complaints about their shopping experience, whether it was in-store, online, or over the phone.
Purchase information is dispersed across several databases.
Client service professionals are slow to respond; they employ a variety of systems to handle customer questions.
Your system inhibits you from experimenting with new distribution channels, such as pop-up shops, trade exhibitions, or online wholesale orders. It's a major task to figure out how to make these requests work.
If you treat every bullet as a missed sales opportunity in your system, you'll end up with a lot of missed sales.
2. Wastage of Time
Your most valuable resource is time. How much time could you have spent on revenue-generating projects if you were continuously patching and repairing obsolete ERP systems? Do you deal with these issues on a regular basis?
People are concerned about the accuracy of the data they receive, so there are regular delays.
People are frustrated with the current system, so they invent their own solutions and time-consuming strategies to avoid utilizing it.
The entire economic benefit of Microsoft Dynamics 365, according to the report, has increased operational efficiency by $39 million for firms that have used Dynamics 365. Employee productivity rises by $20.6 million when automation, a better user experience, less rework, and better forecasting are included. You could have spent that time building your firm instead of maintaining old ERP systems.
3. Security Breaches
Risks and breaches in security might cost you your peace of mind. While any company can fall victim to a cyberattack, some configurations are more vulnerable than others. Consider the impact on your brand's reputation if your firm is hacked. Can you estimate (or even evaluate) the entire amount of sales lost as a result of security incidents? If you treat each of these points as a security weakness, you risk the following:
How much time, effort, and money does it require to maintain your current infrastructure, custom code, and integration?
Due to a myriad of third-party products that make your process function the way you want it to, are you having trouble reporting and keeping the system up to date?
How much money and resources have been spent on hardware maintenance?
Moving on-prem Dynamics NAV, Dynamics GP, and Dynamics SL to Business Central can help you unlock new avenues for your business and scale your business to new heights.
Winding Up!
Not being up-to-date with technology improvements can lead to hasty decisions, stress, and errors. There are many hidden costs of delaying an ERP upgrade. Once you start upgrading the system, you will see savings because of the low implementation costs.
The money you believe you'll save by deferring an ERP project could end up costing you a lot more than you anticipated. Your business survival in this new, cloud-centric world is at risk if your supply chain and underlying technological infrastructure can't change to meet your company's growth plans or customer demands.
At DynamicsSmartz, we help you implement Dynamics ERP solutions without a hitch and ensure that your upgrade journey is seamless and secure. Drop us a line to know more.