ERP Migration: When is it the right time?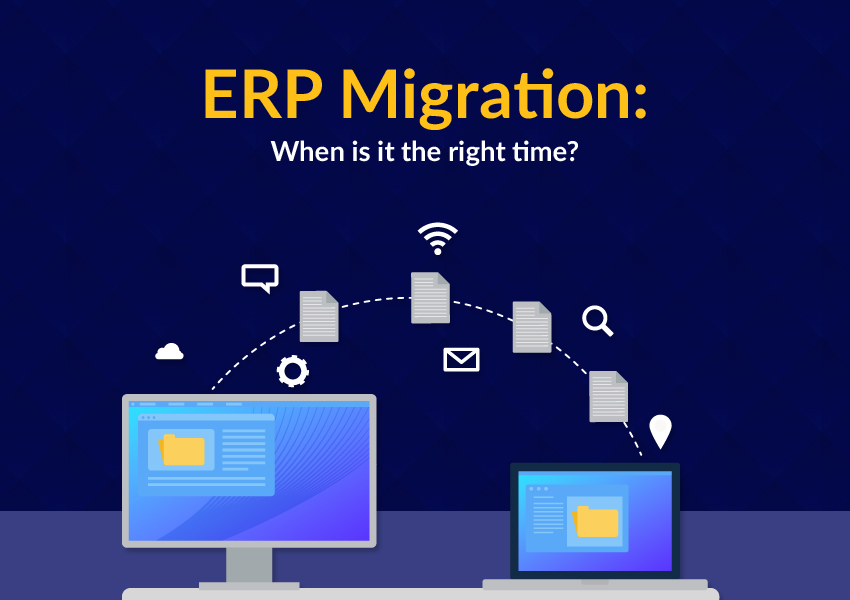 ERP Data Migration is a complex process that entails transferring data from a legacy system to a newly implemented ERP system's database. The preliminary data transfer is practically inevitable when your organization implements a new enterprise resource planning solution.
Here are some common reasons why a new ERP migration should take place- solutions are outdated, the termination of existing ERP support, and the lack of data consolidation.
If you feel your company's fundamental financials and operations aren't cutting it anymore, it's time to consider implementing a modern, robust enterprise resource planning (ERP) system.
It's crucial to explore your possibilities in order to obtain a software solution that's tailored to your company's specific requirements. In today's fast-paced business landscape, your competitors are likely to be modernizing their ERP systems, and you would like to stay ahead of the competition.
Three signs you should consider an ERP Migration
If you're reading this because you're having problems with your existing system, you're most likely aware that you'll have to migrate at some point. Here are several signs that show that you should start looking for a new ERP right away:
You're not able to grow
Perhaps you've been getting by with the basic capabilities, but if your present software is limiting your market expansion and capacity to expand globally, it's time to upgrade to a new solution.
You have to deal with a variety of different systems
You're noticing that your diverse systems don't operate well with evolving technology and the pace of advancements. You may discover that your new accounting software is incompatible with your old HR system, and you're sick of attempting to piece together a solution.
You are unable to meet customer expectations
If your employees and customers are on the go and your system isn't keeping up, it's time to upgrade to one that does. If you don't believe you can afford to invest in exceeding your customers' expectations and are unwilling to provide your employees with the tools they need to succeed, you will simply lose them to a competitor.
Modern ERP Solutions
Investing in ERP technology can help you stay ahead of the competition. They not only assist you in improving employee performance but also provide opportunities for improving customer engagement.
One approach to benefit from these improvements is to implement intelligent business applications that allow you to:
Modernize fundamental ERP functions.
Make use of data and insight to assist your team in identifying new business prospects.
Customize and build applications that match your business needs, with little to no coding.
Microsoft Dynamics 365 Business Central
Dynamics 365 Business Central integrates your people and processes into a single, unified solution that can be accessed at any time, from any location, allowing data to be shared quickly and seamlessly across your organization. You have access to the most current and accurate data, which allows you to make informed business decisions.
Payroll, banking, and CRM systems are all integrated, allowing your employees to exchange the most up-to-date information and answer customer requests faster with the right information.
Dynamics NAV has been updated to Microsoft Dynamics 365 Business Central. D365 Business Central is a highly adaptive and flexible solution that caters to the demands of businesses across industries, and geographies.
Whether you're a small or mid-sized organization seeking an ERP solution that can also integrate CRM applications to improve synchronization across core business processes like sales, marketing, customer support, and stock management, you've come to the right place.
Dynamics 365 Business Central is a great ERP solution with a range of powerful features. It helps you break down data silos, scale your business in real-time, expand when you're ready, and make smarter data-driven decisions. It also evolves with your changing business demands, adding new features and functionalities.
When transitioning to Dynamics 365 Business Central, there are a few things to bear in mind. If you're still using Dynamics GP, Dynamics SL, or Dynamics NAV, Microsoft recommends moving to Dynamics Business Central.
1. Microsoft Dynamics 365 Business Central is based on the Dynamics NAV code base, with the data model and functional code written with NAV as a starting point.
Organizations that are currently employing Dynamics NAV will undergo a more significant transition. On the other hand, migrations from Dynamics SL or Dynamics GP to D365 BC will necessitate a thorough study of existing business processes, followed by mapping those processes to Business Central.
2. If you're currently using Dynamics SL or Dynamics GP and have made adjustments to the system, you'll have to start over with Microsoft Dynamics 365 Business Central. In some circumstances, the desired functionality may already be available in Dynamics 365, or you may need to fill in the gaps with third-party solutions or extensions that are compatible with Business Central.
3. Users can use data migration tools to move data from any of the legacy Dynamics products( Dynamics NAV, Dynamics GP, Dynamics SL) to D365 BC. If you've made adjustments or upgrades that expand the current data to your old ERP system, an off-the-shelf automated migration technique might not work.

What are the advantages of moving to Dynamics 365 Business Central?
Microsoft Dynamics 365 Business Central is a feature-rich, scalable ERP system with a number of advantages.
Enhance Collaboration and Productivity
Microsoft Dynamics 365 Business Central integrates seamlessly with Microsoft 365 to foster productivity and collaboration.
A solution that adapts to your need
With D365 Business Central, you get a low-code, tailor-made solution that can scale with your business. Adding or removing licenses as needed will help you save money on your capital investment.
Make Smarter Business Decisions
By identifying patterns and opportunities, Business Central's artificial intelligence capabilities can provide you with actionable information so you can make better decisions.
Customized For Your Industry
By integrating Business Central with relevant apps from Microsoft's App Store, you can automate processes and expand its capabilities. Save money by avoiding costly custom development.
At DynamicsSmartz, we understand that ERP migration is a complex process rife with challenges. But our Gold Certified Dynamics Consultants can help your organization make a seamless transition. Drop us a line for a quick consultation or a personalized demo of Business Central.