Dynamics GP Vs Dynamics 365 Business Central: Is it time to make the switch?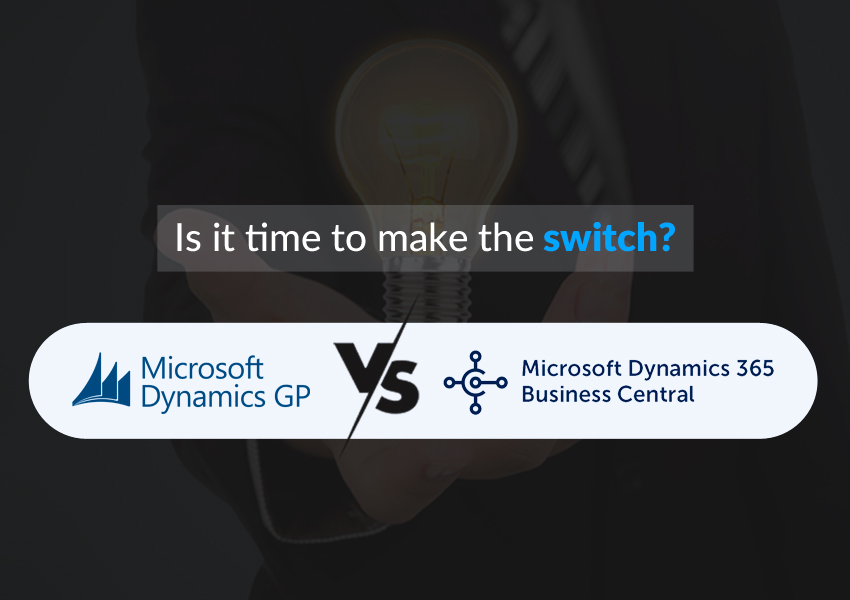 Microsoft Dynamics GP (Great Plains) has been a reliable ERP (Enterprise Resource Planning) solution for over two decades now, with thousands of happy and loyal customers. Even though Dynamics GP has been at the top of its game for decades, technology continues to advance. Some Dynamics GP users are now considering upgrading to Dynamics 365, Microsoft's comprehensive solution that incorporates ERP, CRM (Customer Relationship Management) capabilities, and much more.
If you're using Microsoft Dynamics GP, you may be familiar with the product roadmap and software lifecycle policy. For the foreseeable future, Microsoft has committed to providing bug fixes, security updates, and a few new features to GP. However, they will no longer provide substantial technological or functional advancements, and the product will never be available in the cloud.
Be proactive and start to plan ahead by thinking about moving to Business Central (BC).
What is the Future of Dynamics GP?
Dynamics GP is supported for the time being, and it will continue to work for you as it has in the past.
Microsoft has committed to issuing three updates every year till 2024, and it is highly likely that they will continue to support the solution beyond that. The top improvements requested by the GP community will be included in these versions, as well as ongoing developments and Intelligent Edge advancements.
Dynamics GP can be installed on your own servers or hosted by a third-party service provider in the cloud.
Dynamics GP will be covered by Microsoft's Modern Lifecycle Support Policy. If users install at least one of the three GP updates each year, they will get ongoing support, including new features and enhancements.
Microsoft has declared that it does not intend to make Dynamics GP into a cloud offering. While it can be hosted in the cloud, its possibilities in terms of integrating with external apps and harnessing the cloud's capabilities are still limited.
Dynamics GP isn't designed to work seamlessly with other modern business applications.
To begin with, this implies that you do not need to change solutions right now. You can keep using GP until you're ready to switch to Business Central, with the caveat that processes that could otherwise be eliminated must be kept in place until you switch to Business Central.
However, this suggests that there won't be many exciting new features to look forward to. Microsoft's primary cloud offering for the mid-market, Microsoft Dynamics 365 Business Central, has been well-received by SMBs and enterprises alike. To take advantage of Microsoft's cutting-edge technology and capabilities, you'll need to switch from GP to Business Central, sooner or later.
Think about the Cloud
Microsoft has made significant investments in the cloud. With the pace of digital transformation, the fact that Dynamics GP will not be available as a true cloud version speaks volumes. A real cloud application does not entail hardware costs and can be accessed via web browsers. Compared to GP's traditional client-server, on-premises architecture, true cloud-based software provides significant advantages.
One of the most compelling reasons to stick with Microsoft ERP is the benefits of Business Central's seamless integration with other Microsoft business applications such as Office 365, Teams, and SharePoint.
Because your workforce is already familiar with these tools, user acceptance, simplicity of use, and training time for Business Central are all reduced. Besides, Azure and the Power Platform help you solve business challenges on the back end.
Microsoft has also created tools to help you migrate your Dynamics GP data and transaction history to Dynamics Business Central. Changing systems is made easier as a result.
Microsoft Dynamics 365 Business Central
Dynamics 365 Business Central is the latest ERP offering by Microsoft. While it is not intended to replace GP, it is designed for the same target market.
The most important thing to remember is that Business Central is typically licensed on a complete "SaaS" basis (Software as a Service). You pay a monthly licensing fee and your data is stored on the Azure Cloud. Enhancements are pushed out automatically by Microsoft. There are no upfront costs for hardware, servers, or other components, which is ideal for businesses with limited to no IT resources.
For companies that require it, Business Central On-Premise is also available. Mid-sized manufacturers, distributors, retailers, and professional services firms benefit the most from Business Central.
Dynamics GP vs Dynamics 365 Business Central: Key Advantages
It's easy to Customize and Adapt

Business Central includes a visual drag-and-drop interface that allows users without programming experience to customize the software using no-code or low-code alternatives to fit their business processes.

Business Central's logic can easily be tweaked to perform more complex functions if more extensive customizations are needed. Between software updates, all of these modifications are maintained.

A Strong Development Community

Nearly 1,000 specialized applications, built by Independent Software Vendors (ISVs), enhance the capabilities of Business Central. From credit card payments to warehouse management and everything in between, these apps can be used for nearly anything. Check out Microsoft's AppSource to see what ISV solutions are available for Business Central.

Can run On-premises or in the Cloud

Users do not need to run their applications in the cloud to use Business Central. For commercial or regulatory reasons, Business Central can also be installed on-premises. Users can migrate to Business Central in the cloud, whenever they are ready.

Greater Manufacturing and Distribution Capabilities

The manufacturing and distribution capabilities of Business Central are superior to those of Dynamics GP. Business Central natively supports production orders, warehousing and inventory management, supply chain management, bills of materials, serial tracking, and other complex processes.

External apps are easily integrated

Business Central includes native integrations with a variety of popular third-party cloud apps. This allows Business Central to connect to HCM, CRM, Payroll, and a variety of other modern business apps.

Has characteristics that are not present in GP

Microsoft (Office) 365 connectivity, dimensions, a built-in CRM, and extensive financial reporting capabilities are just a few of the integrated elements in Business Central.

Dashboards and Reporting Capabilities

Users can design their own dashboards in Business Central to keep track of the critical data that affects their job the most. Dashboards are pre-configured and may be modified or generated on the fly, without requiring any coding.

Easily add User-defined fields to Records

Business Central data is simple to use in dashboards and reports. Customize reports, add fields to client records, and display fields in dashboards – all without writing a single line of code.

Microsoft Power Platform

The Power Platform is a set of tools designed to make information more accessible to everyone, especially non-technical users. Connect Business Central to other apps including Microsoft Office365, Azure services, and a variety of third-party apps via the Power Platform.
Winding Up!
If you are still unsure about migrating to Business Central, let our seasoned Dynamics Experts assist you. It can be a little difficult to grasp Business Central's features, operations, and possibilities.
We can assist you in gaining a better understanding of Business Central's capabilities and how they might benefit your company. Based on our considerable experience in helping firms plan for the future, we can help you determine if you need to migrate to Business Central. Drop us a line for a quick consultation.