Microsoft Dynamics 365 Sales 2021 Release Wave 1: Exploring Top Features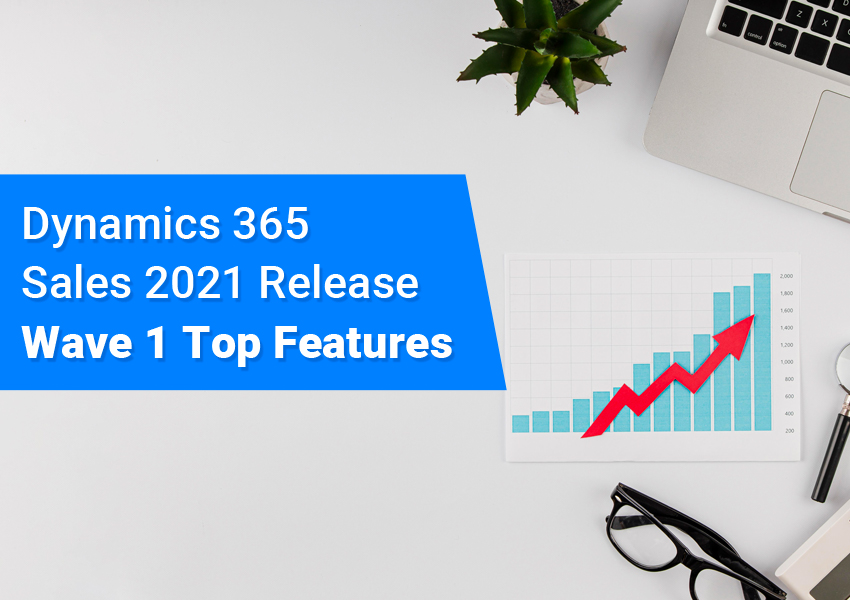 In today's ever-complex sales environment, organizations require access to modern, cutting-edge technologies to generate leads, take actions from insights, and build meaningful customer relationships. Legacy software solutions aren't equipped to meet evolving business needs. You need a sales enablement solution that evolves and scales as fast as your sales team.
Microsoft Dynamics 365 Sales is without a doubt one of the best sales solutions available around. New enhancements and capabilities are added twice a year by Microsoft referred to as 'waves'. Dynamics 365 Sales Release Wave 1 for 2021 is certainly the best iteration of D365 Sales so far.
Dynamics 365 for Sales is a robust, constantly evolving, fully integrated sales enablement platform that provides reps all of the resources they need to boost sales performance. The sales team can build long-lasting relationships and increase revenue by having greater visibility into the pipeline and customer data.
With every release wave, Microsoft promises a slew of new features and functions, updates, and improvements based on customer feedback and bug fixes.
With the first Dynamics 365 Sales release wave underway, here are the top features that can help businesses streamline sales and maximize revenue:
New Digital Selling Features
1. Greater Accessibility of Premium Features
Users often faced difficulty identifying premium features that boosted revenue in the previous Dynamics 365 Sales versions. Premium features have been made more visible in Wave 1 2021, and they will be accessible from the main settings area.
2. Positive Trial Experience
With the new wave, Microsoft plans to provide a better trial experience for exploring premium functionality that helps users in meeting sales targets. New trial displays, improved license indications, and simplified add-on installation are among some of the latest enhancements.
3. Increased Insight into Customer Interactions
Sales professionals get the majority of their work done on mobile devices. With automated transcriptions for calls and online meetings, conversation insights, action item extractions, and automatic assignment of calls to the related D365 entity, this feature ensures you have all important details at your fingertips at all times.
4. Personalized Work Queue
This feature allows sales representatives to tailor their workspace to their specific tasks. Flexible views allow reps to start a number of tasks without switching between applications, making their day-to-day activities easier.
Sales professionals can make calls and send emails directly from the customer's log. With regular updates, sales reps can also quickly follow up whenever necessary.
5. Seller KPIs and Manager Dashboards
Dashboards and KPIs help salespeople stay organized and up to date in real-time, boosting productivity. Managers can quickly assess their team's performance and mentor reps to help them close more deals.
If these metrics aren't available, it's difficult to know how revenues are progressing and how quickly targets can be met; but, thanks to this feature, you'll have access to this data at your fingertips, at all times.
6. New Pipeline Manager Workspace
This new customized workspace is designed to help you navigate pipeline management. The workspace is intuitive and easily accessible, thanks to the customization options.
Sales representatives can view, filter, and manage their opportunities quickly and seamlessly. They can view the data they need, apply filters to quickly scan through information, and take action without having to move between apps.
The new personalized workspace for pipeline management will include:
Data filtering capabilities that can help you rapidly find opportunities by scanning, applying a column filter, or choosing a time-based slicer.
Record side panel form is a simplified, more customizable iteration of the side panel form. This will allow sellers to easily check the most recent behavior and activities, make quick edits, and activate key actions as an alternative to the full opportunity form.
Deal Manager workspace: This feature will assist sellers in managing and interacting with their opportunities.
Out-of-the-box Charts such as bubble and funnel charts will be available in the deal manager workspace to provide further visualizations of opportunities.
7. Tracking important Sales Goal Metrics
It's crucial to get more insight into metrics if you want to know how you're doing with your revenue targets. Users can choose from a predefined collection of calculated metrics called "stats" to better understand their pipeline. For better visibility and performance, these stats can be configured and mapped to specific opportunity fields.
8. Mobile App
A new mobile experience for sellers will be available in the coming release wave, which will include:
Knowledge gleaned from LinkedIn and Dynamics 365 insights for each meeting member.
Access to personal contact information and seamless integration with Dynamics
Activity Management's inbox and to-do experience
Follow-up action with a single click
Automatic transcription for call and online meeting
In Dynamics 365, each call is automatically assigned to its relevant entity.
Winding Up!
You might find it difficult to incorporate all of these new features or decide which ones to prioritize. Hiring a Microsoft Gold Certified Partner such as DynamicsSmartz can help you incorporate Wave 1 features into your sales workflows and configure Dynamics 365 to meet your unique business needs. Call us for a quick consultation today.