Which Dynamics 365 Business Central Deployment will work best for my Business?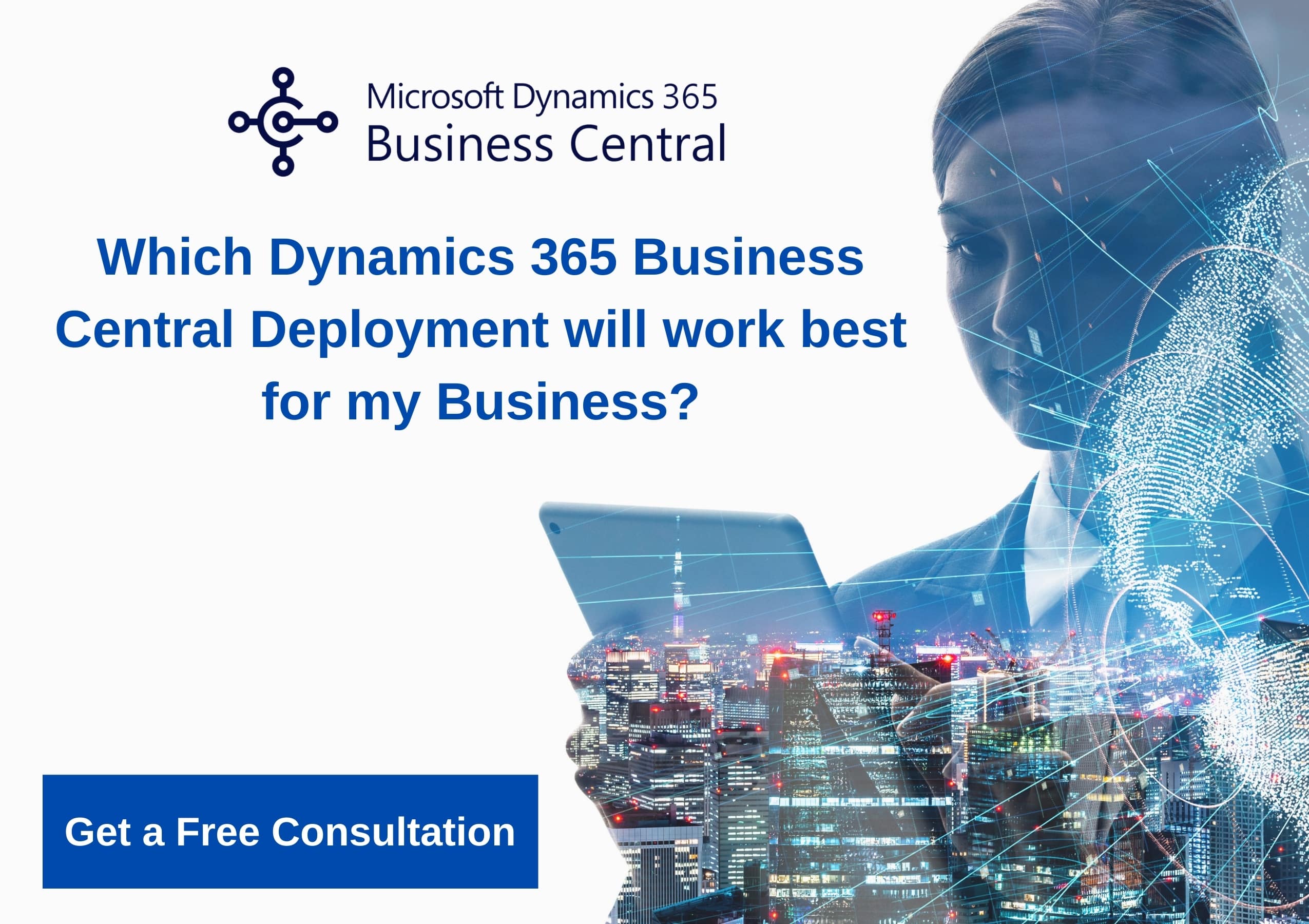 Global enterprises are increasingly moving their business applications to online platforms. Businesses, on the other hand, are debating which deployment model (cloud, on-premise, or hybrid) they should rely on, as each business environment is unique and needs to be evaluated accordingly.
Businesses weigh several factors before settling on a deployment strategy, including data security, system integrations, and access to sensitive information.
At DynamicsSmartz, our seasoned experts are skilled at assisting businesses in deciding which Microsoft Dynamics 365 Business Central deployment will best suit their needs.
Dynamics 365 Business Central can be deployed in a variety of ways, three of which we'll cover today: cloud (SaaS), on-premise, and subscription (usually hosted on Azure or private hosting).
Although it may not seem to be a big deal, but how you deploy and configure Microsoft Dynamics 365 Business Central affects not only your business but also the features and services you have access to. Each choice has its own set of benefits and drawbacks, which you can find listed below.
Dynamics 365 Business Central – Cloud(SaaS)
Simply put, Cloud ERP implies that a company can access its ERP software through a web browser from any location with internet access.
The Advantages of using a Cloud ERP
With no infrastructure to maintain and data center costs, businesses can make substantial cost savings on the initial investment and ongoing server refreshes. Microsoft is responsible for adhering to best practices in terms of security and maintenance.
Most modern Cloud ERP solutions are mobile compatible, whether through the use of a mobile app or a simple web browser access. To update records on the go from any place, all you need is a device with Internet connectivity, which makes it ideal for remote working.
Business Central offers a scalable model; it was created with growing businesses in mind. When you're ready to scale, AppSource offers a variety of extensions, some of which may require additional project work from your support partner.
Since Business Central is part of the Microsoft ecosystem, it works in tandem with other Microsoft applications. You get a sleek user experience anywhere you access Business Central, from Outlook to Teams in the cloud, and Dynamics 365 CRM to 365 Sales.
With an active 365 Business Central SaaS subscription, you'll always have access to software updates, thereby ensuring that you're running the latest version available.
Thanks to some seriously strong disaster recovery features, Microsoft guarantees a 99.9% uptime guarantee during unforeseen outages.
Users that use the Cloud get automated updates much faster than those who opt for other deployment methods.
You have the option to increase or decrease the number of users.
Lower initial investment for the software, payable on a monthly basis.
There are no hidden expenses with annual recurring costs since BREP is included in the monthly cost per user.
Disadvantages
Requires a good Internet connection.
Customer data and sensitive information can not be stored in the cloud due to data regulations.
Though cloud storage can appear to be more cost-effective, you will have to incur additional costs with additional storage.
Business Central On-Premise
Despite the overall trend to move to the cloud, an on-premise ERP solution is still considered a viable choice. With on-premise ERP, a business must maintain all of its IT resources needed to run the program on-site (or a data center).
The Advantages of using an On-premise ERP
Some organizations prefer to have full control of the data they store and processes to run their operations seamlessly. When you host on your own server, you have complete control over your data backup and recovery processes.
Making the transition from Dynamics NAV to a completely cloud-hosted solution can be difficult. Moving to Business Central on-premises as an interim solution can make the transition to the cloud much easier in the future.
Since you're storing the data on your hardware, there are no storage costs.
When it comes to highly customized ERP systems, having an on-premise solution means you have complete control over software updates. You'll have enough time to test and deploy major software updates when it's convenient for your business.
Disadvantages
If you host Dynamics 365 on your own servers, you're responsible for its upkeep, which means you won't have access to data support.
There is a huge initial investment for the software unless you opt for a finance option.
You'll find yourself at the back of the queue for new updates if they are made available to offline users at all.
BREP is an annual recurring expense that is added to the initial software.
Dynamics 365 via Subscription
Dynamics 365 via subscription is an increasingly common software deployment method. The main idea behind it is that you can purchase your license and hosting under one monthly price, rather than purchasing them separately.
The Advantages of Dynamics 365 via Subscription
Spread the expense of Dynamics 365 over a month. Although it might not be as cost-effective in the long run, it eliminates the need for any upfront payments or investments, instead it requires only a monthly subscription.
You have the choice of hosting the program on Azure, your servers, or private hosting.
By hosting on Azure, your own servers, or private hosting, subscription model users have more control over data security, reports, and other general activity.
Disadvantages
Updates will not be automatic, unlike the Cloud, and you will have to decide whether or not to go through with them.
If you host on your hardware, similar to On-Premise, you will need to invest in additional IT support as you will be solely responsible for all the configuration, upgrades, and general maintenance.
Continued costs long term since you'll be paying a monthly subscription for the entire period you use the program.
At DynamicsSmartz, we pay attention to what our customers actually want from their ERP system and work with them to ensure they have a robust and scalable solution.
Still not sure what's the right way for your business to host its solution? Drop us a line and a Microsoft Certified Gold Expert will contact you shortly to discuss which hosting choice will be the best fit for your business and how DynamicsSmartz can help you grow.