Key Takeaways from the Event: Days of Knowledge Nordic 2022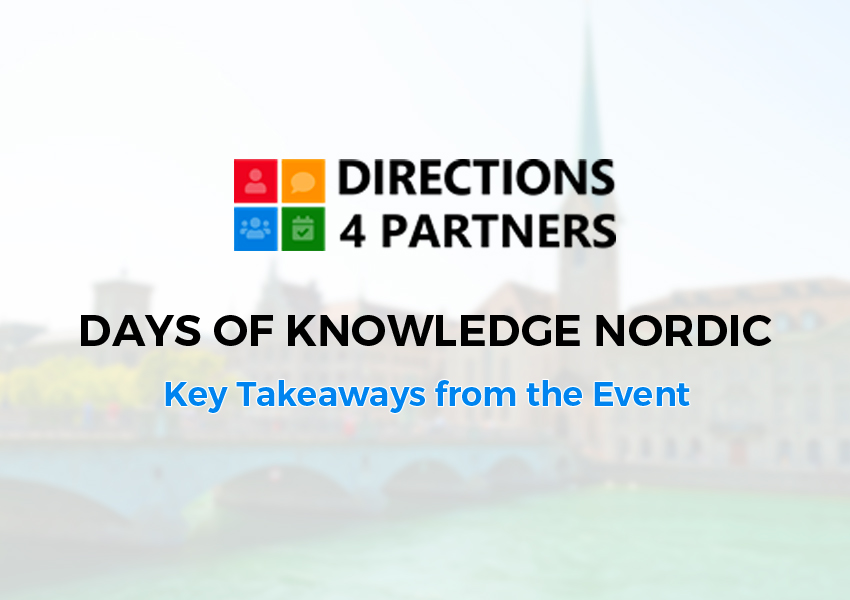 Days of Knowledge Nordic 2022, a conference event organized by Directions 4 Partners, took place from June 17th to 18th in Odense, Denmark.
The purpose of the event was to educate employees and share knowledge and insights about Dynamics Business Central. Attendees were able to access a range of keynote presentations, training sessions, and pre-conference workshops, and hear live from 41 industry experts.
Microsoft executives joined the Lyngby Development Center to update attendees on the latest release, and domain experts from around the globe shared insights and industry knowledge.
Attending Days Of Knowledge guarantees that you are up to date on Business Central's most recent developments. Sessions at Days of Knowledge offer unique access to the most recent information and advancements, such as:
Get updated on the latest in Business Central.
Get trained on the new tools and best practices around Business Central.
Get introduced to connected technologies like the Power Platform, Azure, Office, and AI.
Meet and explore the key application providers and developers for Business Central
Attending Days of Knowledge is the best way to join the Dynamics 365 partner community. The Directions 4 Partners community is working together with the industry to:
Train and educate team members
Update the skillset of Technical and Business Consultants towards the newest technology.
Share the latest knowledge about Microsoft Dynamics 365 Business Central.
Days of Knowledge's main objective is to host a regional conference for the Nordic countries. The conference, which includes the top industry professionals in the world, provides consultants, developers, and other associated workers in the Dynamics 365 BC world with invaluable knowledge about the most recent advancements made in Dynamics 365 Business Central and the connected products.
Attendees at the Days of Knowledge witnessed some of the best workshops for the Dynamics BC community. In 'Developing Custom APIs for Business Central', Arend-Jan Kauffmann talks about how to create bespoke APIs, either from scratch or based on the standard APIs provided by Microsoft. APIs are used to integrate Business Central with the outside world. The standard APIs exposed by Business Central already offer a great range of possibilities. However, they can't be customized using extensions. For any custom field or table, you want to expose you need to write custom APIs.
Luc Van Vugt in his keynote session 'Test automation is a team effort' sheds light on Automated Testing in Dynamics 365 Business Central. He talked about how you can efficiently automate test cases for faster development cycles with less time needed for manual testing. As part of the pre-conference training, he also conducted a workshop on 'Writing your Own Automated Tests for Dynamics 365 BC'.
Microsoft MVP, Shannon Mullins, and Mary Myers discussed '5 Real Business Cases for Power Platform and Microsoft Dynamics 365 BC'. They talked about 5 different scenarios where the Power Platform was used to extend Business Central instead of traditional development.
Microsoft MVP, Kristen Hosman delivered a keynote on 'Real Timesavers you can use Tomorrow'. She also conducted a session on 'Implementing D365 BC Best Practices'.
Rachel Horton delivered a keynote on 'Sales and Marketing Alignment in a Post-Covid Era' where she talked about common points of tension and how you can make them work better together as one team.
As a part of the pre-conference training, Michael Megel conducted a workshop on 'Azure DevOps is a game changer'. Azure DevOps is an advantage and not limited to product development or highly automated companies. Even small customer projects can benefit from this. Introducing Azure DevOps in your company and projects is an Epic. You need to empower consultants, developers, and administrators with new skills to master the "Beast".
In this workshop, Micheal talked about best practices for a new level of development, setting up project repositories for Microsoft AL, automatic artifact versioning, and how Azure DevOps allows you to keep control of your deployments in your development process.
He also conducted a workshop on 'Microsoft Power Platform Center of Excellence (CoE) Starter Kit'. He discussed in detail how you can install the CoE Starter Kit solutions in a Dataverse environment. Discover the steps that are needed to set up needed App-Registrations and configure Power Automate Flows as well as included Custom Connectors.
Days of Knowledge Nordic 2022 was highly successful and offered great insights about the latest developments within Dynamics 365 Business Central.