Construction365 vs. Dynamics SL: Which solution is best for you?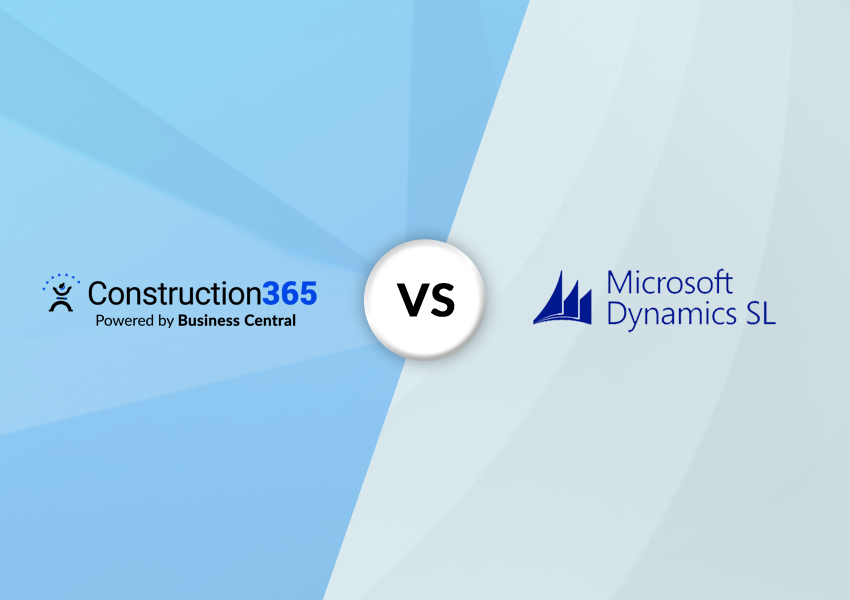 Today, technology has transformed all stages of construction. For construction companies that were historically slow to adopt technology, the pandemic has only accelerated the need for digitization.
The construction industry is keen on embracing technology. The need for collaboration and project insight has made construction companies turn to software solutions.
When it comes to the right ERP solution, you need to choose the one that best fits the needs of your business. When you have so many options, you want to select the one that will work best for your company.
To help you choose the right construction software, here's a detailed comparison between two popular ERP solutions, Construction365, backed by Microsoft Dynamics Business Central and Dynamics SL.
Dynamics SL
General contractors know that managing schedules, materials, labor, and finances require assiduous organization, constant attention, and up-to-date information. Your construction and financial management processes can be streamlined with Microsoft Dynamics SL.
Dynamics SL helps construction companies cut costs, shorten lead times, and improve customer service. SL provides solutions for project management, work costing, materials management, service call entry, receiving, invoicing, and sales.
Making quick and precise bids is possible through Dynamics SL's project management features. A centralized information system allows architects, engineers, subcontractors, and project owners to share information and access key project information online at any time.
Construction365
Powered by Microsoft Dynamics Business Central, Construction365 is a fully scalable ERP system for the construction industry. Designed specifically for construction and project-based companies, Construction365 is a Financial ERP solution from DynamicsSmartz, a Microsoft Partner with over 20 years of experience.
The software has been developed for general contractors, real estate developers, remodelers, specialty contractors, roofing contractors, and those in the construction industry.
The robust accounting capabilities of Construction365 enable construction firms to manage their finances better. Construction365 empowers contractors by analyzing financial risks and stopping profit leaks. Construction professionals can tighten control over projects, lowering costs and boosting profitability.
Additionally, Construction365 assists you in processing certified payroll reports and troubleshooting issues with subcontractor management. Additionally, it offers real-time information to reduce risk through document tracking and enhanced visibility.
Limitations of Dynamics SL
Although Microsoft Dynamics SL is a good mid-market ERP solution, there are some limitations. For instance:
Dynamics SL still relies on an outdated client-server architecture and needs Microsoft SharePoint to run in the cloud.
Dynamics SL's significantly outdated system architecture proves problematic in scenarios intended for cutting-edge technologies, such as cloud deployment possibilities, customizations made using the most recent development tools, and CRM integration.
To fully utilize the possibilities of Dynamics SL, you must purchase additional Microsoft products (such as CRM, SharePoint, etc.).
Users of SL might anticipate less innovation for their upkeep money. According to Microsoft, while Dynamics SL will continue to get product updates and improvements, moving to Dynamics Business Central will provide these customers with the most benefits.
All development and support for Dynamics SL is being outsourced, and Microsoft has stopped actively marketing Microsoft SL.
While Dynamics SL offers great functionality, it is not specifically designed with the construction industry in mind.
Why Construction365 Takes the Lead
Prepare for data access anywhere, anytime
Using the click of a mouse, you can quickly access data with Construction365! Get data anytime you need it and improve your command over the company's initiatives.
Construction365 utilizes Microsoft technologies to protect your data in the cloud. Take control of project progress with robust analytical and reporting capabilities combined with intelligent transaction processing.
Cloud-based management systems help teams adjust timelines and schedule projects efficiently. You can adjust timelines and resolve issues as they arise by tracking changes.
Construction365 provides construction companies wishing to expand their business with a unique advantage. By giving your client the information whenever they need it, you can place a bid and never miss a deadline!
Contractors who switch to cloud software with a subscription model see an increase in their short- and long-term return on investment (ROI). Construction365 is here to increase income and profits by monitoring transactions, planning taxes, and analyzing financial risk.
Saves time and extra costs
Cloud-based software systems can save considerable time, as they ensure that the necessary data is always available for the project to be completed on time. By reducing annual running costs, Construction365's cost forecasting capabilities ensure that on-premise software implementation results in considerable returns for contractors.
Conclusion
Although Dynamics SL is a good mid-market ERP product, Construction365, powered by Dynamics Business Central, offers the most comprehensive cloud software construction experience. The use of cloud technology in the construction industry can solve several current problems with efficiency and accessibility.
Additionally, it is the only way to scale a business today. With a straightforward dashboard to help you track project progress at all times, our cloud-based ERP solution gives you immediate access to your construction data. If you're interested in learning more about Construction365, drop us a line.