Checklist for Upgrading Dynamics GP to Dynamics 365 Business Central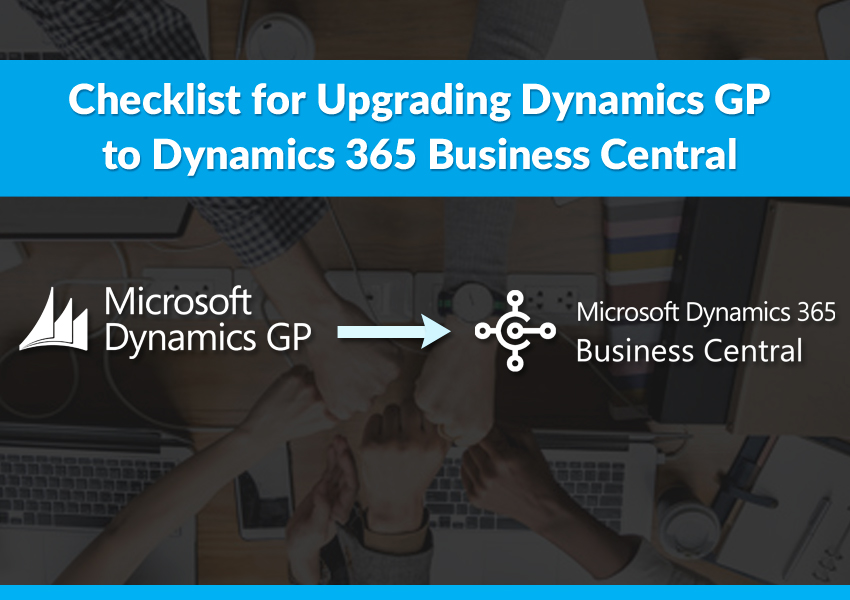 Microsoft Dynamics GP (Great Plains) is a popular accounting and finance solution ideal for small and mid-size businesses. It helps businesses manage their financials, inventory, and operations seamlessly.
If you're still using Microsoft Dynamics GP, you are probably quite happy with the product, since it has been powering businesses for more than 30 years. While Microsoft has committed to support Great Plains with security updates, bug fixes, and some limited new features, in the near future, it will no longer offer major technological advancements, nor there will be a true cloud version of the product.
That's why, upgrading Dynamics GP to Dynamics 365 Business Central is something you should seriously consider, even if you're not quite ready.
By creating a plan that addresses the following considerations, you'll be well on your way when transitioning to a new ERP system.
What is Microsoft Dynamics 365 Business Central?
Business Central is Microsoft's premium cloud-enabled mid-market ERP solution. With the ever-evolving technological landscape, many Dynamics GP businesses are moving to Business Central to take advantage of Business Central's innovative features, modern user interface, integration, and AI capabilities.
While both Dynamics GP and Business Central are full-featured mid-market ERP systems, Business Central has a more streamlined interface and features newer cloud-enabled technology.
With a Business Central upgrade, you can expect the following:
Due to the way Business Central is designed, you will no longer experience batch posting interruptions or hung-ups. You will also no longer need to run Check links and Reconciles.
Dynamics GP is a batch processing system whereas Business Central is a completely online data processing solution. This ensures that transactions are automatically integrated into General Ledger, and there is no need for a Series Post.
Business Central has a completely web-enabled, intuitive user interface that has been designed with the best practices in user adoption. Your users will be able to access the system with ease and drill down to transaction information. They will also be able to personalize the user interface to suit the way they work.
Account segmentation necessitates a broad chart of accounts, which is one of the key challenges for businesses running on GP. The Business Central chart of accounts is much smaller since it only includes the main segment. You can add an unlimited number of dimensions to the Business Central Chart of Accounts, allowing you to slice and dice your financial statements in several ways.
For Dynamics GP users, editing in excel is one of the most exciting Business Central features. Dynamics GP users are accustomed to contacting IT for large-scale record updates. Business Central puts updates in the hands of users by allowing them to export lists to Excel, update the records, and then publish back to Business Central.
5 steps that you must consider when upgrading your solution to Business Central
1. Assemble your Upgrade Team
The first step is to determine the members of your upgrade team. This group should preferably include representatives from each department that work with the software, such as developers, technical resources, business analysts, and subject matter experts. You can also appoint an internal project manager to keep the project on track and ensure that all tasks are completed. If possible, have a representative from corporate leadership on the team.
2. Analyze Current Needs
Dynamics GP software solution has been around for more than three decades. Since then, technology has changed significantly and your company's ERP needs have most likely changed as well. Even if you've managed to keep your GP system up to date, the parameters you used to choose Dynamics GP as your ERP might have changed.
What were once unique features are now commonplace; therefore, businesses should focus on finding a solution that matches their current business needs. When determining whether or not to upgrade to Business Central, examine which current GP processes are working well and which aren't, how employees who use GP daily feel about its efficiency, and whether or not there has been any negative customer reviews or feedback.
3. Create a list of your Goals and Deadlines
Determine a go-live date based on the project plan, the number of steps and tasks that must be accomplished, departmental schedules, prior obligations, and even things like vacation time. Leave some buffer time in case some issues or schedule changes occur. Consider the goals you want to achieve over the next three to five years and beyond. Knowing what you want to achieve long-term makes it easier to find an ERP solution that can help you accomplish those goals.
4. Develop Process Catalogue and Library
The process catalogue and library are the very foundation of your Dynamics GP upgrade that identifies all current processes and activities. Once built, compare the functions and activities you've created to what's included in Dynamics 365 Business Central, to see which new features you can take advantage of and which gaps between the two solutions need to be addressed.
5. Review Custom Code
Examine whether customization of objects, layers, models, and ISVs in your current system is still needed, or whether an app can replace them.
Work with a Microsoft Partner Expert who can assist you with each of these steps and provide end-to-end evaluation, design, launch, and support services to ensure that your Dynamics GP upgrade to D365 Business Central is as smooth and seamless as possible.
While it's up to you to make a decision, Microsoft advises both on-premises and legacy Dynamics NAV, GP, and SL customers to move to Business Central Online. Microsoft stated in the Application and System Features Guide for Microsoft Dynamics GP 2018 R2, "While Microsoft continues to support their NAV, GP, and SL deployments, these customers can choose when they want to transition to Dynamics 365 Business Central, as a perfect match for their businesses. Dynamics GP and Dynamics SL will continue to receive product improvements and updates, but the most benefit to these customers comes from upgrading to Dynamics 365 Business Central."
Conclusion
At DynamicsSmartz, we believe that upgrading Dynamics GP to D365 Business Central is a matter of when and not if. The earlier you make the transition, the better. While there are short-term options that make sticking with Dynamics GP possible, considering, planning, and budgeting now can help you be better prepared for the inevitable transition tomorrow.
We understand that upgrades are high stakes! Our Microsoft Certified Gold experts can help you seamlessly transition to D365 Business Central. Drop us a line for a quick consultation.