Business Central vs. Finance & Operations: Which ERP Is Right for Your Business?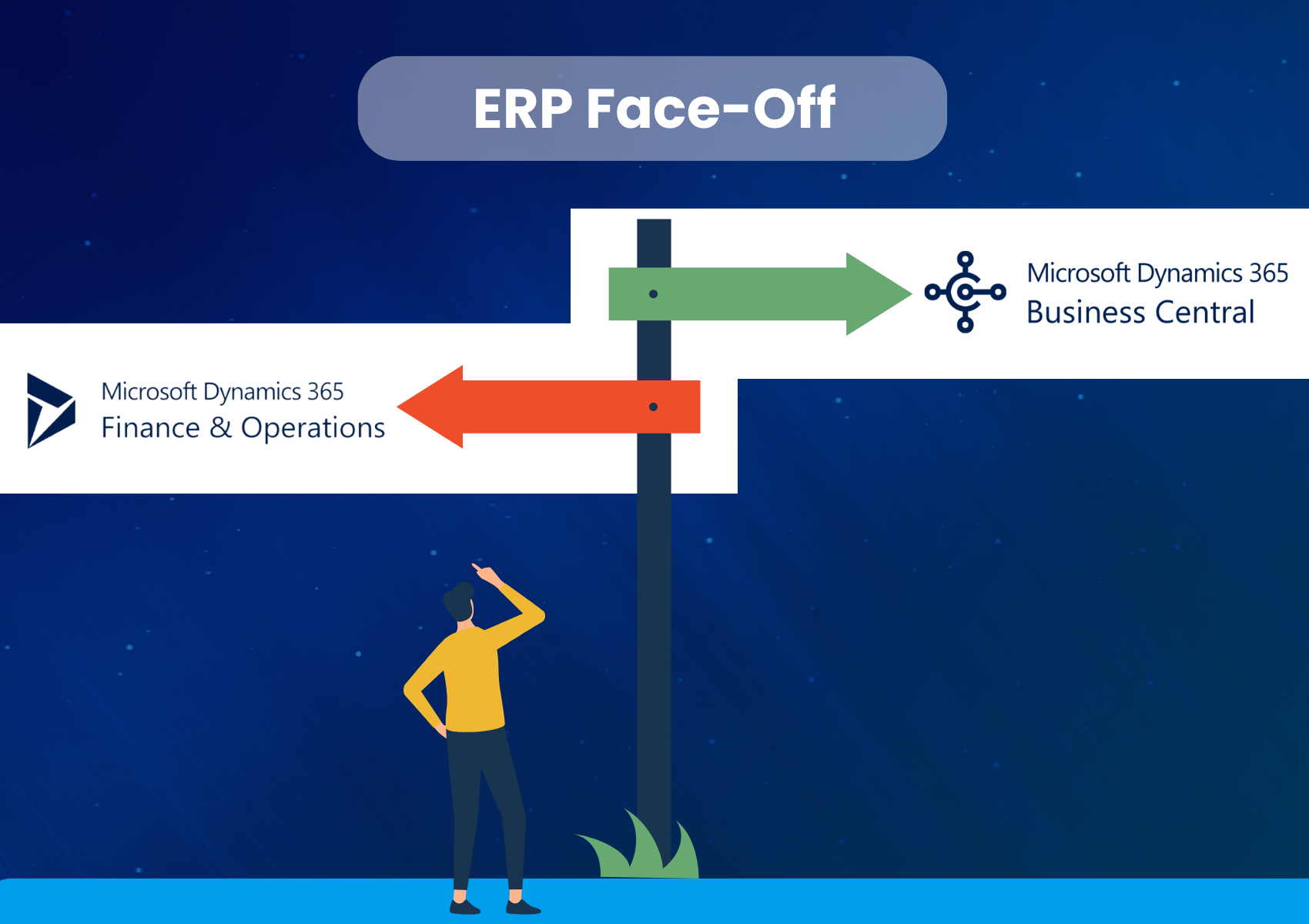 In the world of enterprise resource planning (ERP) solutions, Microsoft Dynamics 365 has emerged as a powerhouse, offering a suite of applications designed to streamline and optimize business processes. Among these applications, Microsoft offers two primary ERP solutions: Dynamics Business Central and Dynamics 365 Finance and Operations.
Both options come with various features and capabilities, but which is better for your business? In this blog post, we'll compare Microsoft Dynamics Business Central and Dynamics 365 Finance and Operations, helping you decide on your business needs.
Understanding Dynamics Business Central
Dynamics Business Central is a comprehensive business management solution for small to medium-sized businesses. It's designed to help businesses manage their finances, supply chain, sales, customer service, and more, all within a single integrated platform.
Business Central is known for its user-friendly interface and ease of implementation, making it an attractive choice for companies looking to streamline their operations without the complexity of a larger ERP system.
Key Features of Dynamics Business Central:
Financial Management: Business Central offers robust financial management capabilities, including multi-currency support, general ledger, accounts payable and receivable, budgeting, and cash flow forecasting.
Supply Chain Management: With features like inventory management, order processing, and procurement, Business Central helps businesses optimize their supply chain processes and improve inventory control.
Project Management: For businesses that engage in project-based work, Business Central offers project management tools to track project costs, timelines, and resource allocation.
Manufacturing Management: Dynamics Business Central provides a basic level of manufacturing functionalities like managing inventory, assembling jobs, planning, etc.
Reporting and Analytics: The solution provides built-in reporting and analytics capabilities, enabling users to create customized reports and gain insights into their business performance.
Dynamics 365 Finance and Operations: A Look Inside
On the other hand, Dynamics 365 Finance and Operations is designed to meet the needs of larger enterprises and organizations with complex business operations.
Key Features of Dynamics 365 Finance and Operations
Advanced Financial Management: This solution offers advanced financial capabilities, including intercompany transactions in the case of MNCs and advanced budgeting and forecasting. It caters to the complex financial needs of larger organizations.
Manufacturing Management: Dynamics 365 Finance and Operations provides extensive manufacturing functionalities, such as production planning, shop floor control, and product lifecycle management, making it suitable for businesses involved in manufacturing.
Supply Chain and Inventory: Similar to Business Central, this solution handles supply chain and inventory management but with additional complexities to accommodate large-scale operations.
Retail Operations: For businesses in the retail sector, Dynamics 365 Finance and Operations offers features such as point-of-sale management, omnichannel retailing, and merchandising.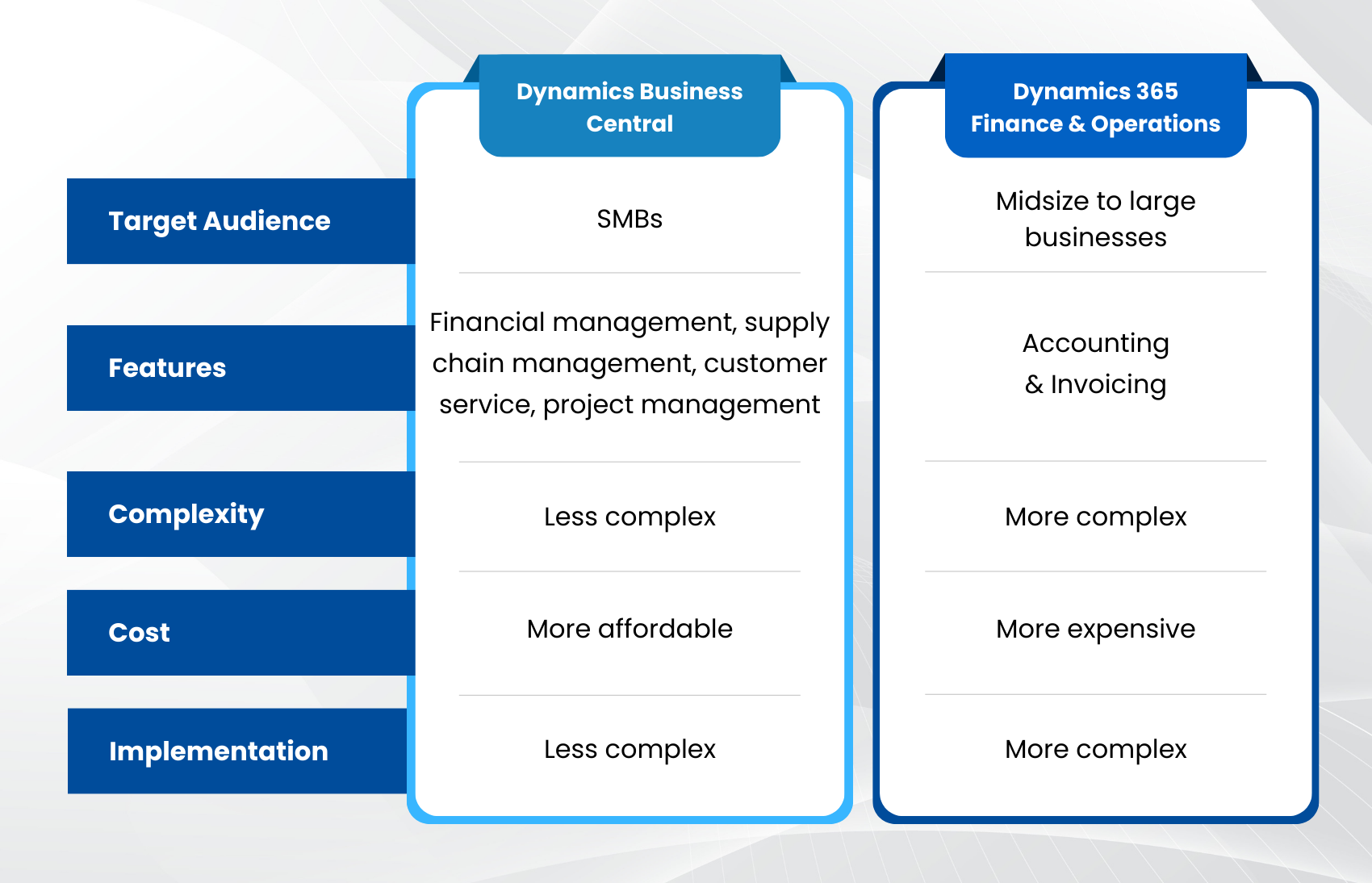 Choosing the Right ERP for Your Business
The decision between Dynamics Business Central and Finance and Operations hinges on several factors, including the size of your business, the complexity of your operations, and your industry vertical. Here are some considerations to help you make an informed choice:
Choose Dynamics 365 Business Central If:
You are a small to medium-sized business with simpler operational needs.
You seek a user-friendly ERP solution that is quick to implement and easy to use.
Your organization requires basic financial management, supply chain management, and sales functionality.
You want an affordable solution with lower licensing costs.
Choose Dynamics 365 Finance and Operations If:
You are a larger enterprise with complex and industry-specific operations.
Your business requires advanced financial management, manufacturing capabilities, and retail functionalities.
You operate in multiple countries with diverse legal and operational requirements.
You are prepared to invest in a more comprehensive and customizable ERP solution.
Final Thoughts
Both Dynamics 365 Business Central and Finance and Operations are powerful ERP solutions offered by Microsoft, catering to different sizes and complexities of businesses. Making the right choice depends on thoroughly assessing your organization's needs and goals. While Business Central is well-suited for smaller businesses looking for a streamlined and cost-effective solution, Finance and Operations is tailored for larger enterprises with intricate operational requirements.
Ultimately, weighing the pros and cons of each solution against your business's unique circumstances is essential. Get in touch with Microsoft Solutions Partner – DynamicsSmartz to ensure your chosen solution aligns perfectly with your long-term business objectives. With the right ERP, your organization can achieve greater efficiency, productivity, and growth in today's competitive business landscape.