Top 5 Reasons Why you should Upgrade to Dynamics 365 Business Central in 2022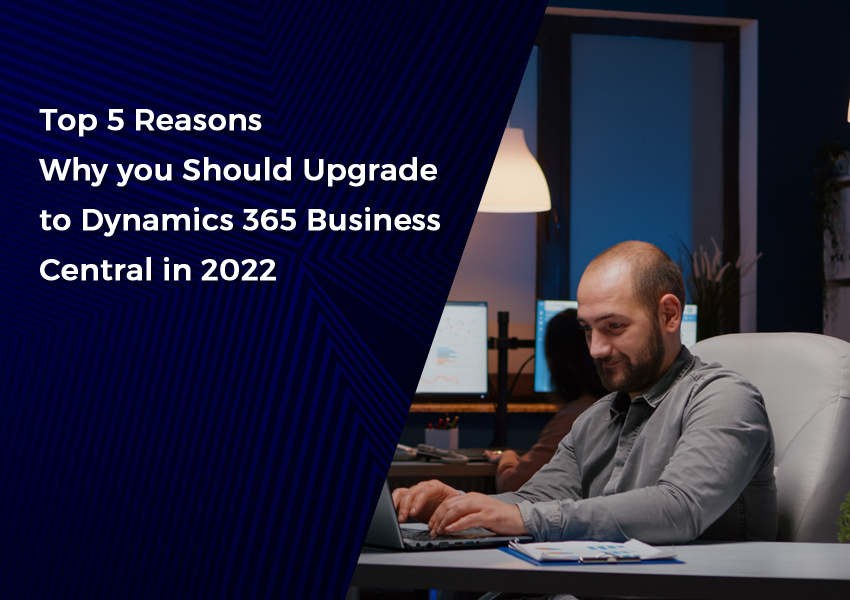 We understand, that it is particularly difficult for businesses to change the way they have been operating for decades, however, it is important to keep up with the rapid technological advancements. Agility is key to survival in today's ever-evolving business environment.
Budgeting for an upgrade from Microsoft Dynamics NAV to Dynamics 365 Business Central will help you streamline business processes and provide you with a strong competitive advantage.
Business Central has established itself as the leading ERP (enterprise resource planning) software for small and medium-sized businesses. So, why upgrade to Dynamics 365 Business Central?
Many organizations still rely on older software like NAV or Dynamics GP. Nonetheless, there are numerous compelling reasons to upgrade Dynamics NAV to Dynamics 365 Business Central, including:
Mobile access with advanced features.
Affordability
Seamless upgrades
Robust reporting capabilities
Seamless integration
Custom adaptability
Some companies that have been hesitant to make the transition from NAV to Dynamics 365 BC are concerned about implementation delays, expenses, and business disruptions. There's a lot of misinformation regarding upgrading from NAV to Dynamics 365 BC. This blog aims to cut through the clutter and prove once and for all that upgrading is in your best interests in the long run.
Top reasons why you should upgrade to Dynamics 365
1. All versions of Microsoft Dynamics NAV are nearing their end of life
Microsoft has announced the start and end dates for its NAV Support lifecycle. The implementations of NAV 2013, 2015, and 2017 are nearing their end of life. This may be the first reason why planning for an upgrade should be at the top of your priorities unless you are dead set on paying significant sums for support and help.
Microsoft Dynamics 365 Business Central is the successor to all of Microsoft's mid-sized business ERP products. It was created with a focus on small and medium-sized businesses. It has features that can help your company shift to the cloud more quickly, increase sales, improve customer service, improve financial visibility and performance, visualize insights, optimize inventory and supply chain management, and more.
Microsoft's new 'Bridge to Cloud' offer is a great way to get started. Customers that renew their Dynamics NAV Enhancement on a monthly basis will receive a 60 percent discount on Dynamics 365 Business Central online licenses for up to four years. Microsoft recognizes that upgrading is the best option for small and medium-sized businesses, therefore they are making it easier for them.
2. Migrating to the Cloud is made easy with Business Central
Business Central, Microsoft's modern accounting and ERP platform, was built with the cloud in mind. There is no possibility of malware or ransomware intrusion in D365 BC since it is designed with security in mind. Business Central gives you control over your company's data while also helping to safeguard it from unauthorized access thanks to Microsoft's automatic data center encryption.
Moving to the cloud is a safer option to protect your company's confidential and sensitive data. Cyber attacks are becoming more common, thus necessary precautions must be taken. Accessibility is another advantage of moving to the Cloud. Business Central gives you the flexibility to work from a desktop, tablet, or mobile device, on-premises or in the cloud, on Windows, Android, or iOS.
3. Industry-specific apps are available as an add-on
With Dynamics 365 Business Central, you can get a lot of different add-on applications. This allows you to customize the system to your specific industry and gain a variety of additional benefits for your company.
Using industry-specific add-on applications also enables a wider range of functionality that is tailored to your industry's requirements. This guarantees that your system not only provides you with the tools you need to grow but also supports your business's potential future needs as it expands.
4. Utilize cutting-edge technologies
Power BI, Power Apps, and AI are some of the latest technologies used by Business Central that aren't compatible with NAV. If you want to integrate these solutions into your business, you'll need to upgrade to Business Central.
Using cutting-edge technology allows your firm to be at the forefront of its industry, helping you provide personalized experiences to your customers and employees, putting you ahead of the competition. Using cutting-edge technology also enables you to optimize important business processes, resulting in numerous tangible benefits for your company. As technology advances, so will your company's potential.
5. Seamless Integration with Microsoft 365
Microsoft 365 Business Central offers seamless integration with Microsoft tools that you're probably already using, such as Office, Outlook, and Teams.
The benefits of having a fully connected system include increased efficiency across your team and fewer errors caused by different systems. Integrating Microsoft products also ensures that your system receives frequent upgrades and security fixes, ensuring the integrity of your corporate data.
Is there a downside to still using Dynamics NAV?
Transitioning to 365 BC is essentially an upgrade from a technical standpoint. However, it's worth noting that Microsoft is continuing to devote time and money to 365 BC development. It will not be releasing any additional updates for NAV, as previously stated. To stay ahead of the curve and foster future growth, it's worth it for your company to switch to the newer solution for these reasons alone.
It's understandable to have a few questions about upgrading Dynamics NAV to Business Central. Upgrading to cloud-based Dynamics 365 Business Central enables your organization to get exactly what it needs to function more successfully and efficiently. 365 BC is one of the greatest end-to-end business management solutions that SMBs can invest in because it is highly customizable and feature-rich.
Conclusion
With the convergence of this pricing incentive, business change, and technological improvement, now may be the right time to plan an upgrade to Dynamics 365 Business Central in 2022.
Speak with one of our experts about how to properly plan for an upgrade; there is no better time than now to invest in your company's future.cs-365