Upgrading from Dynamics NAV to Business Central: Find answers to top FAQs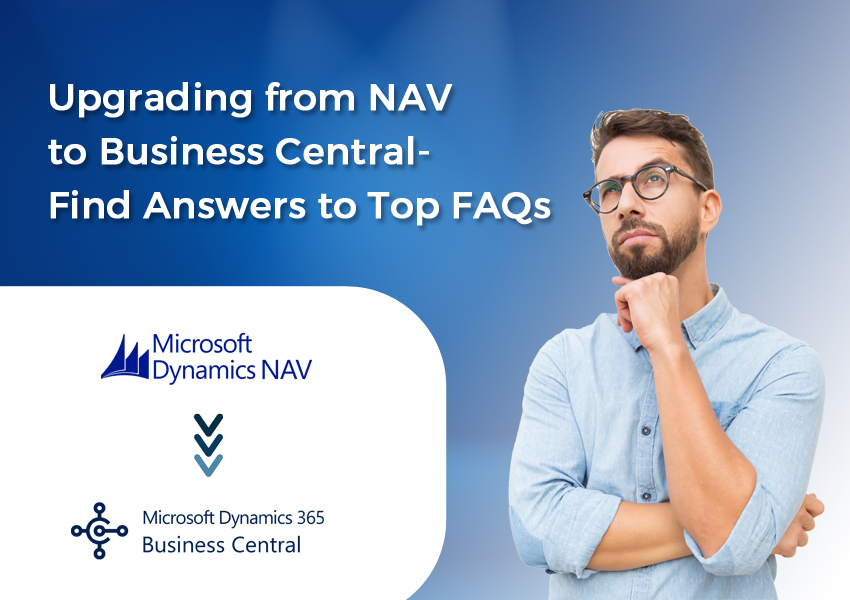 Transitioning to a new ERP system can be exciting, but it can also raise a lot of valid concerns. After all, it's a substantial investment! Businesses that use Dynamics NAV, particularly those with a lot of customizations, that are considering moving to Dynamics 365 Business Central may wonder if it would be more of a hassle.
Every organization that uses Dynamics NAV should make upgrading to Microsoft Dynamics 365 Business Central a top priority. While we have all heard about the advanced features and functionality, improved accessibility, and other great things Business Central has to offer, one thing that many organizations tend to overlook when deciding whether or not to upgrade Dynamics NAV to Business Central is that this could be the last upgrade you ever have to do. That's right, you read it correctly.
To find out, continue reading. Let's take a look at the most frequently asked questions about whether or not you should upgrade NAV 2018 to Business Central.
1. When is the best time to upgrade your system?
While you have the option of staying on-premise or migrating to the cloud, it's important to remember that Microsoft is no longer supporting NAV, and there will be no more updates or new releases. It can make obtaining licensing files on-premise more difficult.
2. What does Cloud-based mean?
Because Dynamics 365 Business Central is cloud-based, your data and computer programs are stored and delivered remotely via the internet. (This implies that Business Central and other cloud-based solutions are accessible at any time and from any location.) On-premises systems, on the other hand, store everything locally on servers and have high starting and upgrade infrastructure costs.
Business Central is most cost-effective when used as Software as a Service (SaaS), which is entirely on Microsoft's cloud. You can host Dynamics NAV and Business Central clients on Microsoft's Azure Cloud, an open and flexible cloud platform located in Microsoft data centers that is safer, quicker, more redundant, scalable, and less expensive than hosting on your own servers.
3. Why move when BC is NAV, just newer?
Dynamics NAV and Business Central are built on the same foundation. It is, in essence, the most recent and upgraded version of NAV.
You'll need Business Central if you're currently using NAV and want to stay updated, relevant, and on the cutting edge of technology. Business Central is continuously evolving and improving. On the cloud, upgrade releases and monthly upgrades are free and automatic, requiring no work on your part. NAV, on the other hand, is not getting any new updates or releases.
4. What are the main differences in features?
Though the two ERPs share the same basic capabilities, there are some key differences between Dynamics NAV and Business Central. Business Central has upgrades and functions that are not available in NAV, or that are significantly easier to use in BC than in NAV:
Enhanced search functionality that is more user-friendly and intuitive.
Credit cards processing
External databases are connected.
Websites, such as eCommerce platforms, can be connected.
5. How does migration affect my data?
There are tools available to transfer NAV data to Business Central. This data, like data entered after go-live, will be accessible within Business Central.
6. If I migrate, what happens to my customizations and add-ons?
When it comes to customizations and add-ons, the first question to address is whether they are really necessary. Business Central is the next edition of NAV, with improvements and new capabilities. Perhaps your bank reconciliation add-on (or whatever add-on you have) is no longer required because Business Central comes with bank reconciliation out of the box, or there's a better way to do the task your customization was designed to do.
Before proceeding on, double-check this. A good partner will take the time to understand your business processes and requirements in order to help you evaluate your add-ons and customizations.
Add-ons: Many ISVs have converted their add-ons for Business Central, which necessitates switching their C/AL code from NAV to the AL code utilized by Business Central. If your ISV hasn't already done so, you should inquire about their plans. You can plan around their schedule if they have one. You won't have that add-on if they don't intend to make it compliant. You'll also need to locate an Extension (the Business Central add-on equivalent).
Customizations: We can assist you in determining if you want to preserve existing customizations or whether Business Central's capabilities render them obsolete. Whatever customizations are required, we can translate them into Business Central and incorporate them into your migration plan.
7. What about the Pricing?
These licensing charges are per user, per month, and named-user licensing, which means that each license can only be used by one person:
Essential – $70/month per user
Premium – $100/month per user
Team Member – $8/month per user
Your Microsoft Partner will charge you extra to host on Azure, whereas hosting on-premises would cost you more in terms of infrastructure, IT, service, maintenance, and frequent infrastructure updates. You can buy your license up front (perpetual owned) rather than per user/month when hosted on Azure, however, you will have to pay Microsoft renewal fees. On-premises, you must purchase a license up front and pay renewal fees to Microsoft.
Microsoft is running a limited-time Bridge to the Cloud campaign for qualifying customers from September 1, 2021, to June 30, 2022. This deal includes a 60 percent discount on Business Essentials and Business Central Premium per user/per month license and dual access rights to Business Central and your current solution, among other financial and strategic advantages.
8. Can I try out Business Central first?
Yes! A 30-day trial is available through Microsoft. You can utilize the data provided in the trial or even import your own. We can also help you with a personalized demo of Business Central.
And, thanks to the Bridge to the Cloud campaign, which runs until June 30, 2022, businesses can start transitioning to Business Central and testing it out while continuing to use their current solution.
9. Is it an Upgrade or a reimplementation to move from Dynamics NAV to Business Central?
It depends. If you enjoy your present environment, data, and settings, and you want to keep your history and enhancements, switching to Business Central on-premise or online makes sense. You can reimplement if you don't want to preserve all of the old data and enhancements you're not utilizing. This is something you should discuss with your Microsoft Partner to determine which choice is best for you.
10. We own ten separate businesses. Can we have multiple firms if we upgrade NAV 2018 to Business Central?
Absolutely. You can create an indefinite number of firms in your Business Central environment, each with its own set of data. Separate financials are included in this. You can also use the consolidation feature to create a consolidation company and put all of the information from your individual companies into it.Get started with a demo of Business Central and see for yourself what it can do for your business.