Microsoft Dynamics 365 Business Central vs Navision: What are the key differences?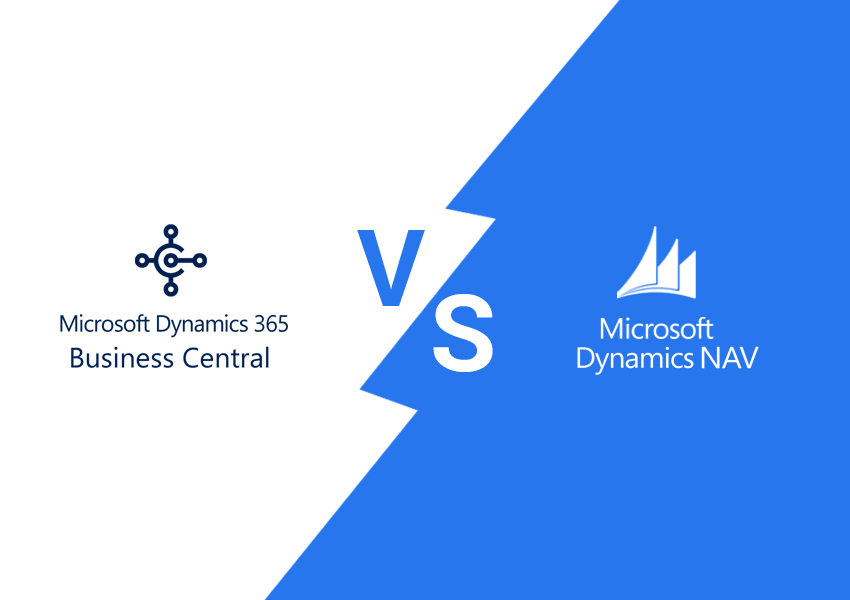 In 2018, Microsoft terminated Dynamics Navision, a popular on-premise ERP solution, and replaced it with Dynamics 365 Business Central. So, what's the difference between the two, and why should your business make the switch? Take a look at the differences between Microsoft Dynamics 365 Business Central vs Navision.
What is Microsoft Dynamics Navision?
Dynamics Navision ( Dynamics NAV) is an enterprise resource planning (ERP) system developed by Microsoft. In 2002, Microsoft acquired the platform to broaden its business offerings by creating a financial operations system for small and midsize businesses.
The Dynamics NAV solution was built to assist businesses in improving their back-end sales and operations processes by providing a user-friendly piece of software that simplified automation.
However, Dynamics NAV has been discontinued since 2018. Businesses with existing licenses are the only ones who can utilize the system. Even for those who still have licenses, the system will soon become outdated and difficult to use.
What is Microsoft Dynamics 365 Business Central?
Microsoft released Dynamics 365 Business Central as a replacement for Dynamics NAV. Business Central is a more user-friendly version of Dynamics NAV that provides the same standard capabilities. It's also SaaS (Software as a Service), which means it can be accessed from anywhere and has the same security as Microsoft 365.
The ERP system Dynamics 365 Business Central is part of the larger Dynamics 365 business package. For a better user experience and increased automation between products, it has been developed to function alongside other Dynamics products such as Dynamics 365 Sales.
In a nutshell, Microsoft Dynamics 365 Business Central assists with daily business processes and operations. Financials, stock management, purchasing, and much more are all available, with Power BI providing real-time data and analytics.
The move from Dynamics NAV to Business Central was driven by the digital transformation that many small and medium-sized organizations have adopted in recent years. As a result, the features and functions are the same as they were in NAV, albeit on a more digital platform.
So, how does Dynamics 365 Business Central differ from Dynamics NAV, given that both platforms have similar functionality? Let's take a look at the differences between Microsoft Dynamics 365 Business Central vs Navision.
User Interface
For many organizations, the user interface is one of the most significant distinctions between Dynamics NAV and Business Central. Business Central is a web-based application with a more user-friendly interface. As a result, many firms can function more efficiently on the platform.
In comparison to Dynamics NAV, which uses C/AL coding, the new Business Central interface employed AL language in the programming. With this code modification, Business Central now allows for greater customization than before, making extensions and upgrades far easier to manage in the long run.
Furthermore, the new ERP solution has improved integration with other Microsoft products that many organizations already use, including all Microsoft Dynamics suite applications, such as Microsoft Dynamics 365 Sales (CRM), and Office 365 products, such as Outlook and Excel.
This reduces silos and enables more automated processes to boost production. When this is combined with native connectivity to Microsoft's Power Platform (e.g., Power Automate), end-users can develop powerful workflows and integrations without the need for extensive code.
Cloud-based Hosting
Business Central can be used as a Microsoft Azure-hosted SaaS cloud ERP system. You'll experience multiple benefits in your organization if it's built for the cloud, including agility, the capacity to scale quickly, mobility, lower cost of ownership, and more.
If on-prem is a better fit for your firm, you can also choose to deploy Business Central as an on-premises solution. However, you may miss out on benefits like integration and cutting-edge technology.
Automatic Upgrades
Many users prefer Business Central to Dynamics NAV because of the bi-annual release schedule for significant upgrades. These simple upgrades are performed automatically, ensuring that your systems are always up to date.
This ensures that your company is always running the latest optimized version of Business Central, without the hassle and expense of manually updating the program as is the case with Dynamics NAV.
If you are concerned about an update, you can postpone it for up to 90 days; however, we recommend staying as current as possible as updates are released to improve the overall user experience and security.
Licensing Options
Business Central cloud is available on a subscription basis, with monthly or annual payments available. You do, however, have the option of paying a perpetual license cost. That means you may now treat Business Central as either an operating or a capital expense, depending on your needs. It also switches from concurrent user licensing to named user licensing.
Better Integrations
It's simple to integrate apps and extensions with the Business Central cloud thanks to the new AL language. Microsoft AppSource has a number of apps that can help you expand the capabilities of your solution. It also integrates better with Microsoft 365, and other Dynamics 365 technologies including Dynamics CRM, and the Power Platform.
When should you upgrade from Dynamics NAV to Business Central?
If you're on the fence about whether or not to update, keep in mind that Microsoft has discontinued offering Dynamics NAV as an option for new customers as of December 2018. Existing Dynamics NAV clients will gradually lose mainstream support for most versions by 2023, and will transition to extended support. Your extended support for versions prior to NAV 2009 has already expired.
(For those unfamiliar with the terms, mainstream support refers to the addition of new features, security upgrades, and bug fixes to your solution.) Your software will only receive security updates if you choose extended support.
While upgrading ERP software may seem challenging, given the time and money required, utilizing obsolete ERP software is also unsafe. It may be more difficult to handle issues that develop when your solution hits end-of-support, especially when it comes to security.
Conclusion
If you're considering an upgrade from Dynamics NAV to Business Central, we can help you make a seamless transition. DynamicsSmartz is a certified Microsoft Gold Partner helping large and mid-sized enterprises migrate legacy ERP systems and outdated Microsoft technologies to the next-gen ERP solution- Business Central. To know about Business Central, request a personalized demo.