Why upgrade your ERP to Business Central? Book your upgrade now!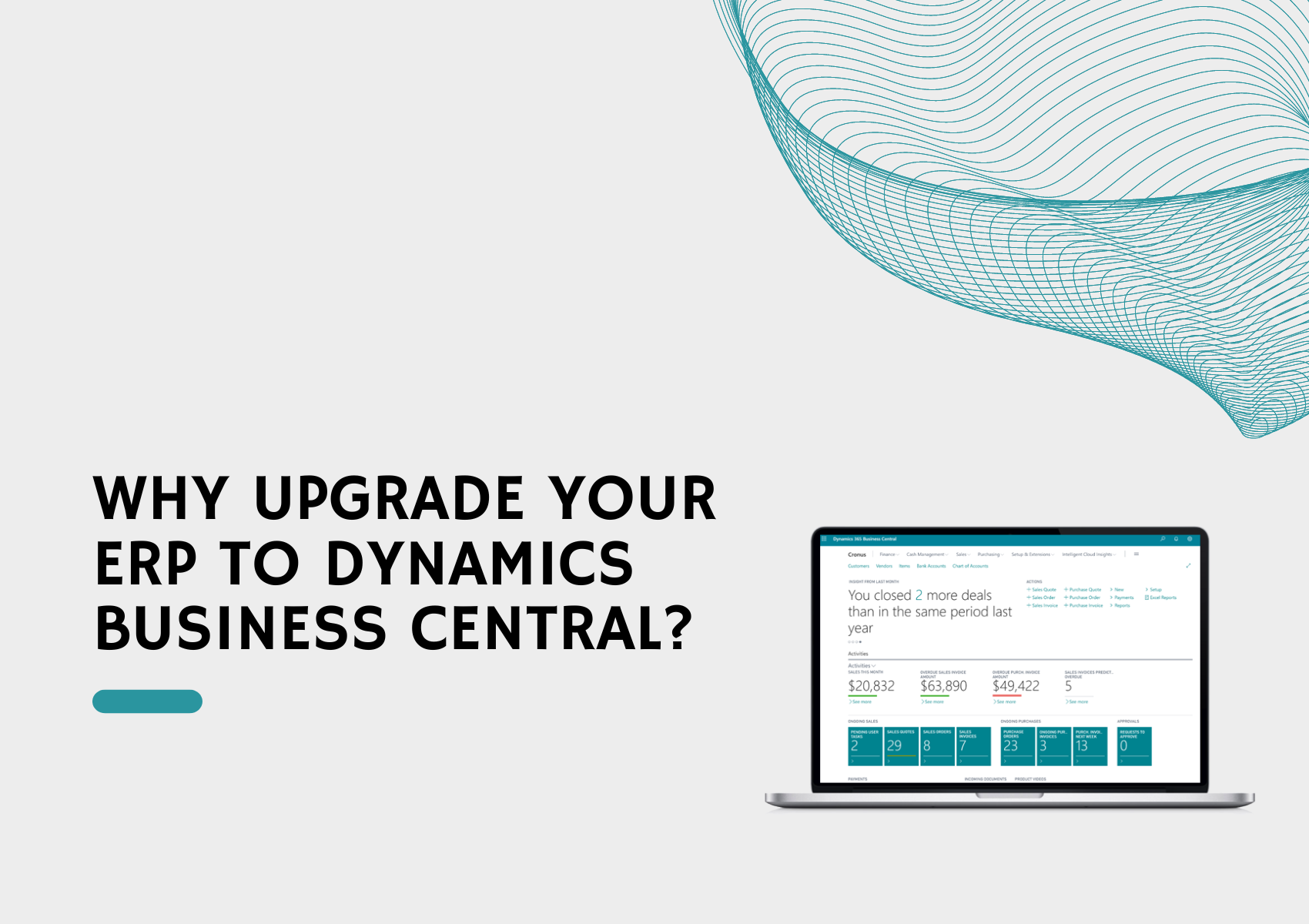 When an ERP system is no longer providing the necessary tools for the business, it is time to upgrade. Most companies are reluctant to make this change, but when it becomes clear that the old system is no longer effective, upgrading is the only option.
Dynamics GP, NAV, and SL are legacy ERP solutions organizations still rely on to sustain their businesses. With the rapid pace of development, cloud-based ERP solutions are slowly but surely becoming more popular among companies.
Is there a downside to a legacy ERP system?
Many businesses use the same ERP system for years. As technology advances (automation, artificial intelligence, etc.), their legacy system cannot be relied upon to remain efficient and successful.
ERP trends are examined annually across industries, company sizes, and geographical locations. It was found that:
"Keeping up with outdated technology is becoming increasingly difficult as we move into a post-digital age. The result is that more organizations are replacing their old systems with modern ERP systems and gaining a competitive advantage."
There are multiple disadvantages associated with legacy systems, including:
The lack of regular security patches may make legacy systems vulnerable to security breaches and bugs.
Slow operational speeds and a higher crash risk will limit your workers' productivity when they use an out-of-date ERP system.
While older on-premises ERP solutions are difficult to access outside the office, cloud-based ERP solutions can be accessed seamlessly from anywhere via computers, mobile devices, and tablets.
A significant drawback of legacy systems is their inability to integrate and analyze large amounts of data. Real-time data insights are crucial for improving customer experience or optimizing supply chains. Inventory management through a legacy system may not always be accurate or integrated with other systems.
Why should you choose Dynamics Business Central?
While moving ERP solutions is a significant undertaking, Microsoft makes the process as simple as possible. With Microsoft Dynamics Business Central, your business processes and employees are unified into a single solution.
Dynamics Business Central is Microsoft's champion for mid-market business management solutions. Business Central is based on Dynamics NAV and combines business operations in a user-friendly interface.
Furthermore, as part of the Dynamics 365 platform, Business Central seamlessly integrates with other Dynamics 365 applications, such as Marketing and Sales, to fully synchronize a business' functionality.
Upgrading to Business Central would provide various operational and financial benefits to businesses still using other Microsoft systems, such as Dynamics GP or Dynamics NAV.
Top reasons why you should upgrade to Dynamics Business Central in 2023:
Deployment and Accessibility
Start and scale your solution on-premises, in the cloud, or as a SaaS solution. You can access your information from any device, anywhere.
Integrations and Customization
With AppSource extensions, numerous industry add-ons, and easy integration to other Microsoft products such as the Power Platform, Office 365, SharePoint, and other Dynamics 365 applications, you may extend and customize the solution to match your organization exactly.
Business Central contains intelligent functionality such as natural language search, AI/Machine Learning, and workflows inside an easy-to-use user interface to enhance productivity and make work easier.
Business Central uses data to help you fully understand your business performance and make data-driven decisions. Power BI visualizations in the application enable rapid insights into critical data metrics.
Business Central protects your organization regardless of deployment type by employing a layered approach to application security, user authentication, and data encryption. Business Central is also up to date and in compliance with all the latest regulations, such as Making Tax Digital (MTD) and GDPR.
Excellent User Experience
A great user experience begins with an exceptional user interface, which Dynamics Business Central achieves with a new, user-friendly UI.
Without regular upgrades, a system will quickly become obsolete. Microsoft updates its software regularly. Dynamics Business Central receives updates twice a year, in Spring and Fall.
Microsoft Business Central is a popular cloud-based ERP solution that offers greater work freedom and increased security against unauthorized access.
Microsoft Business Central makes industry-specific technologies easier to implement. Systems are adaptable and give a wide range of features that can support business growth and potential.
Conclusion
If your organization is contemplating a Business Central upgrade, look for a Microsoft Partner who can streamline the process and solution and get your upgrade scheduled for 2023 right away!
DynamicsSmartz is a Microsoft Dynamics Partner with extensive experience in upgrading, primarily from Dynamics NAV to Business Central. Our team of experts takes the time to understand your business, processes, and client base to plan a proper upgrade. For more information on Business Central upgrade, drop us a line.