The Path to the Cloud: Why it might be time to upgrade Dynamics NAV to Business Central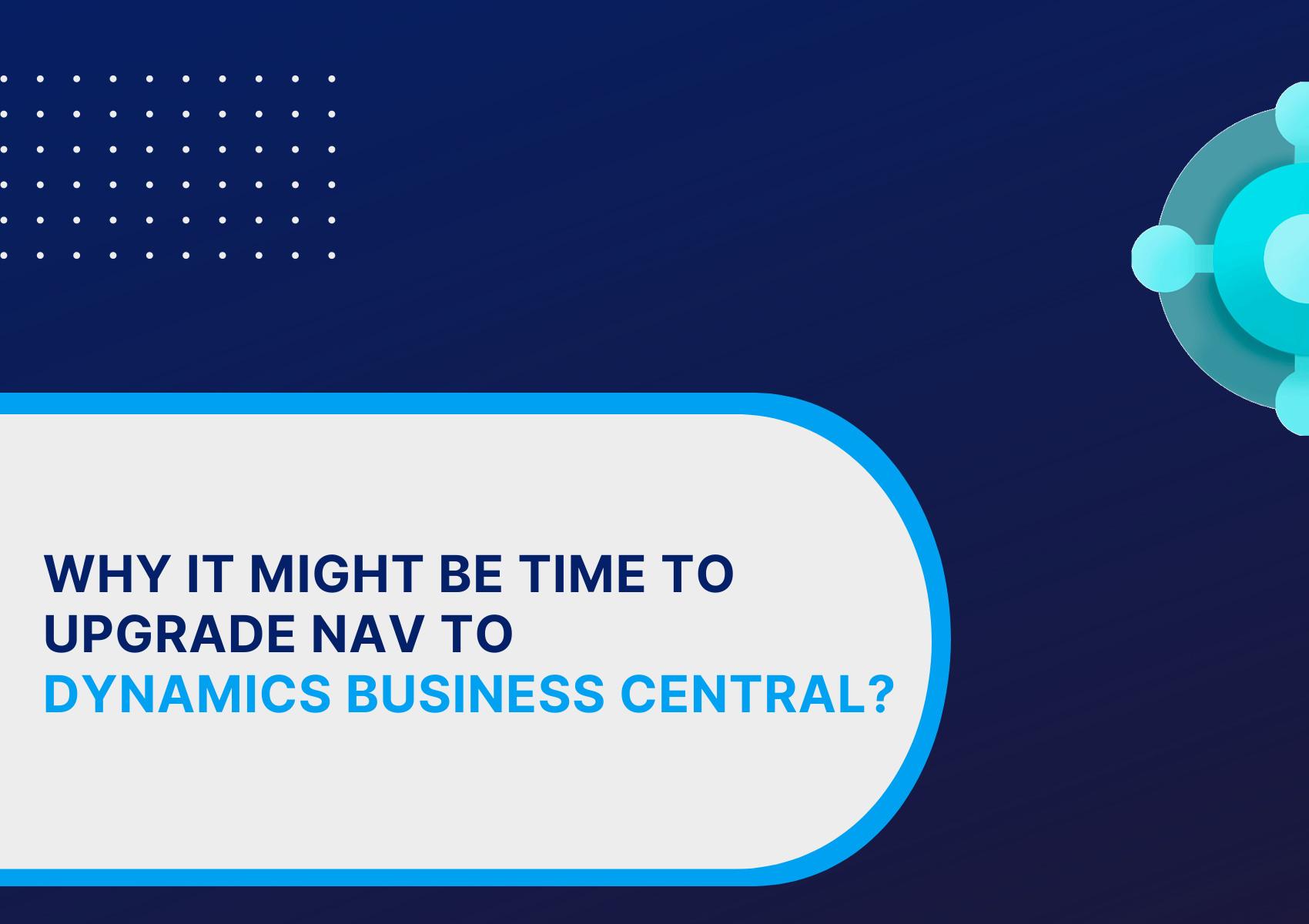 Microsoft launched Dynamics Business Central in 2018. Initially, it was known as NAV (NAVISION). Dynamics Business Central is a cloud-based solution that connects all your operations and offers modern tools and technology, tailored features, and a more elegant user interface.
Whereas NAV's functionalities include management for projects, finance, accounts, supply chain management, and reporting, the data structures in Business Central are better, so you can boost your sales and finish your projects on time.
Microsoft will end support for Dynamics NAV after January 2023. Only the security updates will be available with secondary support. While most recent NAV versions are still in mainstream support, older versions are now out of support.
Mainstream and Secondary NAV Support
Usually, Microsoft offers five years of mainstream support for feature updates and typically provides only five years of extended support for security updates. However, Microsoft has discontinued Dynamics NAV for new customers, but there are NAV versions that are still in mainstream support.
Here is a table of all the recent NAV versions and their support timeline.
| | | |
| --- | --- | --- |
| Dynamics NAV Version | Mainstream Support | Extended Support |
| NAV 5 | Out of Support | Out of Support |
| NAV 2009 | Out of Support | 14 January 2020 |
| NAV 2013 | Out of Support | 10 January 2023 |
| NAV 2015 | 14 January 2020 | 14 January 2025 |
| NAV 2016 | 13 April 2021 | 14 April 2026 |
| NAV 2017 | 11 January 2022 | 11 January 2027 |
| NAV 2018 | 10 January 2023 | 11 January 2028 |
Reasons you should upgrade Dynamics NAV to Business Central
Dynamics Business Central is a cloud-based technology. And in the past few years, cloud technology has clearly shown its potential to different businesses and is continuously expanding.
According to a 2021 cloud adoption survey conducted by O'Reilly, Cloud adoption by companies has increased to 90%, which makes it all the more reason for you to upgrade your ERP solution to Business Central and reap the benefits of the cloud.
Here's why you need a cloud-based ERP for your business:
Cloud has fault tolerance. If an ERP has fault tolerance, the system can continue operating without interruption when one or more components fail.
Cloud handles all your data. When you get a cloud-based ERP, you pay the service providers to manage the data centers and other resources rather than hosting the servers in-house. This saves you resources and time.
Cloud is agile. It can respond to changing needs.
Cloud is Scalable. It can increase or decrease IT resources to meet changing business demands.
Benefits of upgrading Dynamics NAV to Business Central
Microsoft automatically updates Dynamics Business Central twice a year. With Business Central, you don't need to upgrade regularly, and your company is using the most secure version available.
Business Central is cloud-based, and therefore can be easily accessed with convenience. Additionally, there is no longer any investment in servers, hardware, or maintenance contracts. Data security is a priority for every business, be it big or small. To take care of the same, there are more than three thousand cybersecurity experts at Microsoft guarding your data.
Business Central comes with an integration of other suite products. You can get additional benefits: you can pay for one and benefit from the integrated products.
Business Central can generate quick, adaptable reports with other AI tools.
Business Central has enhanced search capabilities, making the data easily accessible and more organized.
Business Central has greater cost control than any other ERP solution. You need to only pay per user monthly instead of annual upgrades and sizeable licensing fees.
Conclusion
If you're looking to improve your business' efficiency, an upgrade to Dynamics NAV is a must. You might not be aware of all the great features that Dynamics Business Central has to offer.
Dynamics Business Central for your business could be highly adaptable as it unlocks productivity and business insights. You can finish your projects on time and update your inventory and supply chain to stay ahead of your competitors. Contact us for a smooth transition from Dynamics NAV to Business Central.