How to upgrade Dynamics NAV to Business Central: 5 Frequently Asked Questions
If you're considering upgrading Dynamics NAV to Business Central, you probably have some questions and concerns you would like to address. This blog answers the most frequently asked questions about NAV to Business Central upgrade.
Microsoft Dynamics Business Central is the most recent version of Dynamics NAV (Navision). Dynamics Business Central has all the features of Dynamics NAV and more, all with a beautiful and modern new interface.
NAV users should consider upgrading to Microsoft Dynamics Business Central as soon as possible. Business Central has much to offer, including cutting-edge features and functionality, enhanced accessibility, and many other incredible benefits.
However, when deciding whether or not to upgrade Dynamics NAV to Business Central, many organizations tend to overlook the fact that this is the last upgrade they will ever make.
1. Why is upgrading from Dynamics NAV to Business Central essential?
Microsoft Dynamics NAV is unquestionably fantastic because it can be tailored however the customer wants. However, the solution is dated and also has some limitations.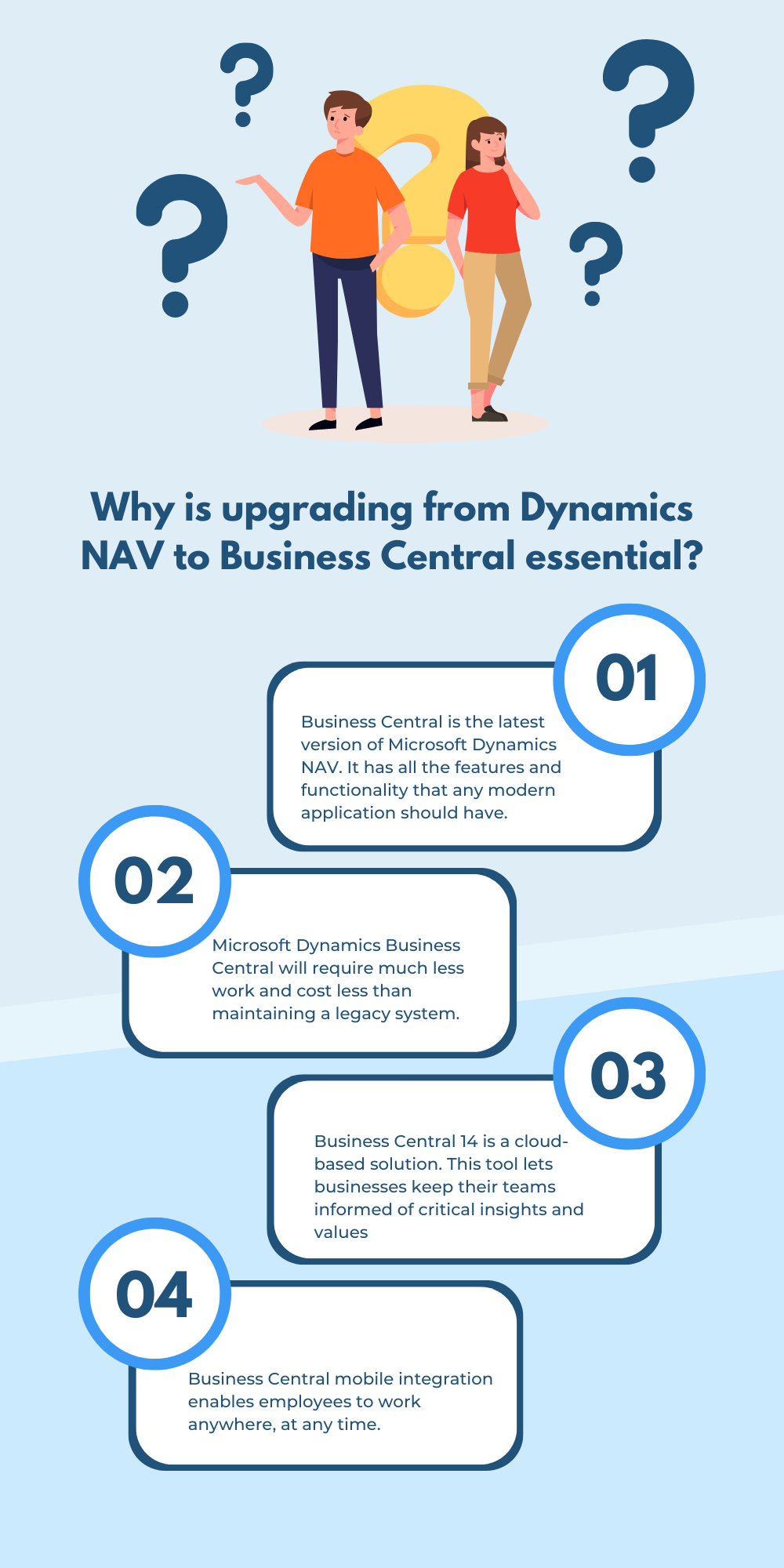 2. How do customizations in Dynamics Business Central and Dynamics NAV differ?
Dynamics NAV's customization capabilities were among its most robust features. Businesses were able to customize the solution as per their specific business processes. This was one of the primary reasons most organizations chose Dynamics NAV.
The customizations have proven to be one of the biggest roadblocks when considering upgrading to Business Central.
NAV and Business Central both employ distinct programming languages. In addition, it uses extensions, which can be seen as a link between Business Central's fundamental functionality and its modifications.
Consequently, your customizations remain intact when you upgrade to Business Central (Microsoft releases a major version update twice a year).
3. Do all my customizations need to be rewritten and deployed when transitioning from Dynamics NAV to Business Central?
Many NAV clients are concerned about rebuilding all of their NAV customizations when they switch to Business Central, but it depends on the situation. Consider first whether any of those customizations are now native to Business Central.
Microsoft has worked to expand the functionality of Business Central since its launch in 2018. Some of the customizations you made in NAV may already exist as Business Central native features. As a result, the customization won't need to be rewritten in these scenarios.
You may need to rewrite and redeploy customizations if they are particular to your company and industry. In this case, customizations can be enhanced to deliver even greater value through Business Central.
4. When we upgrade to Business Central, will my add-ons still work?
As part of its introduction process, Microsoft provided independent software vendors (ISVs) and third-party solution providers with a reasonable amount of time to learn how Business Central works.
If you are looking for add-ons for NAV, Microsoft App source is an excellent place to start. These add-on solutions have already been through the Microsoft process, which means they perform as expected and meet the requirements.
5. Can I upgrade from Dynamics NAV to the on-premises version of Business Central rather than the cloud version?
Even though Dynamics Business Central is a cloud-based product, Microsoft offers dual licensing for on-premises implementations. Although the data will be stored on your company's servers, end users will still have access to the same web portal as the cloud version.
However, depending on how recent your version of NAV is, you might not fully benefit from Business Central moving to an on-premises environment.
It largely depends on your line of work. Microsoft did, in fact, design Business Central with the cloud in mind from the very beginning. So, it relies on your business and specific requirements.
Conclusion
By switching from Dynamics NAV to Microsoft Dynamics Business Central, you can reduce your reliance on IT, boost remote access, and optimize operations and customer experiences. Drop us a line if you have queries about the NAV to Business Central upgrade process.