Top Reasons why Dynamics 365 Business Central cloud-based model is the best option for SMEs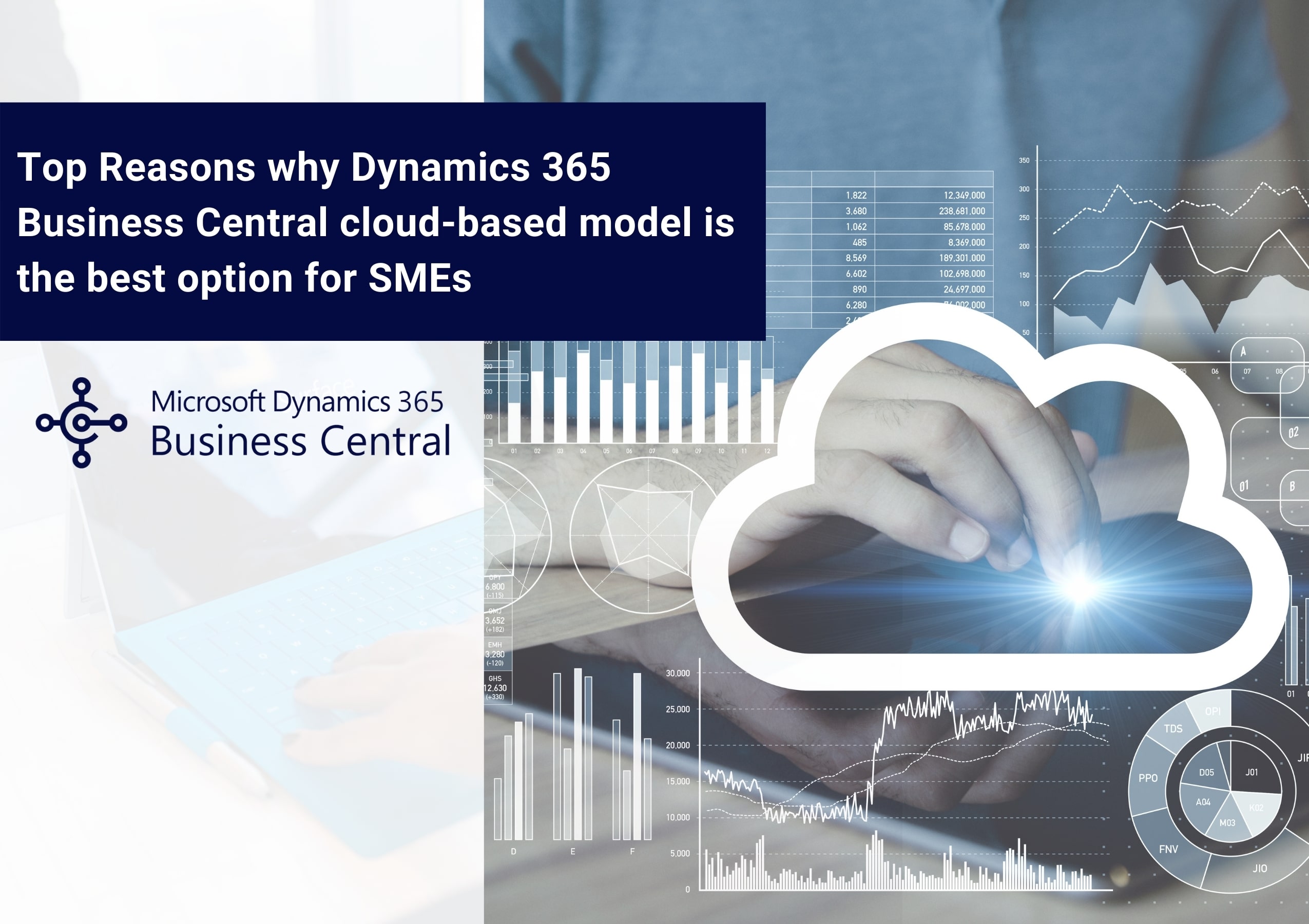 Dynamics 365 Business Central, Microsoft's all-in-one business management system is the perfect cloud-based ERP solution for small businesses that are just getting started or preparing to supercharge their growth in the next 12 – 18 months.
But why, you ask?
Simply put, no other software-as-a-service (SaaS) can match Business Central's capability, scalability, and affordability.
The breadth of work that can be accomplished with this one tool is unprecedented. Dynamics 365 Business Central Essential license costs $70 per user, per month and covers everything from human resource management to customer relationship management, financial management, and supply chain management.
Are your existing solutions holding you back?
If your existing systems are holding you back, you're not alone: 54 percent of businesses struggle with process and system integration problems, and 50 percent believe report creation and configuration is too difficult. It's not only about your internal challenges; your customers expect you to adapt as well: more than 90% of the customers said that they do not prefer doing business with a company that uses obsolete technology.
Most issues that growing businesses encounter are often caused by a lack of tools and processes, which stifle your growth and prevent you from engaging with customers effectively and building loyalty. Accounting applications or standalone customer relationship management (CRM) systems are not competent in today's ever-evolving business landscape. People spend so much time and energy switching between applications, searching for details in various spreadsheets, and calling other people with the data they need when they outgrow these partial solutions.
Business Central is a robust all-in-one solution. Financial Management, Sales & Service Management, Project Management, Supply Chain Management, Operations Management, and Reporting & Analytics are among Business Central core capabilities. Integration between modules ensures that everyone in the organization has access to the information they need, whenever and wherever they need it.
The solution is also fully modular, allowing you to select only the modules that you need to run your business. You can start with one or two modules and add more features as your requirements change.
If you're still unsure whether Business Central is the best option for you, check out the following key factors:
1. Cost management and scalability
When you're a small business that's just getting started, the top priority is to expand as soon as possible. As your company grows, you want to set yourself up for success by building good customer relationships and having the agility and speed to respond to changing circumstances.
This is particularly true if you are a business that needs to make money in order to expand. For this reason, Dynamics 365 Business Central is an excellent option for SMEs looking to gain control of their cash flow and be able to scale up rapidly, while still being able to scale back when certain risks fail to pay off.
You'll never have to think about wasting money on tools you don't need or aren't using with Dynamics 365 Business Central's pay-as-you-go model. Similarly, paying a fixed monthly license fee guarantees that the software investment costs are stable.
2. Ready to use right away
With nearly 20 years of experience with Microsoft Dynamics ERP, CRM, and Managed Services solutions, DynamicsSmartz is well placed as an ERP and Cloud partner to deploy Microsoft Dynamics 365 Business Central for your enterprise. Because of our ability to implement the solution simply and quickly, your company will experience little to no downtime, and the barrier to entry will be nearly eliminated.
3. Increased mobility
One of the most well-known benefits of cloud technology is the increased mobility it offers employees. Instead of being confined to a single location, Dynamics 365 Business Central allows employees to operate securely from any device, in any location. Allowing your employees to work with all of the bells and whistles they'd get in the workplace – whether at home or at a client's location – allows the company to be profitable while still offering flexibility.
4. 360-degree view of data and insights
When you use an all-in-one business management solution, all of your systems are connected, your data is centralized, and your insights feed into one another, giving you a full real-time overview of your organization. With siloed processes and disparate data systems causing huge headaches for businesses of all sizes, preventing this problem from arising in the first place by implementing an integrated system makes perfect sense for a business looking to make a name for itself.
5. Best-in-class security
Dynamics 365 Business Central delivers advanced security and role-based workflows, as well as assured uptime and data backups. Leverage the security framework that Microsoft Cloud offers to all users. Cloud systems come with built-in features to guarantee that all of your data is automatically backed up and stored safely.
Choosing Microsoft Dynamics 365 Business Central is a sound choice, and DynamicsSmartz can assist you at every step of the way. ERP and cloud migrations are something we specialize in. We help small businesses in making the leap to digital transformation by providing decades of expertise and cutting-edge methodologies that are essential when selecting a powerful business solution.
Find out more about how DynamicsSmartz can help you accelerate your growth by getting in touch today.