What you need to know about Microsoft Dynamics 365 for Customer Service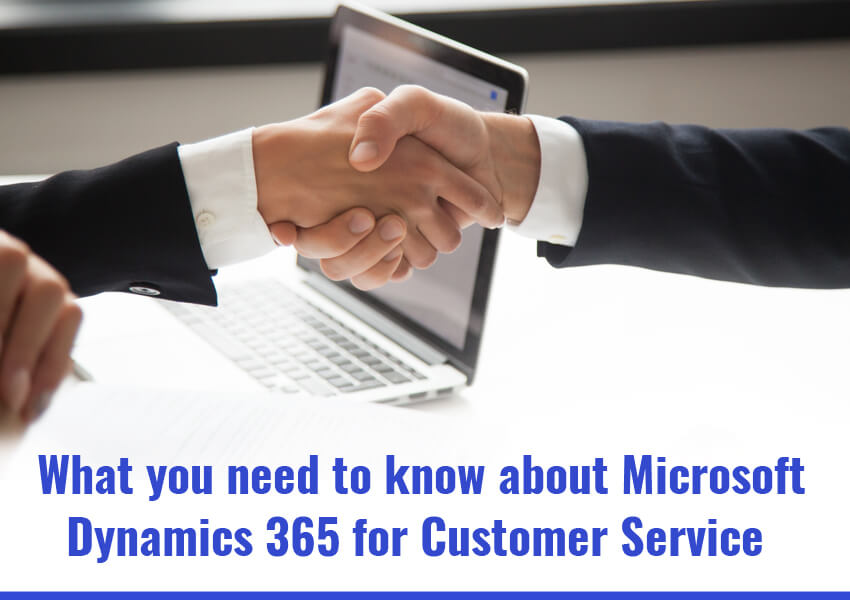 Microsoft Dynamics 365 for Customer Service is a customer service automation module that includes automated case management, dashboards, and reports, among other features. With Dynamics 365, you can translate customer service into a competitive advantage.
Dynamics 365 for Customer Service enables your team to manage customer problems more quickly than ever before, ensuring that your customers receive the best possible service and are completely satisfied. D365 Customer Service efficiently manages contracts, resources, working hours, unified service desk (USD), case management, and custom entities.
There are two components to Microsoft Dynamics 365 for Customer Service:
For case management, use the Customer Service App on a desktop browser.
For managing knowledge articles and case management, the Customer Service Hub is accessible via a desktop browser or a mobile device.
The Unified Interface Framework, which enables rapid, responsive web design on any device, at any time, sets Dynamics 365 Customer Service Hub apart from rival solutions.
Why Microsoft Dynamics 365 for Customer Service?
Microsoft Dynamics 365 Customer Service helps your firm to develop customer trust, loyalty, and insight while also maximizing the productivity of your sales, service, and marketing teams
Dynamics 365 is designed to cut down the barriers between ERP and CRM, allowing for increased efficiency and unprecedented insights. By integrating Azure, the Microsoft Dataverse, and a new application platform that combines Power BI, advanced analytics, and IoT, Microsoft is assisting enterprises in accelerating their digital transformation.
As a major determinant in brand choice and loyalty, customer service has a significant impact on your brand perception. Customer Experience is expected to overtake the influence of pricing and product as the primary differentiator for brands by 2022.
Customers expect customer assistance to be provided 24 hours a day, 7 days a week, digitally. When a consumer decides to communicate with someone, they expect that person to be fully informed and prepared to respond. Customers also want to help themselves, which is a direct result of this transition. But, how do you give them the authority to do so?
With an omnichannel customer care experience that incorporates Artificial Intelligence and automation to connect all channels through which a consumer interacts (social media, chat, bots, email, knowledge articles). This application then sends the information to a service agent.
Customer support experiences that span multiple channels are no longer a futuristic idea. They're an essential component of your daily customer service strategy.
Customer service omnichannel experiences are yet to be deployed in 91% of contact centers.
According to 90% of respondents, customers demand a consistent experience across all platforms (chat, email, and phone).
If they cannot get a rapid response, 55 percent of buyers will abandon an online purchase.
Businesses must embrace digital right away to meet evolving customer needs. Microsoft Dynamics 365 for Customer Service is an all-in-one service management solution. It tracks your customer experience, measures key performance factors, and offers resources and insights to help you improve.
Top Ways Dynamics 365 for Customer Service Can Boost Your Business
How can Dynamics 365 for Customer Service help your business supercharge its customer service? The following are some of the most important ways :
1. Searchable Ports
To help your agents with routine activities and processes, you can enable a variety of search options, including Quick Find, category, and relevancy.
2. Customer Self-Service
The Customer Self-Service environment in Dynamics 365 is designed to allow your team to publish comprehensive and relevant knowledge base articles and FAQs to fulfill your customers' requests, 24 hours a day, seven days a week.
3. Conversation Tracking
Gone are the days of calling an agent who didn't have access to a customer's case history or responses from a different agent. Your support team will have a unified perspective of the customer using Dynamics 365 for Customer Service.
4. No delay in Response
Customers today want a response within 30 to 45 minutes, or they'll hop on to the next company. With Dynamics 365 for Customer Service, customers can be quickly redirected to the relevant channels for a response, whether it's an agent, a knowledge article, or a chatbot.
5. Clicking Outranks Phone Menus
Customers prefer chats, emails, clicking, and scrolling to lengthy phone menus with several alternatives, none of which include "Speak to an agent." This method not only improves your customer's experience but also allows your company to use the information gained from the experience to enhance itself.
6. Artificial Intelligence Insights
The information gathered through omnichannel clicks also serves another purpose. Agents will be recommended cases and knowledge articles that are relevant to the current case using text analytics. As a result, junior agents can perform at the same level as their more experienced counterparts.
Additionally, Dynamics 365 for Customer Service can provide insights and trends, allowing your team to create focused knowledge articles for solutions that are becoming more relevant to your customer base.
7. Delightful Experience
The variety of customer service options offered by D365 Customer Service ensures that your customer has a good experience. The customer feels empowered to choose their own way of educating themselves and is delighted and engaged, resulting in a pleasant and informed first in-person contact with your business.
8. Dashboard with Key Performance Indicators
The Dynamics 365 for Customer Service dashboards provide easy access to data about KPIs such as Net Promoter Score (NPS), Customer Satisfaction (CSAT), and Gross Margin (GM).
Winding Up!
Dynamics 365 for Customer Service deliver a service experience that is effortless for everyone – customers and agents.
Customers nowadays are more empowered than ever before, thanks to the connectivity and accessibility provided by technology. Microsoft Dynamics 365 Customer Service is an intelligent customer service platform that fosters brand loyalty by allowing customers to interact and engage with one another in a seamless manner. You may use this solution to help your company engage customers, empower employees, and discover new ways to create value in the emerging service economy.
Making every client interaction count is what customer experience is all about. Microsoft Dynamics 365 Customer Service helps enterprises respond swiftly to customer service concerns by empowering employees to provide consistent and efficient customer care. Drop us a line to know more about Dynamics 365 Customer Service and how to implement it with your existing solutions.