Why Migrate from QuickBooks to Microsoft Dynamics 365 BC?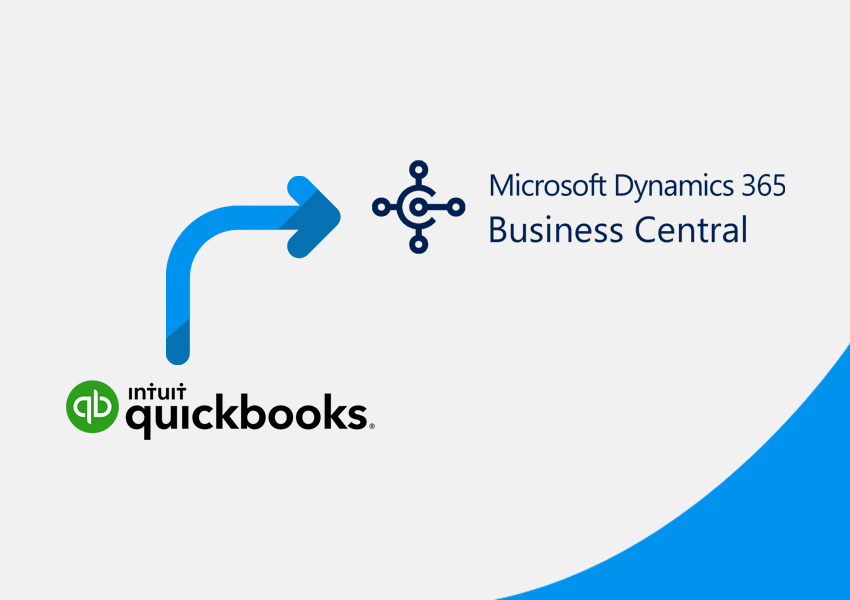 Both Microsoft Dynamics 365 Business Central and QuickBooks are software solutions that provide companies with accounting capabilities. Each one of them offers core features and functionality needed to manage basic accounting for a small business. Beyond that, however, there are vast differences between the two solutions.
Although Quickbooks is a popular accounting software, many small businesses learn the hard way that it's not all that great for firms that are growing. It is limiting and inflexible for dynamic businesses, and to make matters worse, adding more licenses and computer power to extend its usability becomes prohibitively expensive.
As a result, many businesses have moved to scalable and affordable alternatives, like Dynamics 365 Business Central, because of its usability and ability to meet the complex requirements of expanding small and midsize companies.
Limitations of QuickBooks
There are limits on how many records QuickBooks can process, how many records it can archive, how many employees it can hire, how many transactions it can post, and so on. When you meet those restrictions, your only option is to start wiping QuickBooks' history.
Due to an unsecured file format, QuickBooks data is subject to direct modification within the data tables. This makes it possible to "alter" uploaded transactions after the fact, without leaving a trace of the changes made. You can even construct transactions that are out of balance in your data. (Credits do not equal Debits)
Lack of purchase, inventory, manufacturing distribution, audit control, and advanced reporting capabilities. Adding features and service offerings from QuickBooks' partners is expensive.
Due to a lack of business productivity integration, the system is skewed toward accountants rather than business owners.
Dynamics 365 vs Quickbooks is an ongoing debate, however, QuickBooks can easily become a bottleneck for firms due to its user and transaction restrictions, as well as its limited reporting capabilities.
Top reasons why you should migrate from QuickBooks to Microsoft Dynamics Business Central
1. GAAP Compliance and Audit Controls
Compliance and audit controls are priorities for protecting your company from fraud and loss. QuickBooks does not adhere to GAAP whereas, D365 Business Central complies with GAAP.
With limited controls in QuickBooks, it's simple to modify posted transactions- even ones that have already been reconciled. With record monitoring running continuously in the background, D365 Business Central is fully auditable.
Business Central is your best choice if you want to stop fraud and know the why, what, where, when, and who of everything that happens with your financials. With Dynamics 365 Business Central on the Microsoft Cloud, you get a wide range of cutting-edge security advancements, of which this is just one example.
2. Advanced Reporting
Reports are the lifeblood of business owners and financial experts, and this is where dimensions really shine. You may build ad hoc reports using Dynamics 365 Business Central depending on whatever dimensions and how you want to see your data- by profit center, department, sales, inventory, purchasing- the options are essentially endless.
Additionally, you can take advantage of Business Central's native connectivity with Power BI to broaden your perspective and incorporate outside data to produce aggregated, visual, interactive reports. Unlike QuickBooks, no data is hidden, so the world is your oyster with Business Central.
3. Combine Countless Entities and Currencies
It goes without saying that choosing Business Central over QuickBooks will save you a tonne of time and hassle if you have more than one or two entities or currencies. With simple intercompany transactions, Business Central allows you to create an unlimited number of businesses or other entities.
For the purpose of managing all finances in USD and filing reports either individually or collectively, you can also form a single company that combines many firms into a single currency. It's quite impressive and part of Business Central's regular capabilities.
4. Scalability
There are restrictions on how many records QuickBooks can process and maintain. The number of employees, posted transactions, inventory management data, and other factors are all subject to limitations. Once you've exceeded these thresholds, deleting the data from QuickBooks is the only option to keep the system functioning properly and the system also starts running slower.
Dynamics 365 Business Central doesn't have any such restrictions. As your organization expands, it actually offers a lot more flexibility. It is built on the Microsoft Azure platform and can scale to accommodate the growing user and transactional volumes.
5. Powerful Integration Capabilities
Microsoft AppSource is a collection of many apps that work with Microsoft Business Central. So, if you need to develop a custom solution for your company, you can search the AppSource for a relevant app and integrate it with Business Central.
Additionally, if you work in business or are an accountant, you will need Excel to do some number crunching. Microsoft Office, Microsoft Outlook, and a variety of other Microsoft programs are all compatible with Business Central. It eliminates the need to transition between various platforms and saves a lot of time training resources on each one. Additionally, utilizing a solution that they are accustomed to and have been using for a long time increases employee productivity.
6. A full-featured financial management solution
Accounting software is simply one aspect of Business Central. It is an integrated system for financial management. It enables you to keep track of and store information about client information, warehouse management, logistics, costing, and administration of the employee's costs, among other things. It gives you a complete picture of your company by connecting data from accounting, sales, purchasing, inventory, and other areas.
The accounting software QuickBooks, on the other hand, has limited applications across different business departments. Therefore, if you want to deploy a comprehensive, enterprise-wide solution, it makes sense migrating from QuickBooks to Microsoft Dynamics Business Central.
Taking the Next Step
It can be difficult to transition your company from outdated accounting software to a feature-rich, robust ERP solution. As you are already aware, Microsoft Dynamics 365 Business Central offers companies significantly more resources and capabilities than QuickBooks, but it might be challenging to know where to start. If migrating from QuickBooks to Microsoft Dynamics 365 Business Central interests you, get in touch with us right away.