Top 7 Reasons to Migrate Dynamics NAV to Business Central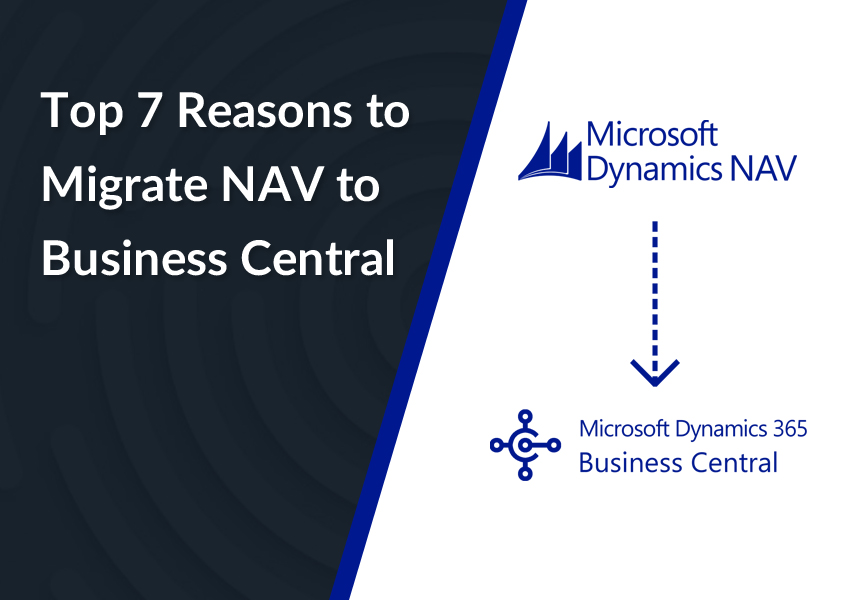 Microsoft Dynamics NAV is a well-known and commonly used ERP solution. Designed for small and medium-sized businesses, it offers outstanding support for managing warehouses, supply chain, manufacturing, and customer relationships. Dynamics NAV has stood the test of time due to its adaptability and customizable nature.
However, since Dynamics NAV is nearing the end of life, it is inevitable that at some point, users will have to migrate NAV to Business Central.
Dynamics 365 Business Central has been deployed as the ERP system for well over 15,000 companies. With its license flexibility, productivity features, and user-friendly design, it has caught the eye of all these businesses.
New ERP solutions benefit from the scalability of cloud technology, which is becoming more and more popular. Microsoft subsequently unveiled Dynamics 365 Business Central, a cloud-based ERP system with a variety of capabilities that enables the best end-to-end business management solutions.
Microsoft Dynamics Business Central is a comprehensive business management tool that organizes and simplifies your manufacturing, sales, supply chain, financials, and operations.
Key Differences between Dynamics NAV and Dynamics 365 Business Central
Business Central has the benefit of being browser-based even though its functionality is the same. Business Central will give you a larger reach and greater freedom while still offering all the features that are used in Dynamics NAV (such as Sales and Service, Operation Management, etc.)
The second distinction between the two has to do with licensing. NAV has a concurrent user license, while Business Central is licensed on Named Users.
The AL coding language used by Dynamics 365 Business Central allows for greater customization and easy upgrades.
Improved integration capabilities with other Microsoft Dynamics suite products, thereby eliminating silos and significantly increasing productivity.
Business analytics and real-time data assist create actionable insights and give a comprehensive picture.
The biannual releases of Microsoft Dynamics 365 Business Central guarantee easy upgrades.
With the creation and automation of workflows, Microsoft Flow helps improve business processes.
Monthly subscription and perpetual licenses are the two available types of licensing offered by Business Central.
Dynamics 365 Business Central can be deployed on-premise or in the cloud.
Given that the software is cloud-based, several businesses are ramping up their migration efforts. However, a lot of other businesses are still debating whether or not they should migrate their solution, wondering whether it will be worthwhile for them.
With Dynamics 365 Business Central, you can embrace the cloud and run your entire business with a single solution. If you've outgrown your basic accounting software or have a legacy ERP system like Dynamics NAV, migrating to Business Central is the logical choice. It enables you to gain a holistic view of your business, make better-informed decisions, enhance customer engagement, and ultimately build a more strong competitive advantage.
Here are the top seven reasons why you should migrate NAV to Business Central:
1. Microsoft Cloud
The majority of IT professionals worry about data security these days. The best feature of Microsoft Cloud is that it is not only reliable but also secure. With more than 3,500 cybersecurity specialists on staff, Microsoft is the leader in the industry. The level of assistance and guidance that they offer is unmatchable. In addition to being easy to implement, it will greatly increase the productivity of your IT experts.
2. Enable Remote Work
Give your staff the ability to work remotely and access vital information anywhere. You can be at ease knowing that there is improved security and disaster recovery.
3. Capabilities for Native and Third-Party Integration
Power Platform, Office 365, Microsoft Azure, and other well-known Microsoft products can be easily integrated with Business Central. Additionally, it features an app store called AppSource with thousands of compatible third-party applications. These applications enable companies to build end-to-end business solutions that are tailored to their unique requirements and are easy to integrate with Business Central.
4. Modern Web Interface
Microsoft Dynamics 365 Business Central has an easy-to-use, web-optimized interface. It offers superior navigation than Dynamics NAV. In comparison to NAV, it is more modern, has a better look and feel, and is more user-friendly.
Its user interface is quite similar to that of other Microsoft programs, such as Outlook, Excel, etc. Since these solutions are already used by many users, it avoids the need for user training. The learning curve is not at all steep and adoption happens more quickly.
5. Rich Business Insights
Business Central can consolidate all company-wide data under one roof and offer stakeholders real-time insights. It can be integrated with Microsoft's Power Platform to add AI and ML-based features. Additionally, it automates multiple processes and provides support for real-time, data-driven decision-making by stakeholders.
Automation significantly improves employee productivity. Additionally, it saves them time by automating repetitive operations. The staff can use this free time to concentrate on more crucial strategic objectives.
6. Scalability
Business Central is a low-code customized solution that can grow with your company. By acquiring licenses when needed, you can cut costs by acquiring fewer licenses overall.
7. Automatic upgrades
Although it goes without saying, we are all aware that all Microsoft products require software upgrades. It's crucial to keep in mind, though, that Business Central is automated in the cloud.
As a result, you won't ever have to worry about software upgrades for newer versions. This is a critical step toward lowering the platform's maintenance requirements.
Conclusion
Migrate NAV to Business Central and unlock a host of business benefits. If you still have some queries, find answers to top FAQs about migration to Business Central here. If your company is currently using NAV and would like to switch to Business Central, please contact our Dynamics experts today to go over your specific requirements.